Roast Pork Rib Roast
Braised Red Cabbage, and Spaetzle with Brown Butter and Sage.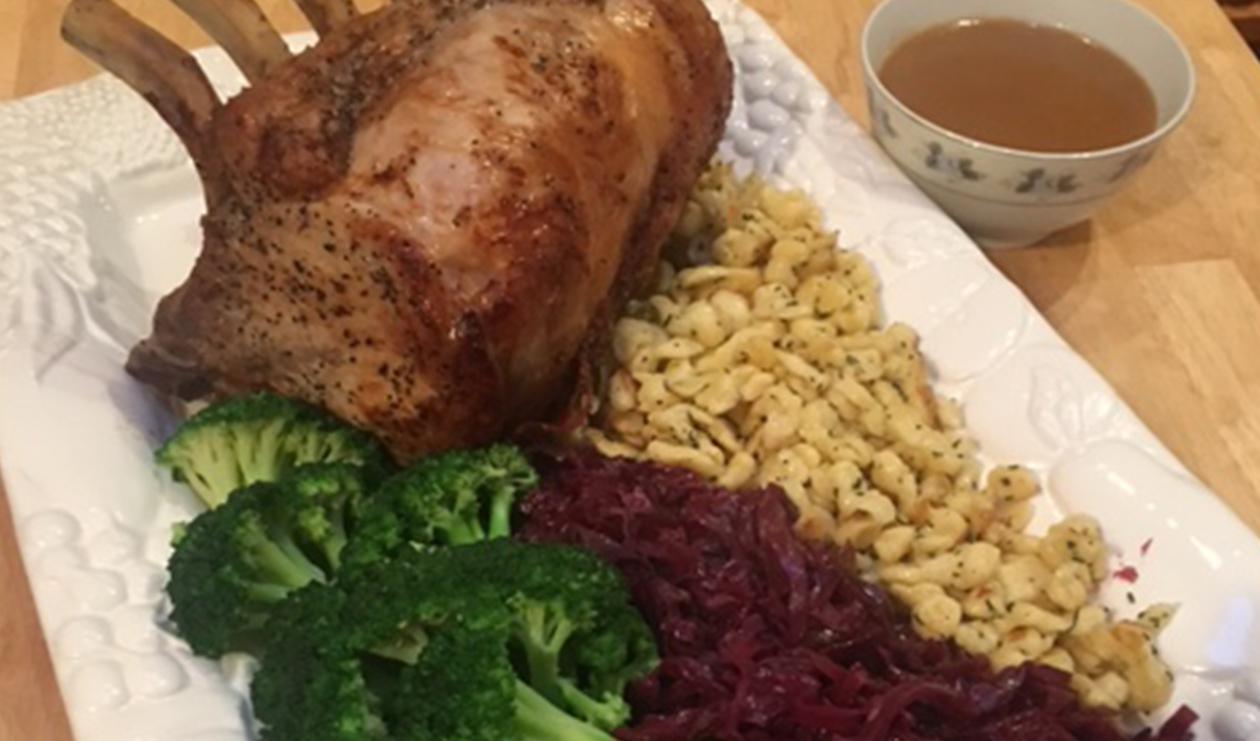 Ingredients
Step 1:
Pork Rib Roast – approx. 3-4#

1 ea
Step 2:
Carrots, medium dice

60 g
Step 3:
Step 5:
Step 6:
Step 7:
Step 9:
Sage, fresh, chopped

2 T.
Step 10:
Onion, yellow, diced

0.5 each

Granny Smith Apple, diced

1 each
Step 11:
Red wine vinegar

0.25 cup

Red currant jelly

0.5 cup
Step 12:
Red Cabbage, small head, cored and julienned

1 ea
Preparation
Step 1:

Prepare the Pork Roast: french the rib roast and save all trimmings.

Step 2:

Brown the trimmings and mirepoix in a small amount of oil. Cover with water and bring to a simmer. Add the herbs and simmer to make a stock. When desired flavor is achieved. Strain and reserve.

Step 3:

Season the roast with Salt and Pepper. Brown on all sides in a small amount of oil. Deglaze the pan and add to the stock.

Step 4:

Place the roast in a roasting pan rib side down. Roast in a 325 degree oven to an internal temperature of 140 degrees. Rest 20 minutes before slicing.

Step 5:

While roast is resting. Make a roux in the roasting pan with the flour. Add the stock you made earlier, and make a gravy.

Step 6:

To prepare the Spaetzle: combine eggs, milk, salt and nutmeg. Mix well.

Step 7:

Add flour and mix until smooth. Cover and let rest 20 minutes.

Step 8:

Using a spaetzle cutter, cut into boiling, salted water. Cook 1 minute and drain.

Step 9:

Brown butter in a sauté pan. Add chopped sage and cooked spaetzli. Brown spaetzle lightly. Serve hot.

Step 10:

Prepare Braised Red Cabbage: first render bacon, add onions, apples and sauté until tender.

Step 11:

Add wine, wine vinegar, jelly, sugar and water. Bring to a boil.

Step 12:

Add cabbage and stir. Return to a boil. Cover and simmer on low for 45 minutes to 1 hour or until cabbage is tender. Adjust seasoning with additional vinegar or jelly as needed. Serve hot.