Preventing an allergic reaction is a responsibility that belongs both to the restaurant and the consumer. Preparing an allergy-safe atmosphere may seem overwhelming, but it doesn't have to be. 
How can restaurants do their part to safeguard guests against allergic reactions?
Provide food allergy warning
Conduct food allergy training for staff
Consider front-of-house communication
Use dedicated areas and equipment
Establish a written plan
Let's go over why the threat of food allergens is growing in restaurants, and then discuss five ways restaurant operators can prevent allergic reactions.
Understanding the Threat of Food Allergens
According to FARE (Food Allergy Research & Education), about 15 million Americans suffer from food allergies. After a recent death of a man with peanut allergies in the UK, the restaurant owner was sentenced to six years in prison for "food safety negligence".
Food allergies and intolerances seem to be increasing, and restaurants must take more precautions than ever to protect their guests.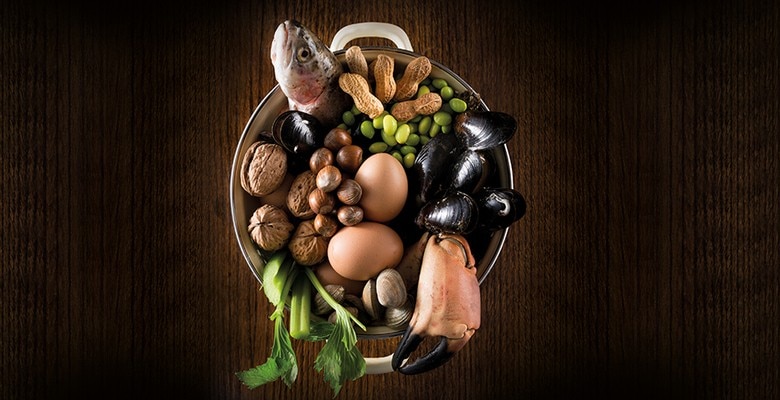 90% of all food allergies come from one of eight food categories. The "Big 8" includes:
Milk
Soybeans
Fish
Tree nuts
Peanuts
Eggs
Shellfish
Wheat
Even trace amounts of various food proteins from these foods can cause a serious allergic reaction that can result in hospitalization or death. 
Fortunately, safely serving guests with allergies is completely possible. Awareness paired with education will go a long way to help food establishments protect their guests and themselves. 
Provide Food Allergy Warnings
It may be surprising to learn that restaurants are not legally required to provide food allergy warnings. Congress designed the Food Allergen Labeling and Consumer Protection Act of 2004 to extend to packaged food items, but it does not require food service companies to give ingredient lists or allergy warnings to customers. If a restaurant or food service company sells pre-packaged foods for customers to take home, however, those packages must list ingredients with allergy warnings.
In some cases, diners eat out at their own risk. At the same time, accidents and lawsuits against restaurants still occur. There are many variables, and pressure on restaurants is mounting to take care of guests with allergies – especially common allergies. Either way, restaurant operators want to do everything in their power to protect their guests.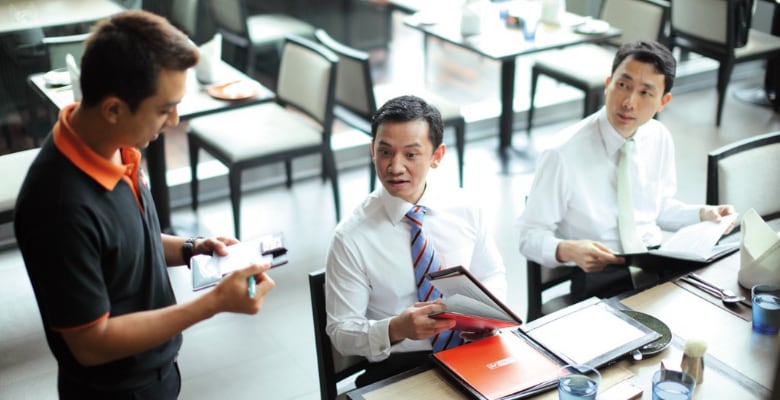 Here's what we can do:
Develop an Allergy Statement for the Menu: An allergen statement alerts diners to the presence of allergens in the kitchen, especially the Big 8 allergens. For example, post the following in plain sight and/or on the menu: "Allergy Warning: Menu items may contain or come into contact with wheat, eggs, nuts and milk. Ask our staff for more information." Another: "Warning: We use common fryer oil, meaning we cannot guarantee that your menu item is free of common allergens."
Provide Ingredient Lists: You can write up ingredient lists for each menu item, which you can provide to your guests upon request. Remember to include all ingredients in prepared food products from third-party suppliers. Of course, that does not mean you have to write out the amount used or any exact recipes.
Indicator Symbols: Some restaurants incorporate icons next to menu items – like a GF symbol for gluten-free. You can also indicate dairy-free, soy-free, etc. Alternatively, you could just write out potential allergens present, for example – "contains soy and tree nuts" next to the menu item. Some restaurants list potential allergens in each dish and display them in an easy-to-read, colour-coded way.
Reprint a Few Special Menus: Instead of reprinting all of your menus, you could keep a few special menus on hand with all ingredients listed out, reserved for customers with allergies.
You could utilize online nutritional analysis software, such as MenuCalc, to ensure you are recognizing all potential allergens in every menu item. You might also purposefully add a few menu items that do not include the 8 most common food allergy triggers, and colour-code those as nonallergenic on your menu. 
Conduct Food Allergy Training for Staff
Every staff member should have training on the basics of preventing allergic reactions and what to do if one occurs in the restaurant. Food allergy training should include information like:
Pre-purchased or prepackaged food ingredients (for example, barbecue sauces that are widely sold for restaurant use may contain tree nuts)
Debunking common misconceptions (like high heat or cooking allergens into food will destroy allergens – because it won't work!)
The Big 8 allergens and the food groups they belong to (for example, peanuts are not nuts, they are actually legumes)
Unusually named ingredients that actually include allergens (for example, arachis oil is peanut oil)
Reevaluation of "gluten-free," "soy-free," and other supposedly "allergen-free" menu items – ensuring cross-contact is eliminated, and that food allergens are not only minimized but nonexistent in those menu items
The most common symptoms of an allergic reaction, including swelling, redness, sneezing, dizziness and nausea
How to recognize signs of anaphylactic shock – swelling in the tongue, throat and lips, or difficulty breathing, and instructions to call 911
Food allergy training should include regular repetitions and refreshers, just like proper handwashing techniques are retaught frequently. Not sure how to conduct a food allergy training program?
Consider Front-of-House Communication
The way BOH communicates with FOH, and the way FOH communicates with customers is crucial when it comes to food allergies. 
Chef Keith Norman of South Point Hotel, Casino and Spa restaurants in Las Vegas puts front-of-house systems in place to prevent allergic reactions. If it is not possible to promise patron protection, the staff explains that to its guests. In other cases, when a food allergic customer's order is entered into the computer at South Point, the server selects an allergen-alert button. The allergy is printed on the order in red letters to alert the chef.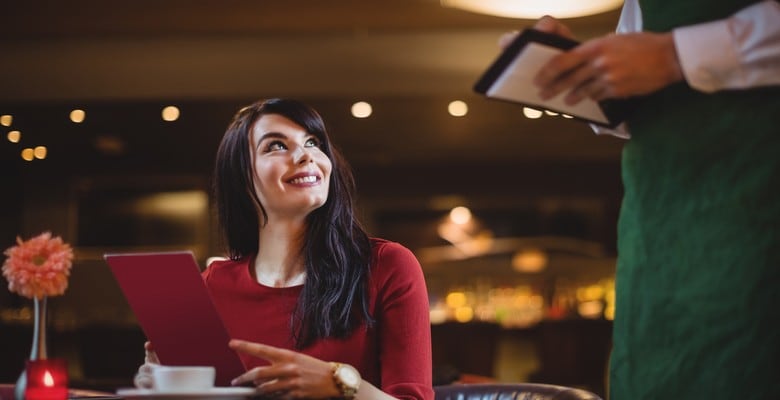 Here are some other ways to strengthen front-of-house communication and avoid allergic reactions:
Service staff can communicate to guests that people with food allergies to avoid buffets, since utensils are potentially shared and allergens can be transferred.
The Allergy & Asthma Network also recommends creating a "Chef Card" that lists the foods that consumers should avoid while eating out. 
You could prepare "allergy kits" with sanitized cookware and utensils for servers to distribute for guests with allergies.
Once the meal is prepared, the dish could be flagged with a sticker to distinguish the "safe" plate from the others for the server to distribue.
All staff should be informed when any recipes are changed.
Implement a restaurant point of sale system, like Toast, that offers an "item detail" function that allows staff to pull up important notes and details about menu items, like the occurrence of allergens.
Use Dedicated Areas and Equipment
Allergists recommend that restaurants keep a separate area and utensils to prepare food for the food-allergic patron. There could be two sets of pots, pans, utensils and equipment – one for the general public, and one for those guests with food allergies. For example, use a fresh pan rather than a communal deep fryer for separate dishes. You might use a colour-coded system to organize your back-of-house.
Mise en place, or everything in place, refers to prepping all utensils and ingredients before the cooking process begins. This process should be applied when catering to food-allergic guests. Ensure your kitchen is prepared in advance to handle any food allergies that may occur. Unless there is a plan in place, food allergies may not be observed closely enough or mistakes may be made.
Chef Joel Schaefer, a former special dietary and allergy manager from Disney, recommends that:
The restaurant staff is well-aware of the products the kitchen receives from vendors, and that ingredients are properly labeled
The flow of the kitchen works to protect allergic customers, for example, preventing egs from breaking onto foods that are otherwise allergen-free
Storage concerns in the kitchen are addressed, like flour flying in the air or open containers of allergens like seeds that might fly up into a dish
If there is not a separate prep station for allergy-free meals, the station and utensils must be washed and sanitized, and new gloves must be worn to prevent cross-contact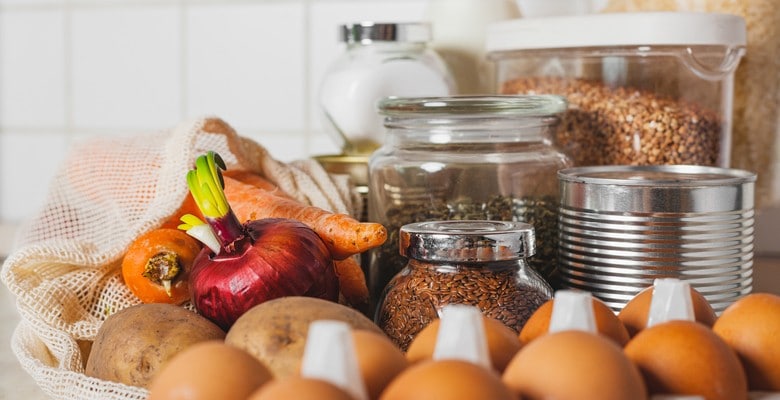 Establish a Written Plan
Once you have some ideas in place, write up your protocol. A food service operator needs a written plan, shared with every member of the staff, specific to the restaurant's setup to prevent food allergy accidents. Your food allergy protocol should address:
Training for staff on providing for guests with food allergy: for example, the staff should ask if there are any food allergies at every table, asked by the host or server, and what to do when they are alerted to a food allergy. Servers should also be clear about all ingredients in each dish.
Preventing cross contamination during preparation: The server should be the only person to deliver food to the table, and the plate should come out on its own, not touching other plates of food.
Seamless communication between front and back of house
Marketing materials that invite food allergic customers and help them feel safe in your establishment
Customers suffering from food allergies are very appreciative of and loyal to those restaurants that keep them safe.