The guest-facing Burger Route™ ad campaign, and $3 coupon offer, kicks off on July 1st. Here are tips to help you promote the deal on social media, plus a FREE kit filled with posts and captions you can customize!
Social media is like food: it works best when you're authentic.
- Chef Eddie Janda, Proper West, New York City
Pictures on social media are better when they come from the restaurant itself.
- Brussels' Kitchen, Food Bloggers, Brussels

People discover restaurants in different ways. Social media is one of the most impactful. It's good to have something that's nuanced about your place, that's shareable.
- Taj, consumer, New York City
 
Your brand: Develop a tone of voice for your online presence. Decide how you look and how you sound. And keep it consistent.
Frequency: The goal is to build content that tells a story about your restaurant. Experts suggest 1 post per day in top food platforms like Instagram and Facebook. If you're new to this, start with 3 posts a week. Posts can include dishes, or sneak peeks in the kitchen.
Events: If you want to attract customers to an event, then you might want to switch to Facebook. It's the perfect place to estimate numbers and create the hype you need.
Collaborate with Hellmann's®: For 3 years running, our Burger Route™ campaign has given our partner restaurants visibility with guest-facing media and social media support. You're joining other great restaurants selling burgers across the country!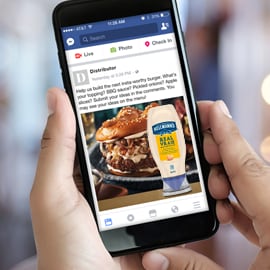 Download Your Social Media Toolkit
We know social media can be time-consuming. That's why we put together this toolkit with premade posts and images so you can drive traffic with Burger Route™!