Now's a great time to look at your own drink offerings. Modern cocktail culture is rich, diverse, and ever-changing and as consumers' tastes evolve, demand for more complex flavour profiles increases. You'll likely find opportunities to freshen things up either with new, regional ingredients or by bringing in entirely new options. While it's fun to experiment with recipes, be conscious that some cocktails will require front-of-house salesmanship. Consider having servers taste new concoctions during pre-shift meetings to promote new and exciting flavours with a guest experiences that can't be duplicated anywhere else.  

Golden Girl Rum Club in Springfield, Missouri, is a tropical-inspired bar serving scratch-made tiki drinks,  classic cocktails, and also features a large premium rum selection. It's a prime example of a new bar and restaurant embracing emerging trends. The owner, Rogan Howitt, says, "So many small companies are putting out interesting ingredients like cool flavours to add to any kind of cocktail." He adds that he's been doing his own house-infused simple syrups.
 
Check out these categories to learn more about their potential and how they can fit into your dining mix.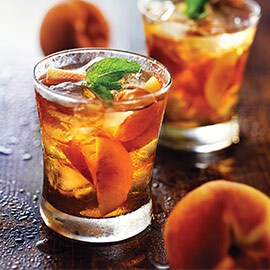 Fermented Beverages
What's Trending
As Millennials continue to shape flavour trends, niche ingredients and preparation techniques are getting more popular.1 Leading that charge is kombucha. Made from fermented tea and other ingredients, it's naturally carbonated, contains trace amounts of alcohol, and is known for its purported health benefits and "feel good" attributes. According to Mintel, the consumption of kombucha in the US has grown by 80% from 2014 to 2015.2
Marketplace Examples
Alchemy Kombucha and Culture in San Antonio serves a drink called "Greener Pastures." It's made with Zu Bison Grass Vodka, lime oleo, and Element Green Tea Kombucha.
Kombucha Town in Bellingham, Washington, is known for "The Workhorse," a cocktail made with Granny Strong Vodka, ginger kombucha, and fresh lime.
How to Incorporate Kombucha Into Your Menu
Fermentation brings a unique, sour taste to any drink. It comes in a variety of flavours, perfectly lending itself to experimentation. Start with a hyper local kombucha offered in your town, and once you know kombucha is a hit, you can brew your own. Foodie blogs and nutrition sites are filled with recipes and techniques you can try at your own restaurant.
Kombucha goes great with fresh fruits, veggies, or salads. It also pairs well with a variety of Asian dishes. The crispness can cut through some of the oils inherent in fried cooking.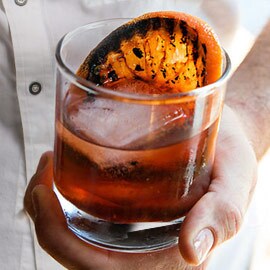 Low-Alcohol Cocktails
What's Trending
Bars are beginning to use less boozy ingredients such as sake, Aperol, vermouth, and sparkling wine to create flavourful and fun drinks that appeal to more mellow and older crowds who aren't necessarily interested in getting wasted. Rogan has even experimented with water infusions. "I was also inspired by a restaurant that flavoured their water with pandan. Pandan is a tropical plant and is used widely in South Asian and Southeast Asian cooking as a flavouring."

Operators include trendy non-alcoholic beverages as an ingredient in cocktails, relying on cold brew coffee and vegetable juices as mixers. They also create non-alcoholic drinks with the mixers as the main ingredient in the drink.

Marketplace Examples
Elixir in San Francisco has become known for mocktails and low-alcohol cocktails. They make a "Bamboo Cocktail" which contains dry vermouth, Osborne Amontillado Sherry, aromatic bitters, and orange bitters. It's stirred and served up with an orange twist.
 
The Radler in Chicago serves an assortment of beer-based cocktails such as the "Blood Orange Radler" made with  hefeweizen, San Pellegrino, and blood orange soda.
 
How to Incorporate Low-Alcohol Cocktails into Your Menu
Think about serving low-alcohol cocktails as a weekend treat during brunch or lunch.
 
Consider categorizing drinks as "booze-free," "low-booze," and "high-booze" to appeal to patrons wanting to make more informed drinking decisions.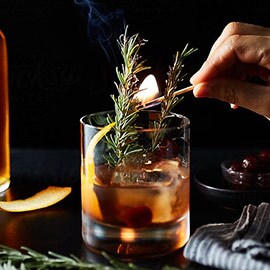 Culinary Twists on Classics
What's Trending
What's old is now new again. Bartenders are experimenting with muddled, juiced, or puréed vegetables and herbs to bring fresh takes to the classics. Herbs lend distinctive fragrance, while vegetables impart earthy, savory notes that plus up traditional drinks. A whiskey and cola becomes an entirely new experience when served with smoked ice and garnished with a dried date.

Other ingredients to replace standard mixers:
Roasted grapes
Salt-roasted plantains
Smoked tomato water
Puréed red pepper
Pickling brine

 
Marketplace examples
Geraldine's in Austin serves "The Beetnik" which mixes Ford's gin, lemon, and red-beet shrub made with vinegar, sugar, pink peppercorns, and fennel.
 
Boleo's in Chicago is known for its "Ponche de Champagne." It uses salt-roasted plantains, cana brava, passion fruit, lime juice, and angostura bitters for a truly unique cocktail.
 
How to Incorporate New Classics into Your Menu
Many operators now recommend cocktail pairings with everything from small bites to tasting menus. Consider going through your menu, picking out key dishes and assigning them a beer, wine, and cocktail that would enhance its flavour.
 
Another step is to add additional descriptors to cocktails to help guests make more informed choices. If you're serving a local whiskey in a cocktail, consumers want to know about it—and sometimes you can charge a premium for it.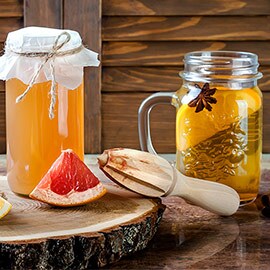 Charred Notes and Heat
What's Trending
Bartenders use aggressively-flavoured ingredients to incorporate heat, spices, char, and smoke. They're creating smoky cocktails using smoked meat or smoked salt, charred barrel aging, smoke-permeated ice or glassware, and a variety of other methods. Some are going as far as using activated charcoal which has been touted as having health and detoxification benefits in addition to its unique color and taste.
Note: Before using activated charcoal as an ingredient, be sure to see what some doctors and nutritionists are saying about it. While it sounds like small amounts are likely fine, there are concerns of how it can interact with some medications.
When it comes to heat, Rogan says, "I'm also really into Latin America. I've used ancho chili and thai chili pepper to create an infused rum. There is a Mexican street chili sauce called chamoy. I've been playing with this in margaritas."
Marketplace examples
"Smoke on the Water" is served at The Bazaar in LA. It has smoked blackberries, atomized Scotch and Islay Mist.
Henry's in Chicago serves the "Killing Floor," a jalapeno-infused Lunazul tequila with watermelon and lime.
"Ashes to Ashes" is served at Goodnight Sonny in New York. It's a mix of rose syrup, fresh lemon juice, and activated charcoal, garnished with rose petals.
How to Incorporate Charred Notes and Heat into Your Menu
Start with classic recipes and explore new flavours you can add to them. For example, margaritas are the perfect platforms for enhancing with a myriad of exciting tastes. An easy place to start is to use mezcal instead of traditional tequila. Mezcal is naturally smoked and has many of the same qualities of tequila, so you can add smoke to a drink without much effort.
Flavours of smoke go great with bolder flavours such as barbecued meats and steaks. They also add complexity to chocolate desserts.
Match ingredients with your cuisine to bring forward assertive flavours guests will want to try. A cocktail with out-of-the-ordinary ingredients may not sound appealing on its own, but when paired with the right dish, it can elevate both.
1 Mintel, Innovation on the Menu - US - September 2016
2 Mintel's Beverage Tracker, the consumption of kombucha grew by 80% from Q2 2014 to Q3 2015