Read More
Chicken à la Moutarde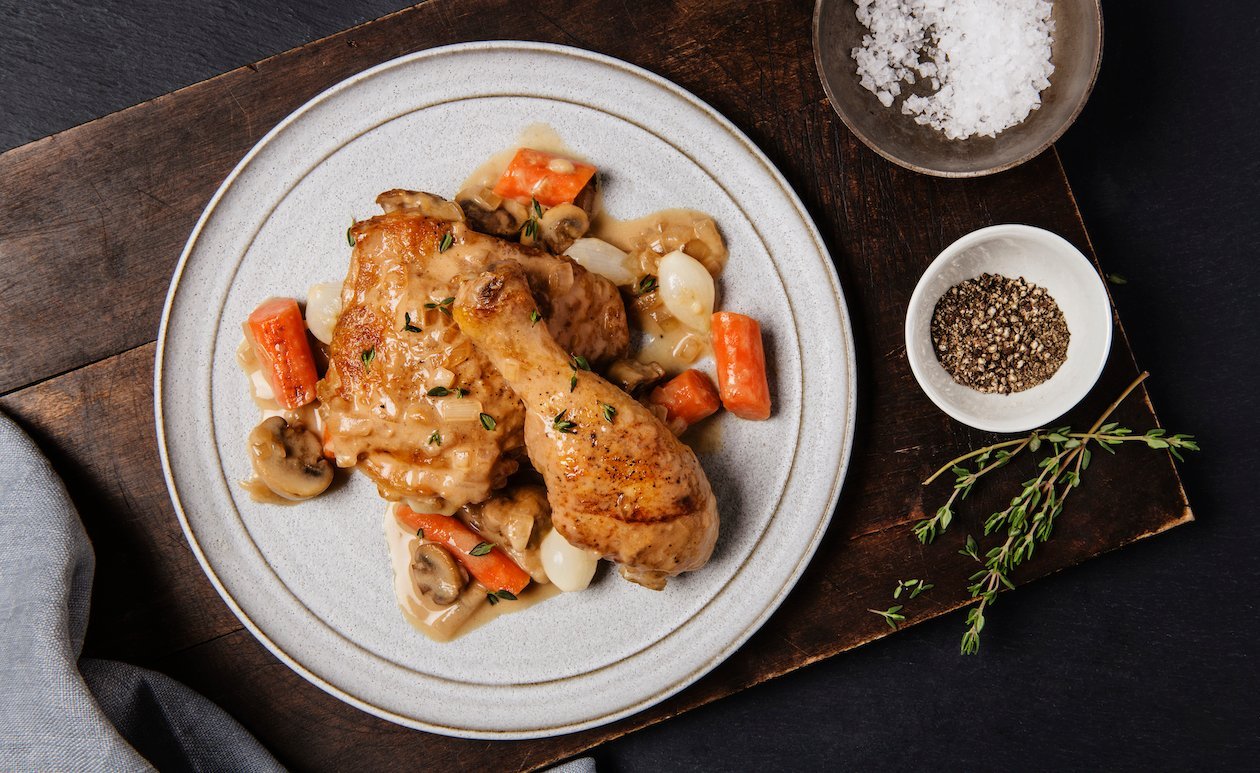 A traditional dish of pan roasted chicken with carrots, pearl onions and mushrooms in a creamy white wine sauce.
...
Ingredients per serving
Prepare the Chicken
Chicken, whole, cut into 8 serving pieces (about ≈1.7 kg)

1.0 each

Salt and Pepper, to taste
Prepare the Vegetables
Onions, white, minced

2.0 each

Pearl onions, whole (optional)

130.0 g

White button mushrooms, coarsely chopped (or small whole)

75.0 g

Garlic, finely minced

3.0 cloves

Maille Dijon Originale Mustard 4 x 4.1 kg

120.0 ml
Finish the Dish
Preparation
Prepare the Chicken

Preheat oven to 180°C.
Season chicken with salt and pepper.
Heat olive oil in large pan over medium-high heat and brown chicken on all sides.
Add butter and thyme to skillet and cook chicken a few more minutes until golden brown. Remove from skillet and set aside.

 

Prepare the Vegetables

Sautée onions, mushrooms, carrots and garlic in same skillet until onions are caramelized.
Reduce heat to low, add flour and cook, stirring constantly, 1 minute. Stir in wine and mustard and cook until sauce is smooth.

Finish the Dish

Arrange chicken, sauce, and vegetables in baking dish. Pour prepared Knorr Liquid Concentrated Base Chicken over ingredients until pan is about 3/4 full. Cover and bake 45 minutes or until chicken is well-cooked. Stir in cream and cook an additional 5 minutes or until heated through.