Massaman Curry
Authentic Indian Curry, packs a punch of flavour without being overly spicy.
Main Course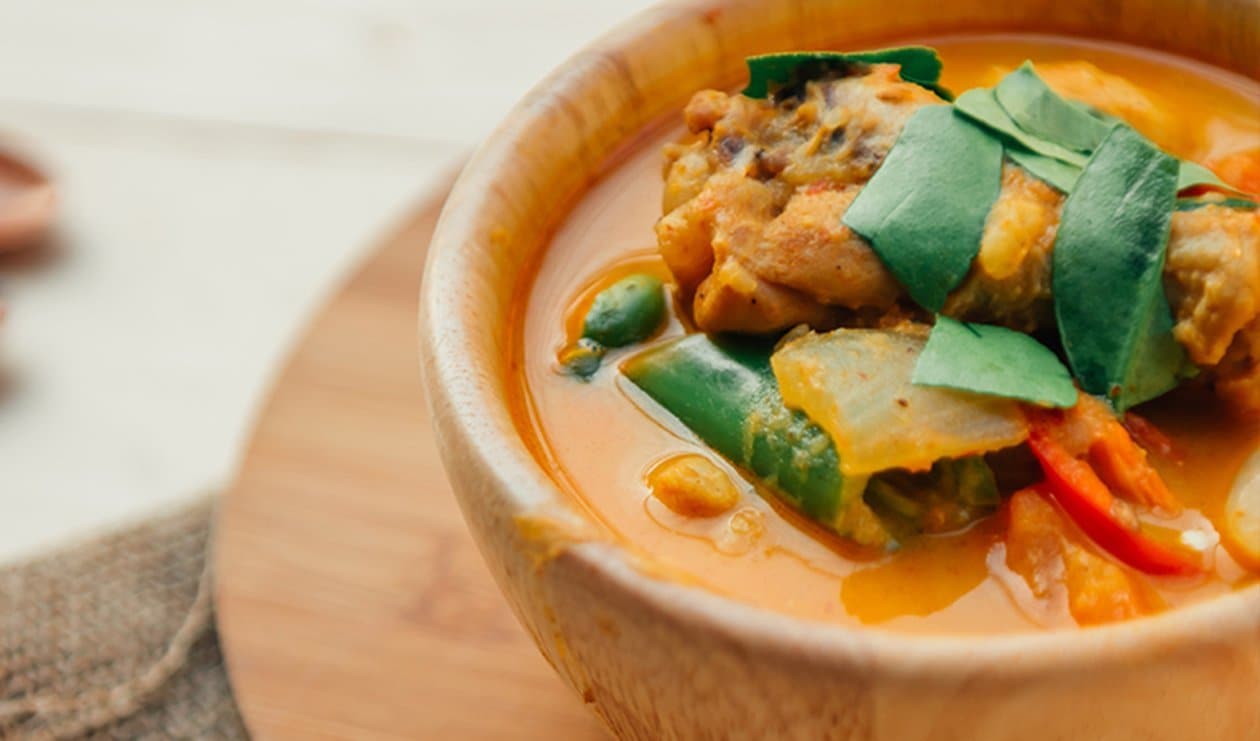 Ingredients per serving
Prepare the Chicken
Chicken breast, boneless, skinless (about 150 g. ea.)

1.55 kg
Prepare the Paste
Shallots, fine diced

25.0 g

Lime juice, freshly squeezed

60.0 ml

Kaffir lime leaves

10.0 each

Cumin seeds, toasted, prepared

6.0 g

Green cardamom pods, individual

4.0 each
Prepare the Curry Sauce
Peanuts, roasted, unsalted

35.0 g

Coconut milk

1.0 cans (470 g)
Finish the Dish
Cilantro, chopped, for garnish

3.0 g

Peppers and onions, mixed, sliced (95 g. per portion)

950.0 g
Preparation
Prepare the Chicken

Cut the chicken into 2.5 cm dice.

Prepare the Paste

Peel the garlic and work to a fine paste, add to the diced shallots, put aside.
Trim, peel and rinse all remaining paste ingredients. Food process all remaining ingredients into a paste.
Mix the garlic and shallots into the paste and reserve. Store, refrigerated.

Prepare the Curry Sauce

Put all the Curry sauce ingredients in a saucepan and cook at medium heat for 20 minutes. Remove from the heat. Store, refrigerated.

Finish the Dish

For each portion, fry30 mlof the paste in oil for 2 to 3 minutes.
Add portions of chicken, then add95 g.of vegetables and continue to stir-fry, until the chicken starts to brown. Ladle in a portion of sauce and cook for another 15 minutes.
Garnish with peanuts and coriander.