Miso Chicken and Pickled Pineapple Banh Mi
This Vietnamese street food has a sweet twist with pickled pineapple slaw and a deep umami flavor from the Knorr® Intense Flavours Miso Umami used to marinate the chicken.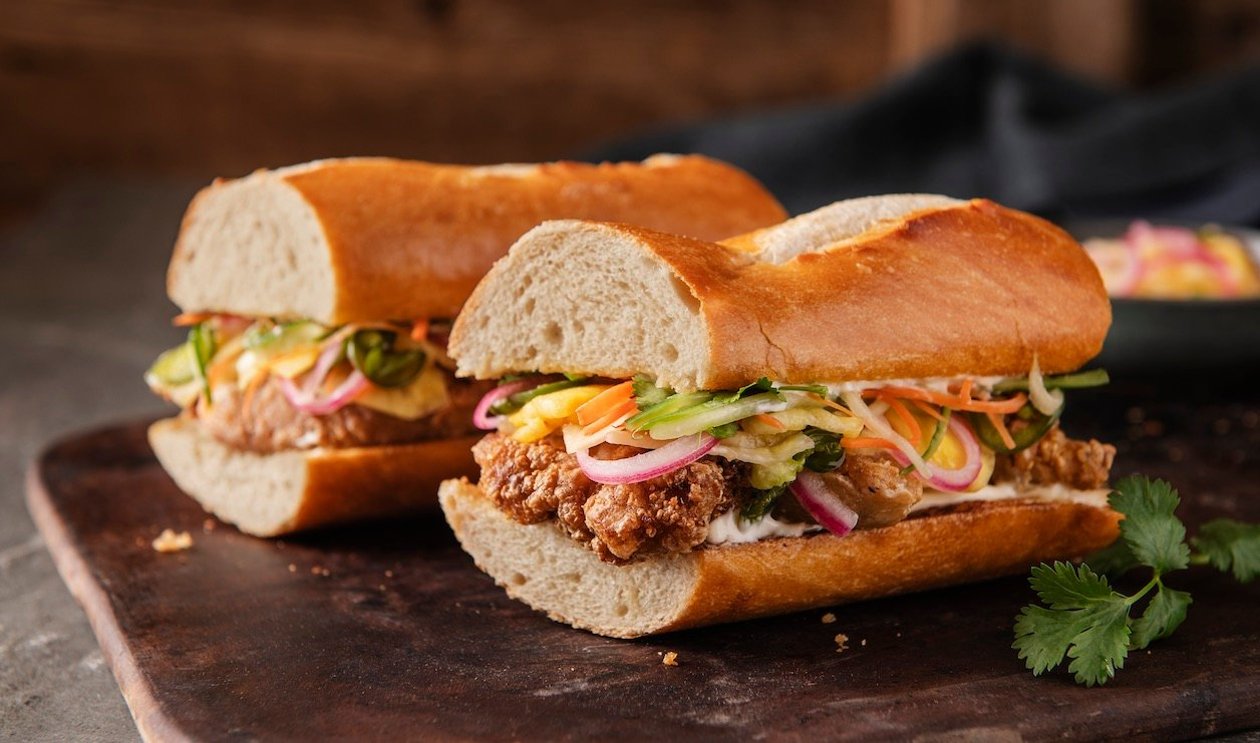 Ingredients
Marinate the Chicken
Chicken thighs, skinless, boneless, cut into 2.5 cm strips

1.1 kg

Ginger, fresh, grated

15 g

Garlic clove, grated

5 each

Tamari, GF Soy Sauce

90 ml
Prepare the Slaw
Pineapple, small, peeled and thinly sliced

1 each

Red onion, halved and thinly sliced

0.5 each

Vinegar, rice wine

750 ml

Jalapeno, thinly sliced

2 each

Sugar, granulated white

50 g

Salt and Pepper, to taste
Finish the Dish
English cucumber, julienned

1 each

Cilantro leaves (picked)

0.5 bunch

Baguettes, halved and toasted

10 each
Preparation
Marinate the Chicken

Marinate chicken in ginger, garlic, lemongrass, Knorr® Ultimate Intense Flavours Miso Umami, sugarand tamari for at least 1 hour and up to 3 hours.

Prepare the Slaw

Place the pineapple, red onion, seasoned vinegar, jalapeno, sugar, salt and pepper in a large bowl and toss to combine. Set aside to pickle for 30 minutes.

Finish the Dish

Combine cucumber, carrots and cilantro. Set aside.
Combine Hellmann's® Real Mayonnaise and Knorr® Ultimate Intense Flavours Miso Umami. Set aside.
Toss chicken in cornstarch and deep fry at 190 C in vegetable oiluntil golden brown and crispy. Drain.
Spread 30 ml of prepared Umami Mayonnaise on the top and bottom of each baguette. Divide the chicken between the bottom halves. Top with some of the pickled pineapple mixture, then garnish with the cucumber mixture. Add the top half of the baguette, cut the sandwich in half and serve.