Read More
Pain Plat Avec Saucisse De Champignons Rôtis, Fenouil, Parmesan De Noix De Cajou Et Poivrons Rouges Grillés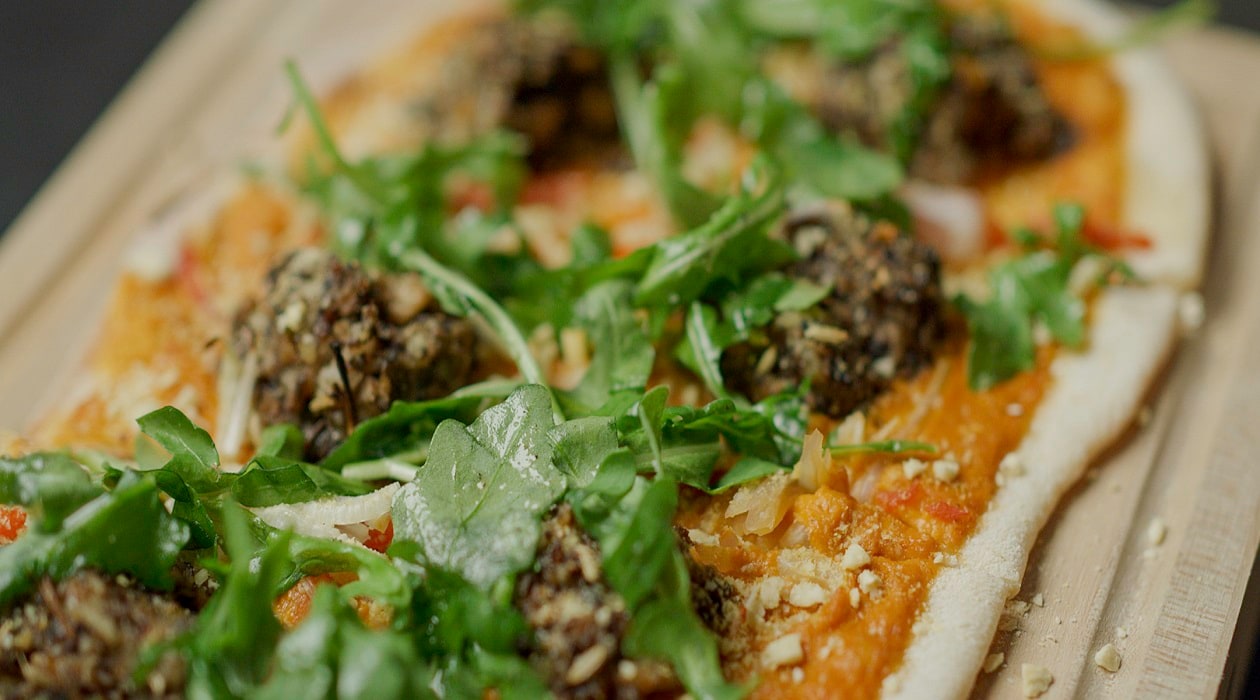 Ingredients per serving
Dough
Active dry yeast

0.25 tsp
Sauce
Garlic cloves, peeled and chopped

2.0 Tbsp

Oregano, fresh, chopped

1.5 tsp

Fresh thyme, chopped

1.0 Tbsp
Roasted Mushroom Sausage
Roasted mushrooms, chopped (1 lb. roasted at 400F for 50 minutes)

9.0 oz

Risotto (Made with ½ cup Knorr® Liquid Concentration Vegetable Base, no butter or cheese, slightly over cooked)

6.0 oz

Wild rice, cooked, slightly over cooked

3.0 oz

Black pepper, ground

1.0 Tbsp
Cashew Parmesan
Nutritional yeast

1.0 cup
Flatbread
Roasted red pepper strips, julienned

1.0 oz

Thinly sliced fennel bulb

0.8 oz

Roasted mushroom sausage

2.0 oz
Preparation
Dough

Mix the ingredients together in a bowl, let it rise for 12-24 hours
Cut into 6 equal pieces, approximately 4-ounce balls, let rise for at least one additional hour

Sauce

Toss the tomatoes in the olive oil and salt and pepper. Roast at 450 degrees for 15 minutes.
In a pan, sweat the garlic in olive oil with the herbs for 1-2 minutes. Add the roasted tomatoes, tomato paste, and Knorr vegetable base. Season with salt and bring to a simmer, simmer for 5 minutes.
Puree in a blender. Adjust the consistency by reducing it if necessary and adjust seasoning, let chill.

Roasted Mushroom Sausage

Combine all the ingredients and mix well. Puree half of the mixture in a food processor.
Combine both mixtures and adjust seasoning, let chill.

Cashew Parmesan

Pulse in a food processor to desired consistency

Flatbread

Preheat the oven to 500 degrees, set the pizza stone inside the oven until hot. Roll the dough ball into an oval shape, approximately 10"x 6". Dock with a fork and sprinkle with corn meal, place on the pizza peel.
Stretch the dough and place it on the peel, make sure it slides on the cornmeal or it will stick to the stone. Top the dough with the tomato sauce, followed by shallots, roasted red peppers, and sliced fennel.
Top with the small balls of roasted mushroom sausage, approximately 6 balls each, weighing 10 grams each.
Transfer the flatbread to the hot oven and bake for 6-8 minutes.
Toss the arugula with olive oil, salt, and pepper, set aside.
Remove from the oven and sprinkle with cashew parmesan and top with the seasoned arugula. Cut and serve.