Thai Green Curry with Seafood
A traditional Thai dish with a fragrant and spicy green curry complemented by creamy coconut milk.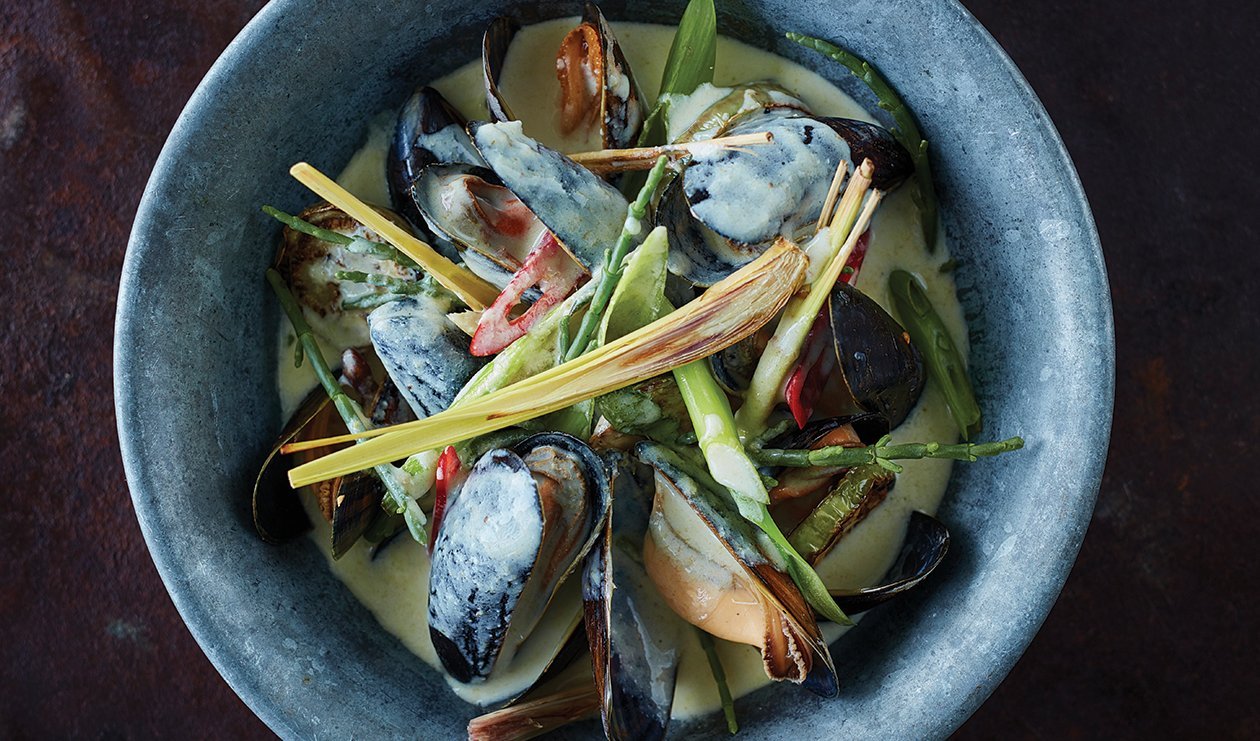 Ingredients
Prepare the Paste
White peppercorns, finely ground

10 each

Dark green jalapeño or serrano peppers, chopped

4 each

Green Thai chiles (prik kee noo), chopped

20 each

Garlic cloves, peeled and chopped

6 each

Zest of fresh kaffir lime, grated, or substitute with finely chopped reconstituted dried kaffir lime peel

5 ml

Thai galangal, chopped

35 g

Lemon grass, chopped (use the bottom end of stalk, sliced thinly in rounds before chopping)

10 g

Coriander seeds, lightly toasted until aromatic, then ground

5 g

Cilantro roots, finely chopped or substitute with 10 g chopped stems

2 g
Prepare the Curry
Asian eggplants, long, sliced at a slanted angle 6 mm thick, or 12 round Thai eggplants (ma-keua bproh), halved or quartered

2 each

Kaffir lime leaves, tear each into 2-3 pieces

3 each
Finish the Dish
Mussels, green lip, debearded, scrubbed

455 g

Fresh shrimp, peeled, deveined

300 g

Lobster tail, cut in 2,5 cm pieces

300 g

Fresh scallops, remove mussel

300 g

Green jalapeño peppers each cut into 6-8 long slivers

2 each

Gkra-chai root fingers, (lesser ginger), thinly sliced in diagonal pieces

2 each

Thai sweet basil leaves and flowers (bai horapa)

20 g
Preparation
Prepare the Paste

If using dried kaffir lime peel, soak first to soften. For galanga, use the fuller-flavored, reddish tan root imported from Thailand, available in frozen form.
Grind the dry spices finely in a dry stone mortar or spice grinder. Set aside. Pound the herbs a little at a time, starting with the harder ones, until each is reduced to a paste.
Combine the pounded herbs, aromatics, chiles and ground dry spices and pound together with the gkapi shrimp paste to form a fine, well-blended paste. Set aside.

 

Prepare the Curry

In a large pot, heat about a cup of the thick coconut cream from the top of a can of coconut milk (or the rich milk from the first pressing of coconut pulp) over medium to high heat.
Reduce until oil begins to separate or the cream looks thick and bubbly. Add the prepared (curry) paste and fry in the cream for a few minutes until aromatic. Pour in the remaining coconut milk and bring to a boil.
Simmer to taste with fish sauce and balance with palm sugar. If using pea-eggplants, add them next and simmer about 10 minutes over low heat, uncovered, before adding the other eggplants and kaffir lime leaves.
If substituting with peas, add them together with the sliced eggplants. Bring sauce back up to a boil and simmer a few minutes or until the eggplants begin to soften.

Finish the Dish

Add mussels to the curry sauce, once they start to open, add the shrimp, when halfway cooked, add lobster, and when halfway cooked, add scallops.
Return to a boil and add the slivered jalapeño peppers and gkra-chai pieces. Stir in the basil until it wilts. Remove from heat and serve hot with lots of plain steamed rice.