Limited Time Offerings are always a great way to drive sales and test out new menu ideas. Fall provides some ideal opportunities to run promotions that put a twist on existing menu items or incorporate exciting new tastes. Be sure to check out some new flavor trends that are popping up across the country.
Here are some promotional ideas to consider this fall.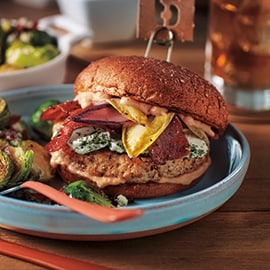 #1: Halloween Fun
Put a creative twist on a few of your menu items by renaming them something spooky. Feature them leading up to Halloween to drive guest engagement. For example, Chipotle has featured a "Boorito" in past years and Burger King generated a lot of buzz with their Halloween Whopper in 2015.
Consider a "Trick or Meat" promotion that offers extra bacon on any burger.

Everyone loves a costume contest. You can generate buzz by hosting a competition at your restaurant. It will provide tons of opportunities for social media engagement.
Create guest excitement by offering a unique pumpkin-themed burger. This recipe features a seasoned ground turkey patty served on a whole wheat bun with maple and pepper lacquered turkey bacon, herbed goat cheese, seasonal chicory, and a sweet and rich pumpkin and garlic aioli.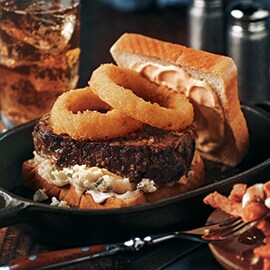 #2: National Sandwich Day is November 3rd
You can build your social media following by offering $1 off for guests who show they're a Facebook fan of your restaurant. 
Celebrate National Sandwich Day with half off your best-selling sandwich. 
Offer a free side with the purchase of any sandwich.
Try this delicious, indulgent sandwich: The Mile High Meatloaf Burger. It features a meatloaf patty grilled to order and topped with creamy cheddar and chive mashed potatoes, fried onion rings and a brown gravy mayo.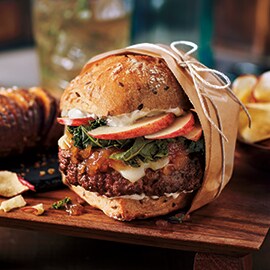 #3 Thanksgiving
Encourage guests to dine with a friend with a "Give Thanks" promotion: buy one, get one on selected sandwiches.
Offer a "Thanksgiving Feast" special that has a beverage, burger and side combo at a discounted price.
Catering is a great way to generate new revenue. Consider offering catering discounts to entice new customers and supplement your regular income. 
Take  advantage of the busy week of Thanksgiving and day after by offering a special on this unique harvest-themed burger. The Late Harvest Burger features a medley of fall flavors with seasoned pork patties, fresh apple slices, wilted kale and a caramelized leek, shallot and onion jam.
A little creativity can go a long way in drawing guests into your restaurant during the busy holiday season. Offering guests a unique LTO that's tied to a holiday theme is a great way to create a memorable dining experience.
Also consider signing up to participate on popular e-delivery platforms like Seamless, UberEats, etc., to maximize the guests you can reach during the holiday season and throughout the year.