Striped sea bass is seasoned with salt, ground pepper and fennel then pan fried with garlic and thyme. An asparagus puree provides the foundation for this inviting dish. 
Chef Drew Deckman's Striped Sea Bass with Asparagus
01:00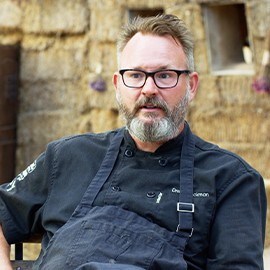 Chef Drew Deckman
Drew Deckman spent 10 years cooking with Gastro-Masters in France, Switzerland and Germany before making his way to Guadalupe Valley. Now, Chef Drew has found a permanent home in Baja California. He is very active in the local culinary community and dedicated to sourcing local, sustainable ingredients.