Chef Kyla
Chef Kyla has worked with Unilever Food Solutions for 14 years and currently works as a corporate chef for the Canadian UFS market. In those 14 years she has had the pleasure of working with a variety of influential chefs and gaining operational experience across the U.S. and Canada. As a certified chef, with a background in marketing, her work with Unilever has enabled her to support a large number of Canadian restaurant operators in a variety of channels.
Chef Kyla participates with a variety of culinary associations and local community organizations.  More recently she has been given the opportunity to work on the Fair Kitchens movement of chefs supporting chefs, looking to inspire a new kitchen culture, creating a more sustainable environment for the current – and next – generation of chefs and cooks.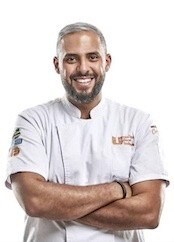 Chef Afifi
Chef Sherif Afifi was passionate about cooking since his early childhood. Following the footsteps of his grandfather - who was a chef in the Egyptian Royal palaces in the 1950s – he studied culinary arts first in Egypt, then in South Kore He worked for the Hilton Millennium in Seoul before coming home to Egypt to establish a food consultation agency that helped many raising food projects then. Chef Sherif joined the UFS team in 2017 and also has his own TV show on the Al Nahar TV Channel.
Fill out the form below and watch the free webinar!