Kabocha and Beef stir fried with Thai Basil
Sweet and savory dish with mellow Thai flavors. Just serve with rice.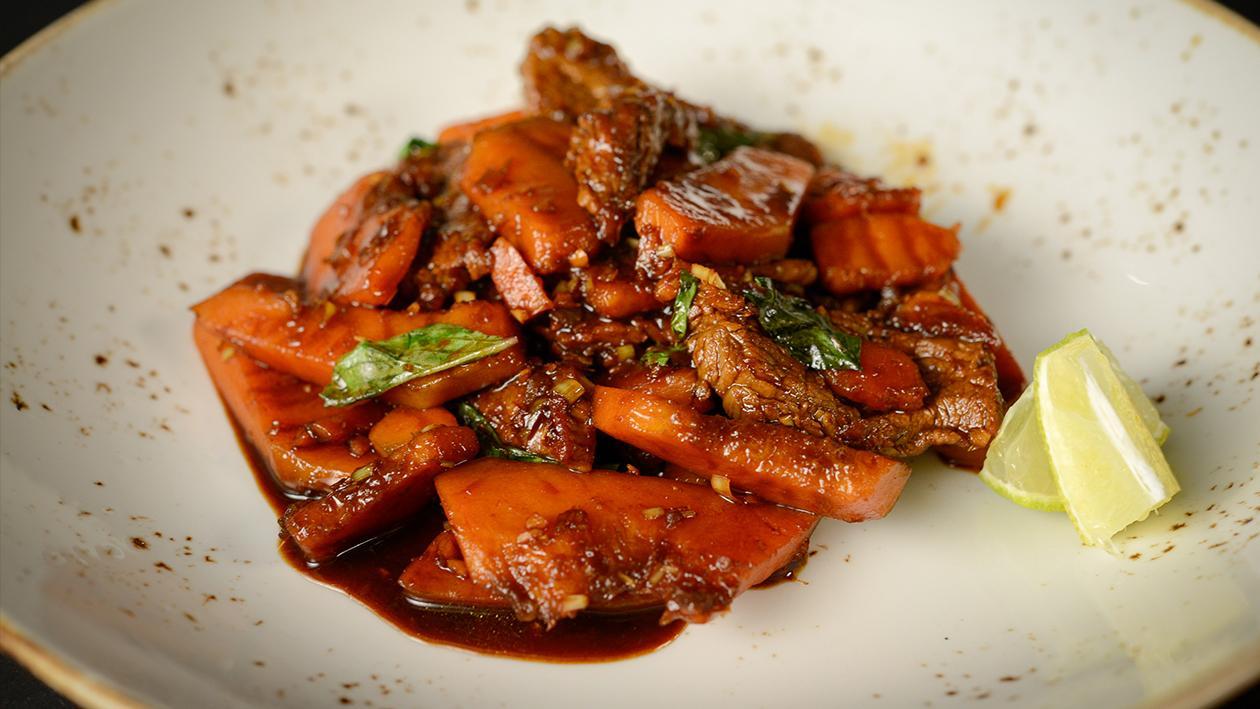 Ingredients
Prepare the kabocha:
Prepare the flank steak:
Prepare the stir fry:
Garlic, finely diced

30 g

Shallots, fine diced

40 g

Ginger, finely diced

15 g

Lemongrass, fine diced

14 g
Finish the dish:
Basil, Thai (only leaves)

30 g
Preparation
Prepare the kabocha:

Remove green skin of kabocha with a knife. Scoop seed out and cut into quarters and then cut into ¼ inch strips.

Prepare the flank steak:

Cut flank steak diagonally across the grain into 2 to 2 ½-inch strips, no more than ¼-inch wide.
Lightly season beef with salt.

Prepare the stir fry:

In a wok on high heat, put in 2 tablespoons vegetable oil. Once hot, stir fry beef in the wok until seared. Remove from wok and set to the side.
Add in 15 gram of oil and add in garlic, shallots, ginger and lemongrass. Stir fry for 30 seconds until fragrant.
Add in the palm sugar, Oyster soy sauce (or Mushroom soy sauce as an alternative) and Knorr® Professional Liquid Concentrated Beef Base.
Partially cover and simmer for 15 minutes until kabocha softens.

Finish the dish:

Put beef back into wok with kabocha.
Add in Bird's Eye Chili and Thai Basil Leaves.
Stir to combine and heat the beef.
Finish with a squeeze of lime juice from a ¼ of a lime and serve.

Note: If using a pan on a stovetop rather than wok, sauté in batches.