Mediterranean Braised Lamb Shank
Seasoned lamb is braised with shallots, garlic and red wine, then cooked with onions, peppercorns and Mediterranean seasoning.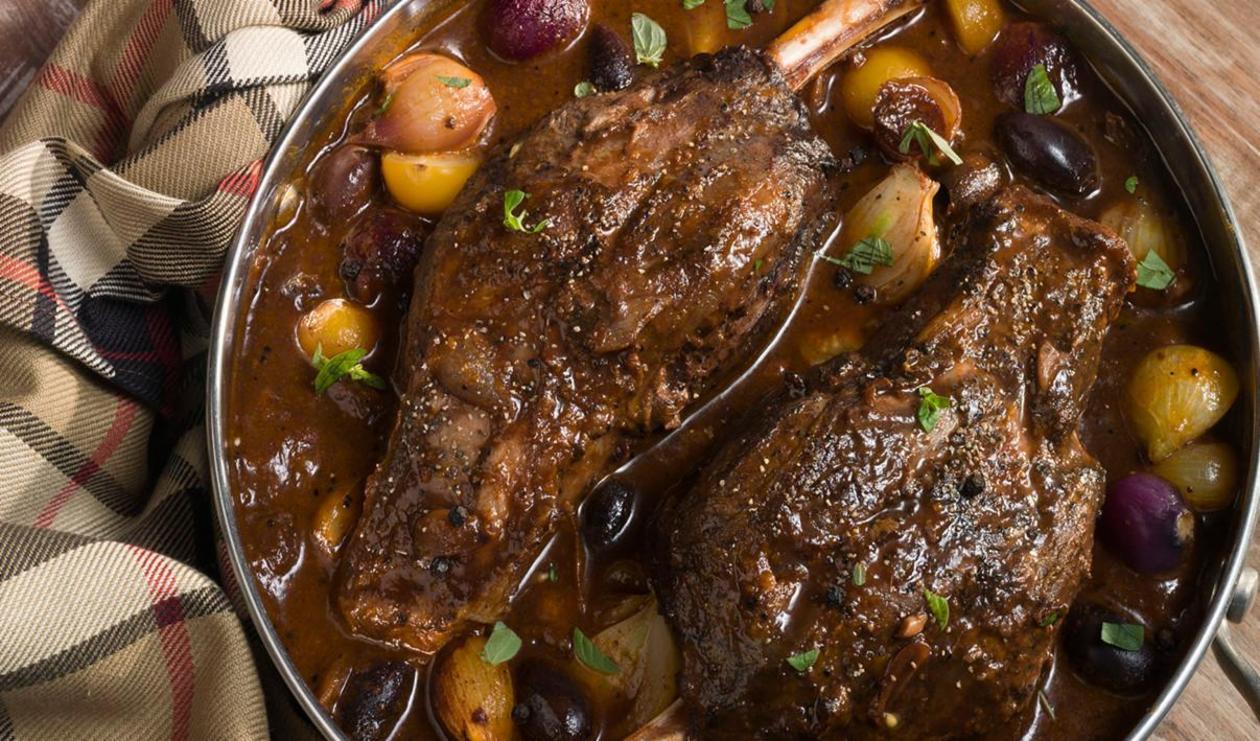 Ingredients
Prepare the Dish
Lamb shanks, 10 total

10 lbs.

Black Pepper, freshly cracked

2.5 t

Onions, shallots, minced

3 T.

Onions, pearl, peeled

50 each

Tomato, pear, sliced in half

50 each

Mediterranean Demi-Glace, prepared

3 qt

Oregano, fresh, minced

3 T.

Olives, Kalamata, pitted and halved

50 each
Prepare the Mediterranean Demi-Glace
Onions, shallots, diced

0.33 cup

Oregano, fresh, chopped

2 t

Peppercorns, black, slightly crushed

1 pinch
Preparation
Prepare the Dish

Season lamb with salt and pepper. Heat the olive oil in a heavy pan and sear the lamb on all sides.
Remove and add the shallots and garlic. Cook until aromatic and the tomato paste. Cook out tomato paste.
De-glaze with red wine and add Mediterranean Demi-Glace (sub recipe below).
Re-add the lamb and braise in a 300 degree oven (covered) and cook until the meat is tender (1 ½ - 2 hours)
Remove the lamb carefully and degrease the sauce.
Add the pearl onions, tomatoes, and oregano.
Simmer until the onions are tender and add the olives.
Ladle the sauce over the lamb shank and serve immediately.
Suggested sides include couscous or creamy polenta.

Prepare the Mediterranean Demi-Glace

Saute the shallots and garlic in butter until aromatic.
Add oregano, and peppercorns.
Deglaze with red wine and reduce by half.
Add to hot demi-glace and finish with butter.