Sweet Potato Noodles with Clams and Creamy Turmeric Sauce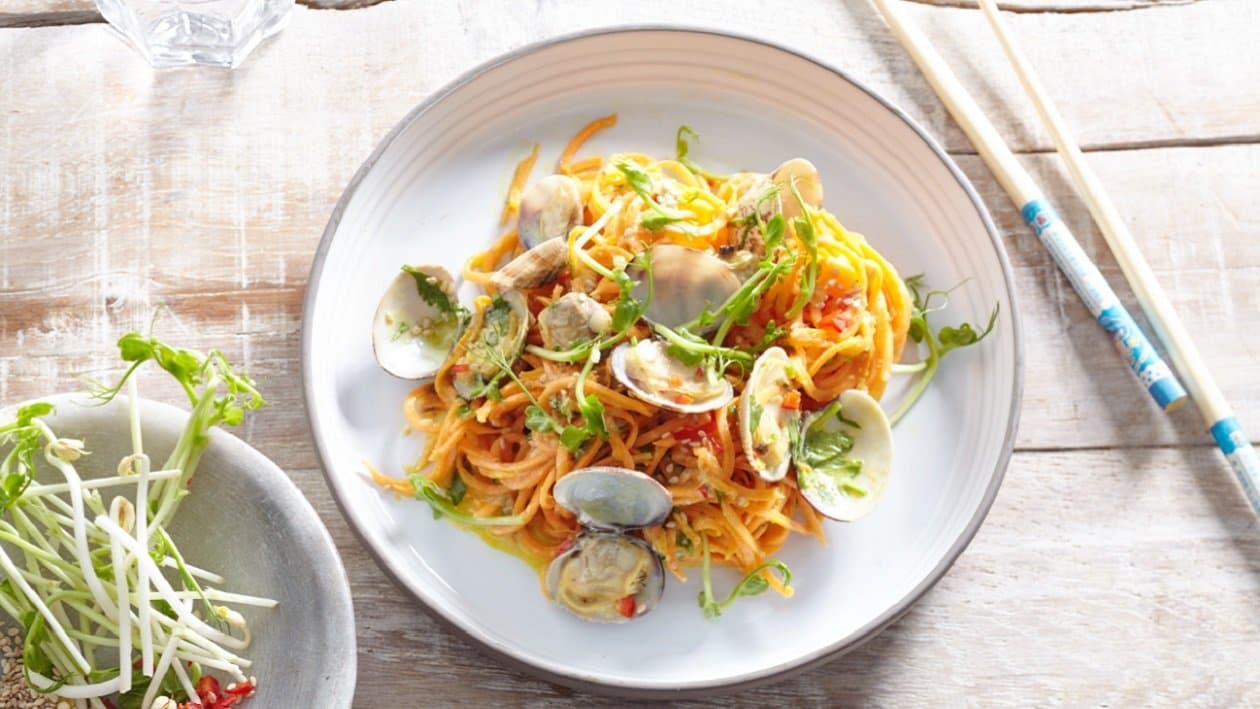 Spiral the sweet potato for a bright orange noodle, served with clams and coconut sauce spiced with super food turmeric.
...
Ingredients per serving
Prepare Noodles
Sweet potatoes, peeled

1.4 kg
Prepare the Clams and Coconut Sauce
Red chili pepper

1.0 each

Garlic cloves, minced

17.0 g

Ginger root, minced

12.0 g

Coconut milk

1.0 cans (470 g)
Assemble the Dish
Cilantro, rough chop

50.0 g

Limes, cut into wedges, for garnish

2.0 each
Preparation
Prepare Noodles

Using a vegetable spiralizer, spiralize the sweet potatoes into long, thin strands.
Cook the sweet potatoes in boiling water, gently stirring, until just starting to soften but not cooked through, 1 to 3 minutes. Drain and set aside.
Heat the vegetable oil in a wok or big skillet over medium-low heat and add the sweet potato noodles. Stir frequently and cook until just tender. Set aside.

Prepare the Clams and Coconut Sauce

Clean the clams.
Finely mince the red chili pepper.
Re-heat the wok. Add the vegetable oil and the clams. Turn the heat to medium, add garlic, chlli pepper, coconut milk and Knorr® Professional Liquid Concentrated Vegetable Base. Add lime juice, turmeric and ginger. Season to taste.
When the clams are open remove from the broth and set aside.
Reduce the broth until it is thick enough to coat a spoon.

Assemble the Dish

Add the sauce to the noodles, toss gently to combine.
Place one portion of the noodles on a plate and top with clams.
Sprinkle with furikake orsesame seeds, cilantro and sprouts.