In a climate where busy people cling to the comfort of home, off-premise dining options are one of the top restaurant trends! Add a pandemic on top of that, and take-out and delivery options become absolutely essential to restaurant stabilization and success.
Here are a few ways you can adapt to the quickly-changing restaurant demand for off-premise dining experiences:
Build guest relationships with social media 
Offer easy-to-use mobile and online ordering apps
Provide delivery and other off-premise services
Modify your menu to be more suitable to takeout and delivery
Below, we cover the growth of off-premise dining and why it's imperative to adjust, as well as the challenges that come with this relatively new type of dining. Then we'll go over the basics of how to establish your off-premise dining options. 
Let's also talk about how successful chain restaurants are adapting seamlessly to the new normal, and cover different ways you can boost your off-premise dining success. Lastly, let's address the question: What do consumers really want from their off-premise dining experience?
Understanding the Growth of Off-Premise Dining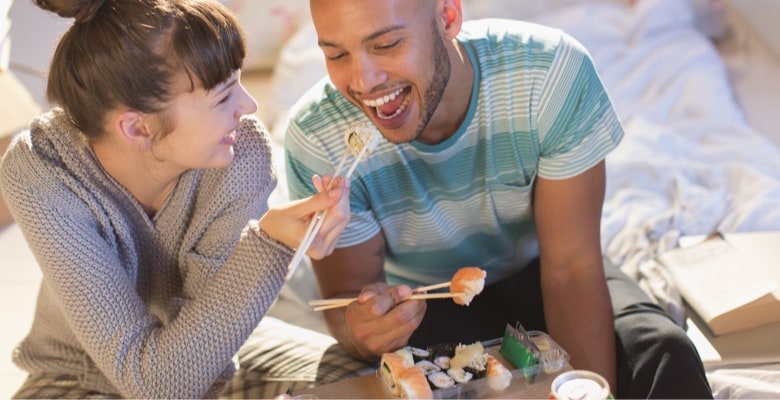 Netflix, Amazon, and the Coronavirus have all had a role in the explosion of off-premise dining. An overwhelming 86% of consumers are now utilizing off-premise dining channels at least once a month.
However, there are challenges surrounding off-premise dining, and it can be intimidating for many restaurants to take a step into the unknown. You may be concerned about:
Lack of control of the overall dining experience (think third-party apps)
Maintaining guest relationships
Long delivery periods and food quality and integrity
So, is providing off-premise dining solutions worth facing its challenges?
A Techonomic study conducted at the National Restaurant Association Show proved that 78% of restaurant operators claimed that off-premise business had become a priority for them, and 92% of restauranters who had already implemented off-premised ordering said it generated additional sales. 87% of those same operators said their off-premise dining options even brought in new customers, and 81% said it had increased their profitability.
Here's what's so great about off-premise dining:
Greater convenience: Dinner is just a few clicks away.
Free marketing: Building a strong digital presence and menu is an opportunity for free restaurant marketing.
Increase profits: Everything is going digital these days, which can lower labour costs and increase the bottom line.
While large gatherings are forbidden and social distancing is mandated, the industry is evolving quickly. Not only can you please current customers with off-premise dining options, but you can also connect with a new customer segment. It's time to invest in the drive-thru, carryout, catering and delivery options that suit your business.
How to Establish Off-Premise Dining Options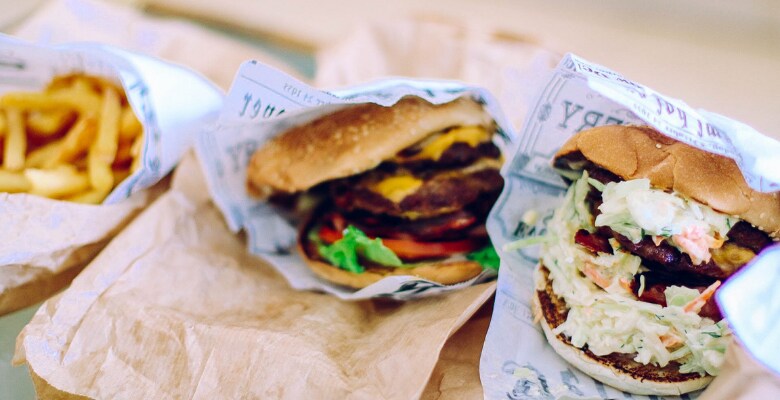 Developing an off-premise dining strategy will be different for each restaurant. Here are some terms and possibilities you need to know:
Off-premise dining: Any dining experience that occurs outside your restaurant location
Restaurant online ordering: Ordered on the restaurant website and picked up as takeout of delivered to the customer
Mobile ordering: Food is ordered via mobile app, and is picked up in-store or delivered
Third-party delivery: Restaurants that choose not to conduct deliveries themselves can utilize another business to deliver food to customers on their behalf 
Contactless delivery: This buzzword hails from COVID, and involves food delivery without a physical exchange of money or goods (the customer pays via app or internet, and the delivery person leaves the food outside the customer's door) 
Pickup possibilities: You might offer a pickup station inside your restaurant or provide curbside pickup options
Full-service restaurants have the most trouble adapting to off-premise dining. They are unable to provide the entire customer experience or use the same personalized upselling methods. 
Restaurants must be flexible, and might have to mix up their menus, because many guests might not want to order the same meals they would order in a restaurant. However, restaurants that choose to adapt can boost their likelihood of survival and success in these unprecedented times. Here's what we suggest:
Invest in a Restaurant Online Ordering System: Your guests must be able to order food through your website. This is an involved process including setting up your online menu and overall guest experience.
Reconstruct your Menu: You may want to develop an off-premise specific menu. Which foods will travel well? Which foods are customers eating at home looking for? Which dishes will standout online? Consider your most popular and profitable dishes.
Focus on the Guest Experience: You will need to create a new kind of guest experience with off-premise dining. How can you build a relationship with your customers without personally serving them? You might add personal notes to takeout orders, brand takeout containers, provide a loyalty program card or takeout "prizes" like stickers or decals.
Build your Social Media Presence: Since you'll be maintaining and building customer relationships online, it's time to address your social media outlets. Are your customers being directed to your Instagram, Facebook or website? Are those platforms helpful, engaging, and strategized to boost restaurant sales?
As you adapt to off-premise dining, be sure to keep track of your metrics and make adjustments as necessary. Here are a few other tips:
If you want to ease into off-premise dining, try serving off-premise meals just once per day
Offer off-premise dining promotions on social media and on your website
When guests order takeout or delivery, consider implementing a feature that shows your team and your guests when and where the order is at all times (in the kitchen, what time it will be ready, etc.)

Don't be afraid to ask for customer feedback digitally so you can improve
How Other Restaurants are Successfully Adapting to Off-Premise Dining
Restaurant or Brand

Strategies as noted by Restaurant Dive

Applebee's

Tamper-evident delivery packaging

Mucho Cocktail to go

Partnering with Grubhub and establishing their virtual brand, Neighborhood Wings, which is now available in other restaurants 

BJ's Restaurant

Expansion of outdoor dining areas

Investments in heaters to extend outdoor dining season in some states

Improving technology to add easier ordering, text updates etc.

The Cheesecake Factory

Large floor plans and glass partitions for more in-dining options

Utilizing excellent digital platforms (maintaining 90% of those digital sales even after dining in began to return)

Using marketing to raise awareness of lunch and other lesser used delivery services

Chuy's

Enhanced takeout, curbside and DoorDash services

Minimized contact with wait staff in-house with pay-at-table devices

Family meal and beverage kits for online ordering

The One Group

Developing newsworthy programs and then deploying emails and marketing campaigns for takeout and delivery to these subscribers

Establishing nine delivery partners and using technology to provide curbside pickup and delivery

Adapting menus to make them more transportable for takeout

Outback Steakhouse

Simplified menus and limited-time discounts

Launch of virtual brand Tender Shack, 
Do these concepts from these big restaurants give you any ideas for your own business?
How to Boost Off-Premise Dining Sales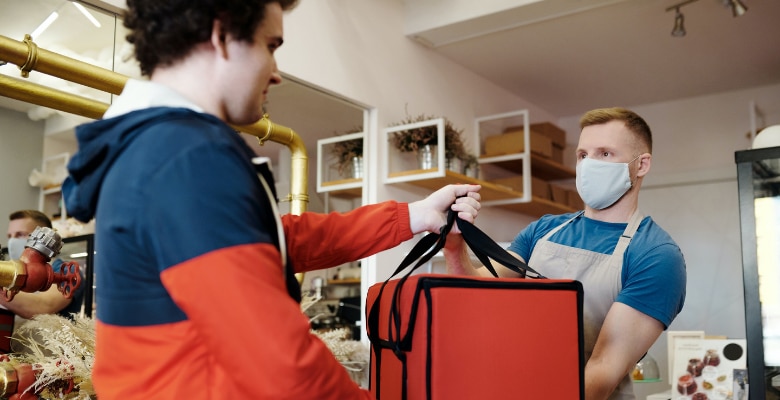 The evolution in dining and the sudden need for off-premise dining options was out of our control. Fortunately, capitalizing on off-premise dining can actually be an incredible opportunity for many restaurants. Here are some ways to boost your off-premise dining sales:
Consider your target customer group. For example, if you have a young Gen Z and younger Millennial customer base, consider creating a Tiktok account. If you have a Gen Y customer base, utilize text messaging and emailing.
Find ways to develop relationships with your online customers, because repeat online customers tend to spend double what first-time customers spend. Communicate with them, engage them on social media, and create exciting events and promotions.
Announce via email and social media that you are emphasizing off-premise dining, and explain the options and why they are so great.
Optimize your website by making it easy to access and navigate, and utilize SEO to help customers find it. Even more importantly, make sure your restaurant's online ordering channel is optimized for both website and mobile. 
Really focus on your social media presence and how you are building relationships and promoting your brand on social media. 
Consider whether UberEats, Postmates, DoorDash, or another third-party delivery service is right for you, or if you would rather conduct deliveries yourself and allocate various resources to ensure brand consistency and maintain 100% of delivery profits. Consult with other local restaurant operators to find out who they're using. 
Introduce contactless delivery, mobile payments, and other ways to limit contact. Emphasize your compassion by explaining updated cleaning methods and policies to keep them safe.
If you reside in a city that has introduced a bill to allow restaurants to sell alcoholic beverages with delivery or takeout, and have a liquor license, promote the availability of wine and spirits to enhance the off-premise dining experience.
Try offering the trending make-your-own-meal packages or kits.
Consider modifying your restaurant layout so there are dedicated areas for third-party delivery, to-go pickups, your own delivery staff etc., and more space for social distancing.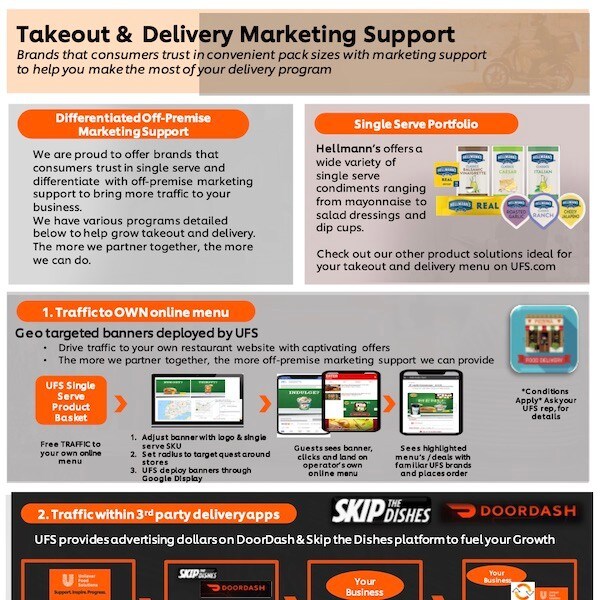 Free Off-Premise Dining Template!
Read how UFS supports you in marketing your takeout and delivery Menu.
Download Now
What do Guests Really Want from Off-Premise Dining?
30% of consumers ages 18-34 say they are placing more and more delivery orders, because it's even more convenient than carryout, and it's more comfortable to eat at home. More consumers are even ordering or taking out for lunch.
78% of delivery orders are placed through the restaurant itself, and 22% of delivery orders are placed through third-party delivery companies. Most consumers would prefer to order directly from your restaurant website or app (even if it directs them to a third-party delivery service).
Many consumers are also asking for:
More family-sized meal bundles for delivery
Easier-to-use mobile apps and websites for ordering
Food containers that allow them to avoid doing the dishes (sustainable options are even better)

Loyalty programs and opportunities to avoid delivery fees waived (many consumers are open to subscription programs)
It's not easy to keep up with these rapidly changing times, but restaurant owners are conditioned to change with the trends and needs of our customers.
When you are streamlining your off-premise offerings, make sure your strategy fits into your brand vision. Don't be afraid to keep experimenting if you don't have as much success as you hope for right at first.
Make online ordering easy and make delivery possible. Simplify your menu to make delivery and takeout more manageable, but also consider offering catering, family meals, and various promotions to build customer loyalty.
Trust your business sense to keep your restaurant going, even in the midst of rapidly changing times. The technology is moving along with you, making it easier to upgrade off-premise dining options.