As Canadians heed directives to stay home, restaurants, across the country  have closed or cut staff. But many are still open. Our North American Chef's Team understands the sacrifices that being in the restaurant business requires. So as many of us look at ways we support our communities in these unprecedented times, there is one way we can give back to both our neighbors and friends who chose to keep their doors open…order out.
So as many of us look at ways we support our communities in these unprecedented times, there is one way we can give back to both our neighbors and friends who chose to keep their doors open…order out.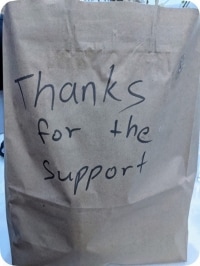 Khao San Road…taking care of those on the front line
We all have our favourite neighborhood haunts, and some have made the tough choice to close. As we wait for them to return it opens the door for us to explore new options. That is exactly what Chef Kyla did when she participated in Canada's #TakeOutDay this past Wednesday. "I chose to try Khao San Road because they were still allowing modifications to accommodate food allergies, where some restaurants out of necessity for their operations are not." 
Her delivery experience was elevated as well, the Chef continued. "The delivery courier sent me a text, when they picked up the food introducing themselves and indicating that they were taking precautions to keep the food 'safe'. Never had that happen before, however it did effect how I chose to tip him and rate the service." The restaurant also gave the option to donate money they indicated was going directly to kitchen staff which our Chef Kyla happily did. 
Chef Brandon Collins, Greater New York Area
Mexicali Blue… a seamless experience
Chef Brandon chose to grab some ultra-fresh Mexican for his family from a local restaurant that doesn't normally offer take-out but not delivery. They recently signed up for a delivery service, so he decided to give them a call.
It was as if they always managed delivery. Placed my order included my tip so there was no need to interact with the driver. I was able to support an important business in my community and share a great meal with my family.
After operating a fine dining restaurant in the area Chef Brandon knew the effort it took to give him a good experience. He returned the love on his Instagram account.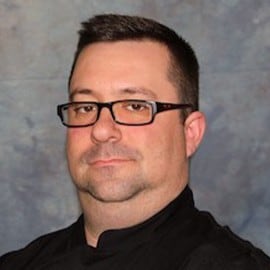 Chef JC Lopategui, Miami Beach
Sushi Express By Yakko-San opens a satellite
Long time Miami resident Chef JC has always enjoyed the authentic Japanese from Yakko-San. The fact that they had decided to operate a satellite kitchen with a limited menu was very timely.
"It would be a smart business model in an ideal environment, but today it is perfect", commented the Chef.
They don't allow for substitutions or add-ons to the limited menu. It allows for better inventory control. Any way you can find to keep your costs down and keep serving guest is what will get you through this.
The Chef also appreciates how it will allow the restaurant's long-time brick and mortar regulars to support a local favourite.
Chef Alvaro Lima, Chicago Area
Red Barn Restaurant…a complete operational pivot
A neighborhood fixture Red Barn Restaurant was not in the take-out or delivery business two weeks ago. And for a grateful Chef Alvaro now they offer both. "Pretty steady, that's how the owner sees it", offered Alvaro. That is truly a good news story for venturing into unchartered territory for any restaurant operator. "They have signs everywhere to make guests feel comfortable of how to queue up for your food and maintain social distancing and they are also offering family meals", added the young father.
Family taking care of family.
For restaurants thinking about getting into delivery, or for those who have already stated our team of chefs created a checklist of tips to get your restaurant prepared for a profitable delivery operation that guests can get excited about.
As a community of Chefs and to honor the hard work and ingenuity that makes restaurant people who they are we need to do our part to keep them safe as well.
Your part does not end with placing your order. Just as your favourite neighbor-spot has had to shift their business model we have to change how we engage. Start by picking up your food at curbside, if the restaurant doesn't have that option, wait for the delivery person to drop off your food and reach a safe distance before grabbing your meal. Just as the restaurant truly appreciates your business, show your appreciation for them. Use your social media to share your experience and a little extra tip for the effort can't hurt. 

If we can't be in our kitchens serving others as we have all chosen to do. We need find how, we as individuals, can continue to support our industry to get through this together.