Beef Picadillo Empanadas
Picadillo is a traditional dish in Spain, many Latin American countries and the Philippines. It is made with ground beef, tomatoes and other ingredients that vary by region. It is often served with rice or used as a filling. The name comes from the Spanish word picar.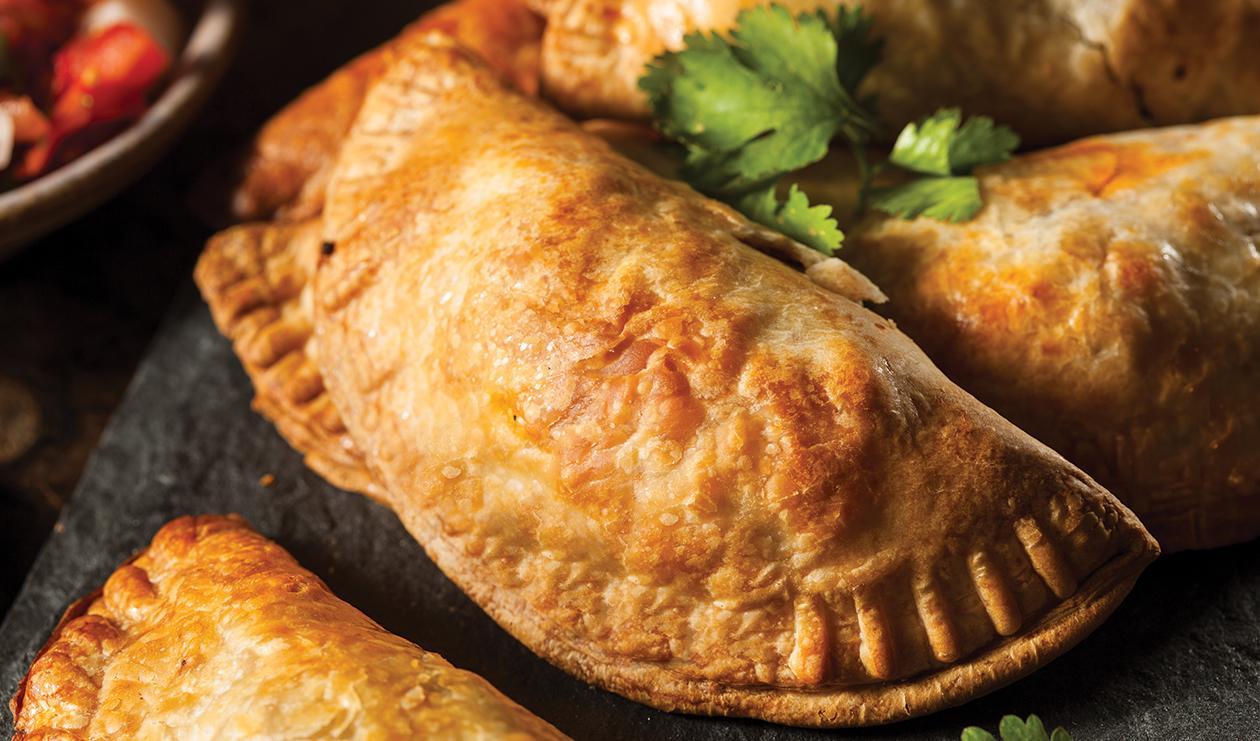 Ingredients
Step 1:
Spanish Jumbo Onion, small dice

900 g

Green Peppers, small dice

650 g

Fresh Garlic, Chopped

85 g
Step 2:
Knorr® Ultimate Roasted Beef Base Gluten Free

70 g

Dry California Raisins

150 g

Sauterne Cooking Wine

235 ml

Roasted Red Pepper, small dice

225 g

Green Olives, pitted, small dice

150 g
Preparation
Step 1:

Preheat a military Lg pan with the oil and sweat out the onion, green peppers and garlic. Add bay leaf and dry oregano.

Step 2:

Add fresh ground beef and all condiments such as: Knorr® Ultimate Roasted Beef Base, Black Pepper, Raisins, Cumin, Wine, Red Peppers, Olives and Tomato Paste.

Step 3:

Cook off for approximately 40-45 minutes. Stir all ingredients from the bottom-up, making sure they all come together and the recipe gets cooked evenly. Drain-off fat using a colander and ladle.

Step 4:

Finally place on clear plastic lexan and let product cool-off to 2C prior to empanada preparation.

Step 5:

WHEN MAKING TURNOVERS, procedure: Hand-Making Empanadas. Defrost the empanada disk, preferably 1 day prio to use.

Step 6:

Measure Picadillo with a 90 mL scoop. Place filling right on the center of the empanada and start folding-in from one corner to the other. Make sure the last fold seals the product correctly; this might cause product to come out while at the fryer.

Step 7:

Use a full sheet pan lined with parchment paper and cracker mill crumbs to prevent this product from sticking to each other.

Step 8:

Label product with description, date produced and initials of the staff member producing it. Place in walk-in cooler.

Step 9:

ON PICK-UP: Place directly to fryer basket and to fryer at 175C. Cook until golden light brown.

Step 10:

Pat dry with brown paper towel and serve. May be held in a dry-heat. There must be enough beef filling for 60 turnovers with 85 gram of Picadillo.