Read More
Beef Picadillo Empanadas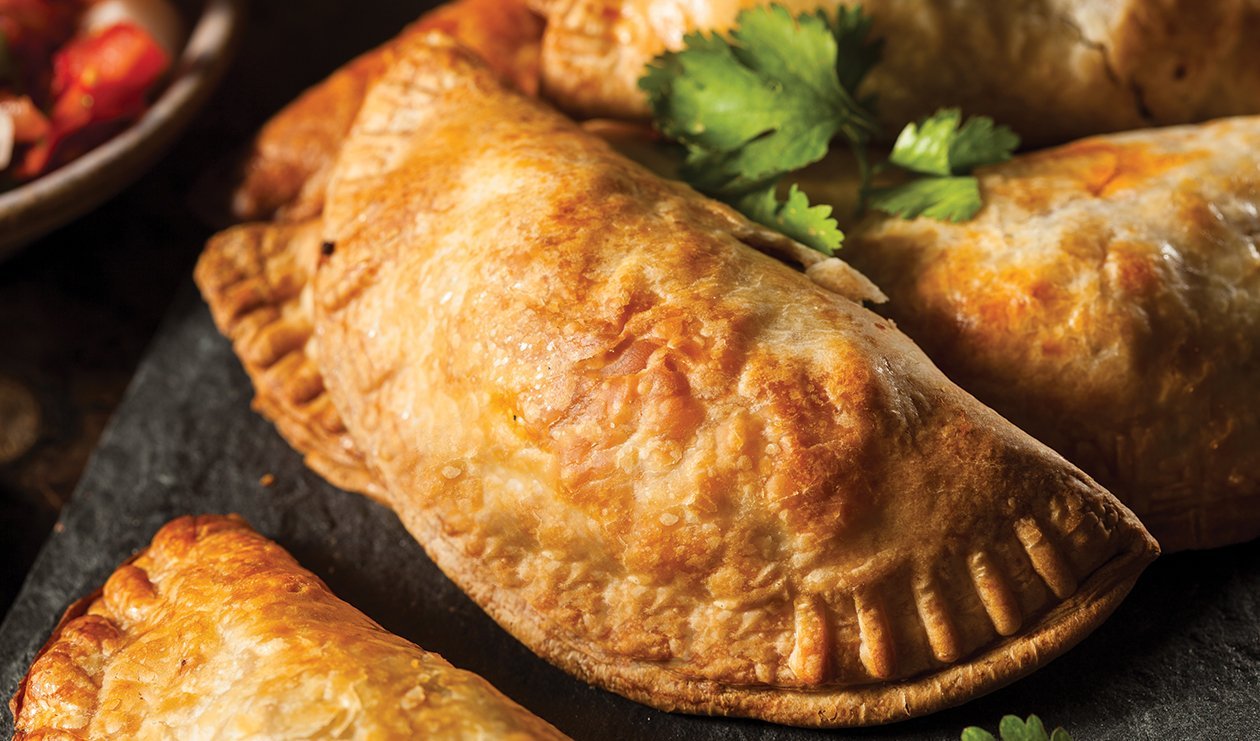 These empanadas are stuffed with traditional beef picadillo of Latin America and Spain. They are fried until crisp and make a great shareable appetizer.
...
Ingredients per serving
Prepare the Filling
Spanish Jumbo Onion, small dice

150.0 g

Green Peppers, small dice

175.0 g

Beef, ground, 80/20

1.2 kg

Garlic, chopped

3.0 cloves

Cracked black pepper, to taste

Dry California Raisins

40.0 g

Green Olives, pitted, small dice

45.0 g
Prepare the Empanadas
Frozen empanada pastry disks, thawed

2.0 pack
Fry the Empanadas
Preparation
Prepare the Filling

Preheat a large saucepan over medium-high heat. Add the ground beef and cook until no longer pink and cooked throughout. Transfer with a slotted spoon to a bowl and set aside.
Drain and discard most of the fat from the pan, leave just enough to coat the bottom of the pan. Add the onion and bell pepper and sauté until translucent. Add the garlic and cook another 30 seconds.
Add the black pepper, Caldo de Pollo, cumin and oregano. Add the tomato sauce, beef base (unprepared), and sherry and stir to combine. Add the olives and raisins and the beef back to the pan. Simmer, stirring occasionally, until liquid is reduced but mixture is still moist, about 10 minutes. Spread the mixture onto a baking sheet and place in the refrigerator to cool.

Prepare the Empanadas

Place the empanada disks on a work surface and using your hands, thin them out slightly. Place about 15 ml of the beef mixture in the center of each disk. Moisten the edges with water and fold over to form a semicircle, then crimp with a fork.

Fry the Empanadas

Deep fry the empanadas at 185°C, turning once, until crisp and golden, 4-6 minutes per batch. Serve warm. Makes 2 empanadas per serving.