Forgotten Vegetable Soup with Watercress and Truffle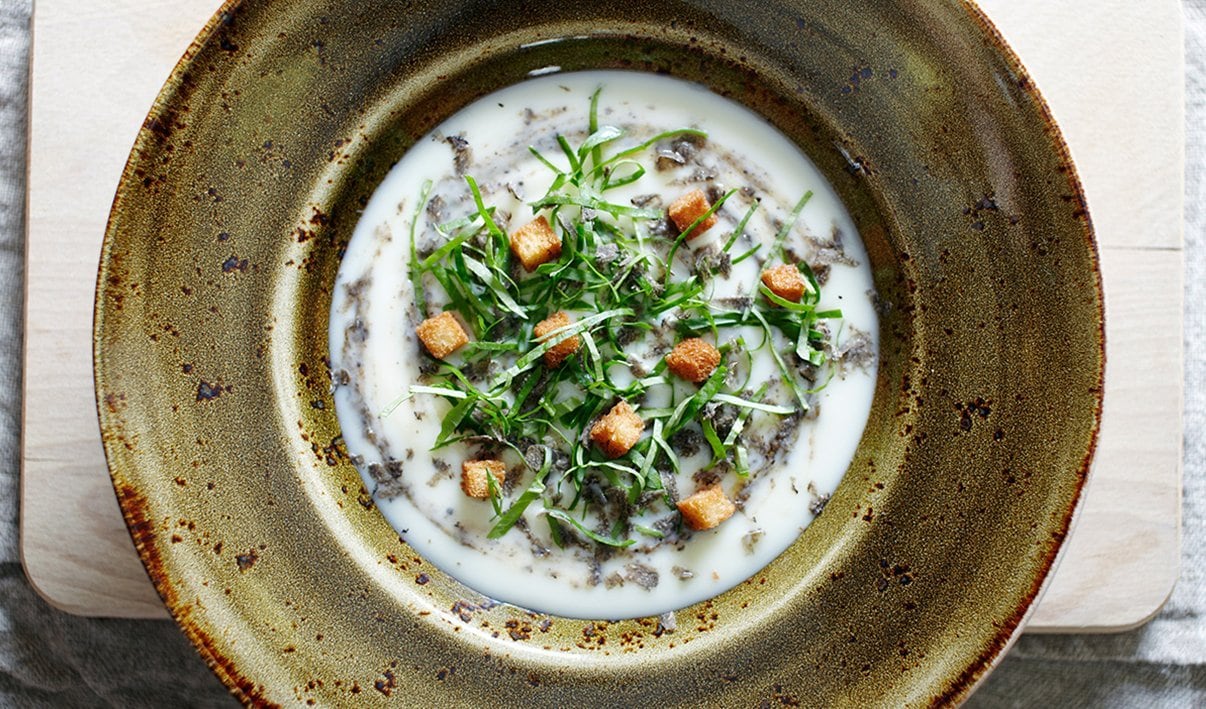 This soup contains many white "forgotten vegetables", such as Jerusalem artichokes, parsley roots and chervil root.
...
Ingredients per serving
Prepare the Soup
Knorr® Vegetable Liquid Concentrated Base

35.0 L

Forgotten Vegetables (Parsnips, Chervil Root, Jerusalem Artichokes, Parsley Roots)

960.0 ml

Knorr® Culinary Cream Base, prepared

960.0 ml

Salt and pepper, to taste
Prepare the Garnish
Brioche bread

2.0 tranches
To Serve
Truffles of truffle tapenade

30.0 ml
Preparation
Prepare the Soup

Prepare a gallon of vegetable stock as instructed on the package.
Clean the shallots and finely cut them.
Sauté the shallots together with the garlic in olive oil.
Meanwhile, peel the vegetables, chop them into pieces and wash them well.
Add the chopped vegetables to the shallot mixture.
Add the vegetable stock, LeGout Cream Soup Base and some salt and pepper.
Simmer gently for 20 minutes.
Purée the soup in a blender and strain with a strainer.

Prepare the Garnish

Cut the brioche bread into fine cubes and bake in butter until crisp.
Pick a couple of nice leaves of watercress and blanch the rest in salted water.
Purée the blanched watercress in a blender until smooth.

To Serve

Ladle the soup onto the plates.
Stir with a wooden prick to create a playful motif.
Finish the soup with the watercress leaves and crunchy croutons.
You can also garnish the soup with some freshly shaved truffle.