Irish Braised Beef with Sticky Dark Gravy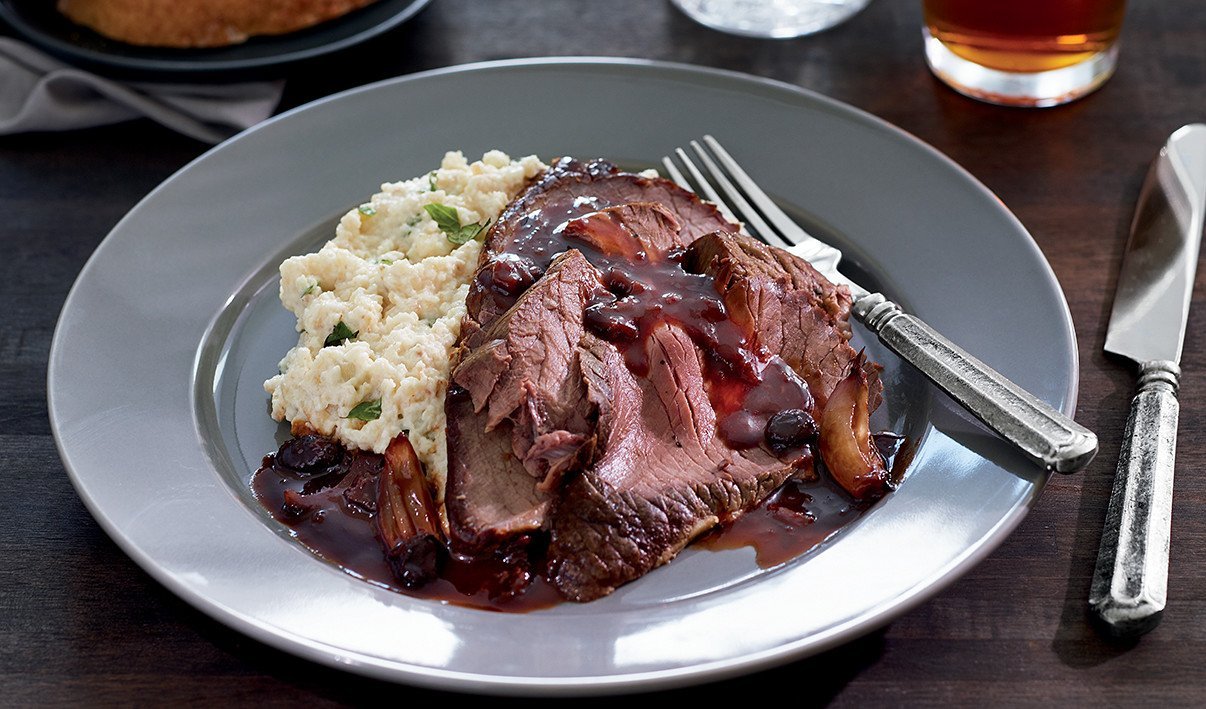 Add a hearty sauce of stout beer, red onions, raisins, cherry marmalade and tomato paste to your Irish braised beef.
...
Ingredients per serving
Prepare the Braised Beef
Kosher salt and black pepper to taste

Garlic cloves, crushed

8.0 each

Rosemary sprigs, fresh

3.0 each

Thyme sprigs, fresh

6.0 each

Chuck or bottom round roast

3.0 kg

Buttoned mushrooms, quartered

450.0 g

Red onion, chopped

450.0 g

Leek, white parts only, chopped

450.0 g

Carrots, peeled, cut into 5 cm pieces

675.0 g

Stout Irish beer

875.0 ml
Prepare the Sticky Dark Gravy
Braising liquid, warm

750.0 ml
Preparation
Prepare the Braised Beef

Season the beef and sear.
Remove the beef and set aside. In the same pot, add the vegetables and cook until vegetables begin to color. Reduce the heat to medium-low, cover, and sweat.
Add the beef, herbs, beer, wine, and prepared beef base and bring to a boil. Reduce to a simmer, cover, and simmer until the beef is tender. Remove meat and reserve braising liquid. Slice beef and hold hot for service.

Prepare the Sticky Dark Gravy

Heat the reserved braising liquid.
Whisk in the dry Knorr® Demi-Glace Sauce Mix (unprepared) into braising liquid until dissolved.
Stir in raisins and cherry preserves and bring sauce to a simmer. Hold hot for service.



To Serve

Place an 240 g. portion of beef on the plate. Top with sticky dark gravy.
Consider pairing with mashed potatoes or celeriac mash for an authentic flair.