Meeting guests' lunch expectations can be a moving target, but one thing is a given: they consistently appreciate nourishing dishes served quickly. The chefs from UFS have come together for these easy-to-prepare, vegetable based lunch pairings and recipes—and they're hearty enough to please your meat-loving guests too.
Roasted Cauliflower and Chili
When roasted, cauliflower takes on a full, earthy musk flavor. Spicy ingredients such as chilies emphasize the sweetness of the cauliflower.
Red Cabbage and Ginger
Spicy ginger compliments the robust red cabbage and gains a bittersweet taste when stir fried. You can also use these ingredients raw to make a nourishing salad.
Spinach and Chickpeas
Spinach and chickpeas are a centuries-old pairing. Combine wilted spinach with chickpeas and cumin for a North-African salad, or make a farinata of chickpeas served with toasted chickpeas.
Rice and Beans OR Rice and Lentils
Make a hearty Middle Eastern Majadara (rice and lentils with brown rice) as a side dish or the base for a Middle Eastern rice bowl. Also consider making a hearty "fajita" with brown rice, beans with vegetables.
Chickpeas and Tahini
The classic components of hummus give your guests a great source of plant-based protein. Combine into a paste or create a chopped salad with chickpeas and tahini served with herbs and a complementing dressing.
Salad with Freekeh, Pulled Chicken, Beetroot and Grapefruit
The sweet roasted beetroot pleasantly contrasts the bitter red chicory and the grapefruit. This salad is fresh and crunchy to the freekeh — these roasted grains of young, green wheat are high in fibers and essential minerals.
Flatbread with Pumpkin Hummus, Za'atar and Onion Confit
Za'atar is a magical Middle Eastern spice blend and also a herb in its own right. It can be mixed with olive oil and used as a dip or rubbed on bread. It's a wonderful condiment for vegetables, adding warmth and a bit of crunch. 
Forgotten Vegetable Soup with Watercress and Truffle
This soup delivers on guests' desires for old-world, authentic flavors. It contains many white "forgotten vegetables," such as Jerusalem artichokes, parsley roots and chervil root.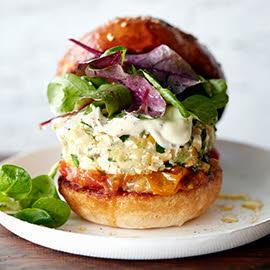 Vegetarian Tofu Zucchini Burger with Mustard Mayonnaise
Your vegetarian guests will love this filling, tasty burger full of veggies with a sweet and sour tomato relish.