Chef Kyle's 5 Insider Tips on Managing Calorie Labeling
1. Establish recipes NOW. This will help the transition.
2. Buy a program that will analyze the recipes for nutritional value. I would suggest a nutritional based program made by Esha. I have used it for many years and it works. By purchasing this program (or the like), you'll save money and time in the long run especially when changing up menus.
3. Hire a culinary student to input the data. It is a cheap and fast and the majority of the time, culinary students have to take a nutrition class. The only downfall is that you are putting your hard work in their hands. With that said, there is a "Truths in Menu" law that states any claims made on your menu must be correct. Violation of this can lead to legal action against you. Though this is a viable solution to hire a culinary student, I would only pick the top student to work on this project.
4. Contract out the work. I've helped many bakeries and foodservice establishments with this and it has been a fun project to do. You can easily hire a nutritionist or a dietician to input the recipes and analyze them for you. It will come with a cost. CAUTION: Stay away from free, computer-based programs. Often they do not have the ingredient specs you buy.
5. Instead of printing the information on the menu, I like to suggest to have a binder available for the customers to look at if they ask. This would include the name of the dish, nutritional label and the ingredient deck.
Calorie Labeling: Overview
The Situation
Starting in 2017, new legislation from the FDA will be enacted with the goal of making nutritional information more readily available for restaurant guests so they can make more informed dietary choices. It may be surprising to many people, but most spend almost half of their food dollars eating out. It's easy to underestimate calories in foods that are prepared away from home, so these new regulations aim to help guests understand the total calories they're consuming when enjoying a meal out.
Does It Apply to You?
If you own or operate 20 or more units, you'll have to comply with the regulations, but even if you're smaller than that keep in mind guests are looking for transparency when it comes to their dining options. Health sells. Research shows restaurants with more lower calorie servings saw a 10.9% increase in total traffic count and a 10% increase in sales.1
What You'll Need to Do
The new legislation focuses on calories so you'll need to make sure that information is displayed clearly and prominently on menus, menu boards, self-service areas and buffet and cafeteria lines.
You'll also be required to display the following contextual statement on menus or a sign that is visible when guests are ordering standard food items or serving themselves: "The average adult requires approximately 2,000 to 2,400 calories per day; however, individual calorie needs may vary."
You can find the full set of regulations, exclusions and other guidance here.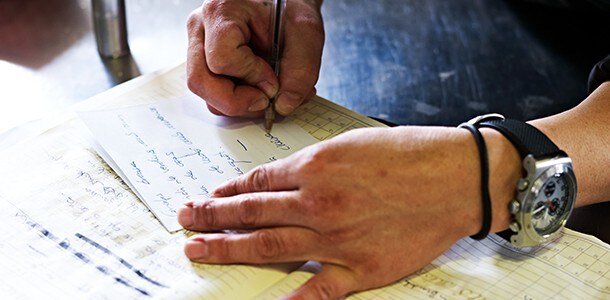 How to Get Started
The first step will be to calculate nutritional information for your menu. This process can sound overwhelming, but you can use the resources and data you may already have available. The legislation states that your calorie information must be determined by one of two ways:
Laboratory testing that the owner or operator reasonably believes will provide accurate results
Nutrient analysis method that the owner or operator reasonably believes will provide accurate results
You may also determine calorie information from nutritional information provided in cookbooks or using supplier information if this information was also determined by lab testing or a nutrient analysis method. There is a guide online on how to develop accurate nutrient values for more information.
To help share the load of taking the steps to compliance, work with your distributors to identify accurate ingredients, especially if you're wanting to create gluten-free or allergen-sensitive dishes.
We know government regulation in your restaurant can feel intrusive, but with the right perspective and execution, you can use the new rules as an opportunity to better serve your customers—and make more money.
1 Hudson Institute, Lower-Calorie Foods It's Just Good Business, February 2013
2 Ontario.ca, "HEALTHY MENU CHOICES ACT, 2015"