Freekeh, Pulled Chicken, Beets and Grapefruit Salad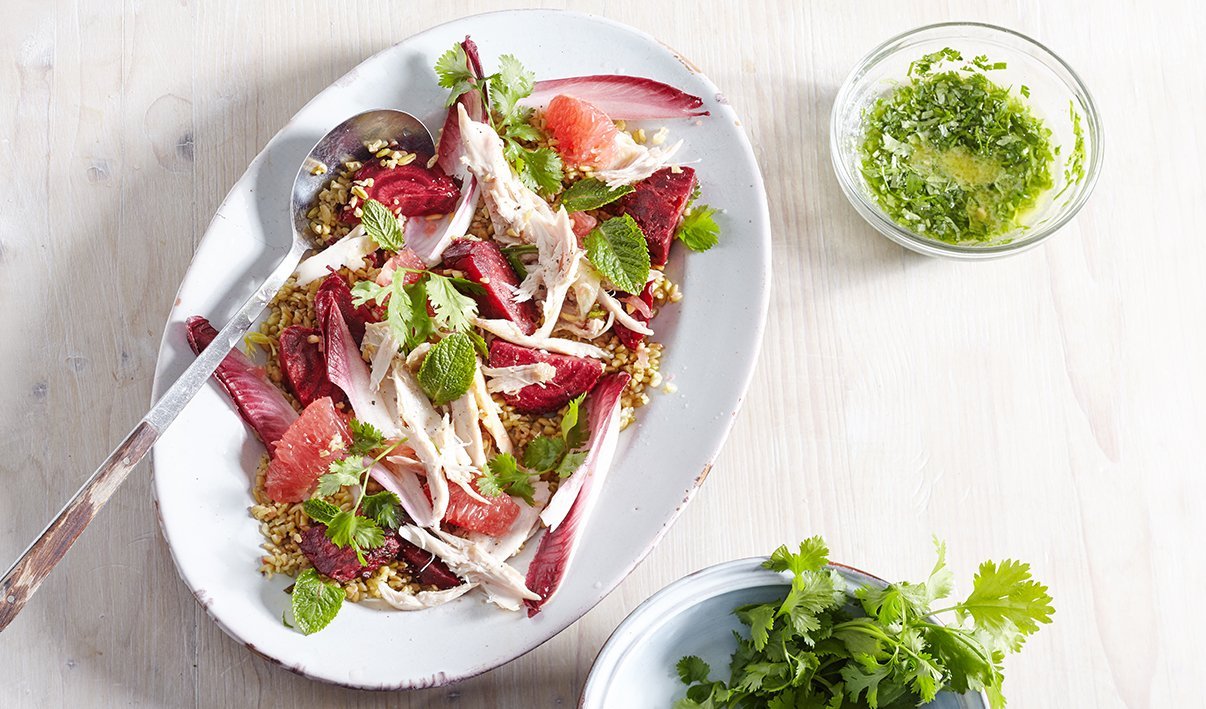 This salad is fresh and crunchy and has sustenance thanks to the freekeh– these roasted grains of young, green wheat are high in fiber and essential minerals.
...
Ingredients per serving
Prepare Roasted Beets
Red beets, small

8.0 each

Thyme sprigs, fresh

3.0 each

Garlic, peeled, whole

4.0 cloves
Prepare Freekeh Salad
Citrus, grapefruit

4.0 each
Prepare Pulled Chicken
Whole roast chicken

2.0 each

Salt and Pepper, to taste
Prepare Vinaigrette
Hellmann's® Classics Raspberry Vinaigrette 2 x 3.78 L

500.0 ml
Preparation
Prepare Roasted Beets

Wrap the beets with thyme and garlic in aluminum foil and roast at 160 C for 2 hours or until tender.

Prepare Freekeh Salad

Bring water to a boil and cook the freekeh 20-25 minutes until it is tender to the bite. Drain and keep aside.
Peel the leaves of the red chicory and cut in half lengthwise.
Peel the grapefruits and cut into segments.

Prepare Pulled Chicken

Remove the meat from the chicken and shred into large chunks. Season with salt and pepper.

Prepare Vinaigrette

Finely chop the mint and cilantro put some aside for garnishing.
Mix the chopped herbs with the Hellmann's® Mango Pineapple Vinaigrette.

To Serve

Peel the beets and cut into wedges.
Toss the dressing with the freekeh, red chicory leaves, grapefruit segments and beets.
Divide over plates and top with the chicken.
Garnish with fresh cilantro and mint leaves.