Even people who are not pure vegans are getting interested in plant-based eating. That's because a vegan diet has huge benefits in terms of health and wellness. It also appears to be better for the environment. And celebrities like Ariana Grande, Zac Efron, and Brad Pitt have also done a lot to highlight the benefits of veganism, bringing the movement into the mainstream.

What does this mean for you as a restaurant owner? It means that you should have some vegan options on your menu! Your customers will enjoy having plenty of plant-based options to choose from. If you're not sure how to do that, don't worry. We've put together a guide to help you provide great-tasting, budget friendly vegan foods for your customers. Just keep reading for our best ideas.
The myths about vegan food
There are a lot of myths and misconceptions about vegan food. People often think that a plant based diet is going to be prohibitively expensive, and is often bland or dull. They worry that vegan foods will never be as appetizing, or as satisfying, as meats and dairy products. And, many people are afraid that vegan food options are strictly limited.
Fortunately, none of these things are true! When it's done right, vegan food is delicious, varied, and very satisfying. It's also inexpensive, and it's straightforward to prepare.
Vegan food doesn't have to be expensive
Many people assume that vegan cooking is going to be very pricey. That's one of the most persistent myths about the plant-based cuisine. But in fact, serving vegan food can actually save you a lot of money. After all, high quality meat, dairy, and eggs can set you back quite a bit. Vegan food, which relies on vegetables, legumes, and pulses, won't cost you nearly as much.

For most of human history, most of the world ate a vegetarian diet most of the time. After all, meat was expensive and scarce. Beans, vegetables, and grain were all readily available and inexpensive. If you think about it, the vegan diet is really nothing new; it's just a return to an ancient and natural lifestyle.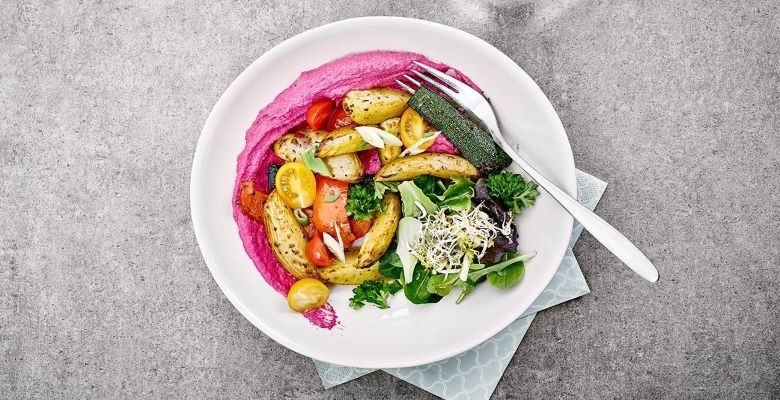 Making vegan food delicious, and staying away from substitutes
A lot of people associate vegan food with meat substitutes. There are plenty of meat replacements out there, like chik'n, a plant-based product which resembles chicken, or other soy-based mock meat products.
Some of these products are tasty and appealing, but they can't do much to replace the experience of eating meat. For most people, these products are going to feel like a second-rate version of the "real thing," i.e. meat. And for most people, it's just not worth it to venture all the way out to a restaurant to eat a vegan meat substitute.
Instead of trying to find a substitute for meat, why not try something completely different? Vegan food is at its best when it's based around real, fresh ingredients and when it highlights the delicious flavours of vegetables, legumes, and fruits.
Regional cuisines and delicious vegan specialties
Many of the world's cuisines have a rich history of vegetarian and vegan dishes. Asian, European, and Latin American cultures all have wonderful options for vegans. The best thing about regional specialties, though, is that they aren't just substitutions for meat. They're not trying to imitate beef, or chicken, or cheese. They're something else altogether.
Curries and other Indian specialties
India is a country with a strong vegetarian tradition; the country's large Hindu population is vegetarian for religious reasons, and many of the country's most popular dishes are either vegetarian or vegan. These are tasty, satisfying and naturally vegan options which will keep your customers coming back for more.
Indian food relies on vegetable curries, baked rice dishes, chickpeas, and lentils. Dhal, a warmly-spiced lentil curry, is served at the beginning of most traditional Indian meals. It can be accompanied by either rice or bread to provide a complete protein.Chana, or chickpeas, is also popular in Indian cuisine, and can be prepared with all kinds of richly flavoured sauces, ranging from mild to spicy.
Indian food is highly flavourful and satisfying to the senses. Preparing Indian food is relatively straightforward, too. Bear in mind that not all Indian food is vegan. You'll have to remember to prepare the dishes using vegetable oil instead of ghee, the clarified butter which is used in much Indian cooking. You'll also have to avoid traditional yogurt sauces and any dish cooked with paneer, or cheese.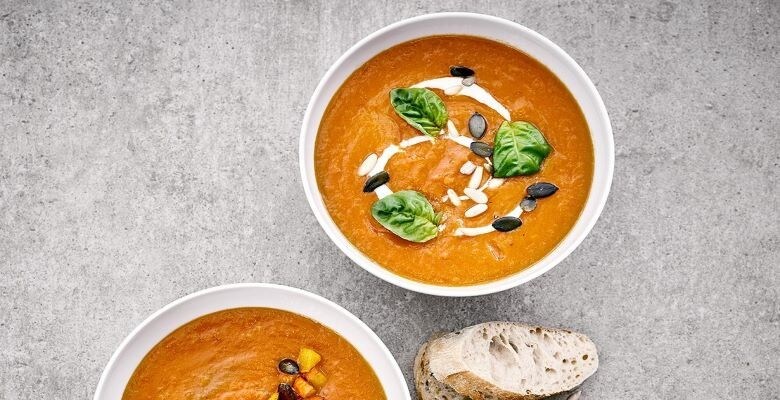 Mediterranean food
The Mediterranean diet is one of the healthiest cuisines in the world. It's based on fresh fruits and vegetables, beans, and whole grains. Naturally, Mediterranean food includes plenty of vegan options. Served with a glass of wine, a Mediterranean meal is a naturally vegan crowd-pleaser
Consider Italian specialties like pasta e fagioli, a classic soup with pasta and beans. This is a great cold-weather food which is packed with vegetables and with protein from the beans and the noodles. Although traditional recipes for pasta e fagioli often include ham or parmesan cheese, the dish can easily be made without any animal products for a vegan treat.
In the eastern Mediterranean, vegan foods like falafel and hummus have been popular for centuries. Many Greek dishes are naturally vegan too. Gigantes, a large, meaty-textured lima bean, are traditionally baked in a tangy tomato sauce and served with bread. Spinach pie (without cheese) is another popular dish. And appetizers like olives, tahini, and grape leaves stuffed with rice are popular throughout the Mediterranean.
Mexican food
A lot of Mexican dishes are naturally vegan. Snacks like corn chips served with salsa are all naturally vegan, for example. In fact, it could be that your restaurant already serves a lot of vegan Mexican specialties, without even realizing it.
Enchiladas, burritos, tacos, and tortas can all be stuffed with flavourful black beans or pintos and smothered in spicy, tangy sauces. Yes, you'll have to stay away from cheese in the fillings and the toppings. But with flavours this bold, it shouldn't be hard to keep it all vegan.
If you want to give your customers a true Mexican experience, why not also add a lager like Tecate or Modelo to your menu? You might also want to consider adding margheritas to your beverage list, especially in the summer months!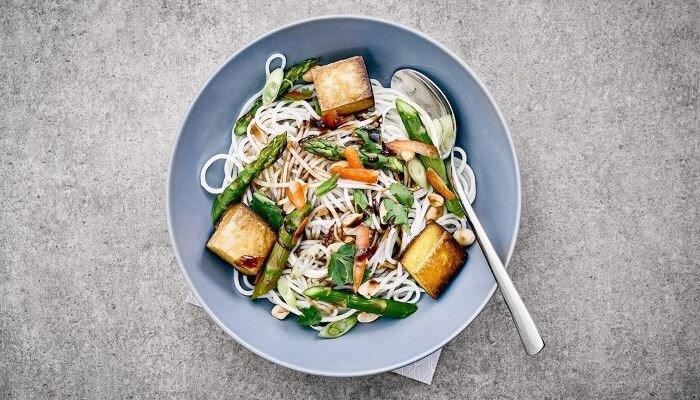 East Asian vegan options
East Asian cuisines have a wealth of vegan options which your customers will probably love. Vegetable tempura makes a terrific appetizer, or even a light main dish. (Many tempura recipes call for using eggs in the breading process. However, vegan versions of the dish simply replace eggs with sparkling water.) Marinated tofu served with rice or noodles is a delicious, protein-rich meal. And spicy noodle soups can warm up your customers on even the chilliest night.
Highlighting the vegan items on your menu
If you're like many restaurant owners, you may already have a number of vegan options on your menu – without even realizing it!
Bean burritos, salads, pasta primavera, and countless other popular dishes are all naturally vegan. Appetizers and snacks like chips with salsa, olives, or bread with hummus are also vegan choices that go over well with almost every customer.
If you have these items on the menu, then it's time to highlight them to your customers! Set up a place on your menu where you list all of your vegan options. Make sure you list all the ingredients that go into the vegan foods. Your customers will probably want to make sure that the dishes you're serving really are vegan, so make sure that they are all prepared without butter, cheese, chicken or beef broths, or other common animal products used in cooking.
Use your social media to promote your vegan options
Hopefully, you're already using Facebook, Twitter and Instagram to connect with your customers on a regular basis. It's a good idea to use your social media to let your customers know about any changes that are taking place in your restaurant.
So, if you're adding more vegan items to your menu, reach out to your customers on all of your social media platforms. Make sure they know about all of the great new vegan snacks and meals they can get when they come in to your restaurant again!
Final thoughts
Whether you're interested in running a vegan restaurant or simply offering a few vegan options, it's never been easier to start expanding your menu's plant-based offerings.
Fortunately, vegan food is also one of the most budget-friendly cuisines out there. That's because vegan food relies on fresh fruits and vegetables, beans and lentils, and whole grains. If you do your best to stick to seasonal produce, then it will be easy to provide affordable, delicious vegan options for all of your customers. Bon appetit!