Consumers' love of barbecue is on the rise. Take your grilling game to the next level by trying some of these up-and-coming dishes and methods. The time around Father's Day is ideal to roll out new BBQ items since around 50 million US dads will celebrate the day and 31% of them want to go out to dinner at their favorite restaurant.1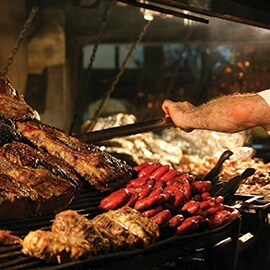 Asado
South American barbecue is some of the best in the world. Experiment with new techniques to bring fathers something out of the ordinary.
 
Origin: Argentina, Brazil, Chile, Paraguay, and Uruguay
 
Meats: Beef (flank steak), chicken and chivito (young goat) are most common, but Pork and Patagonian lamb are becoming more popular.
Method: Meat is cooked on a grill called a parrilla or on an open fire. Often a side of ribs is skewered on a metal frame called an asador and roasted by placing it next to a slow burning fire
 
Complements: Asado is perfect with red wines and simple salads made with just tomatoes and lettuce dressed with oil and salt. In Paraguay, chipa guasu, sopa paraguaya and manioc are served as side dishes. In Argentina, traditional accompanying dishes include offal, entrails, chinchulines and tripa gorda, mollejas (sweet bread), morcilla (blood sausage) and chorizo.
 
Father's Day Dish Idea: Skirt steak chimichurri, carne asada (with caldo de pollo)
 
Brazilian Tradition:Father's day is known as Dia dos Pais. Families throw large, all-you-can-eat barbecues either at home or at a churrascaria (a Brazilian steakhouse). Dads are treated to the most prized cut of meat in Brazil which is roll-cut pieces of beef with garlic and olive oil cooked in rock salt.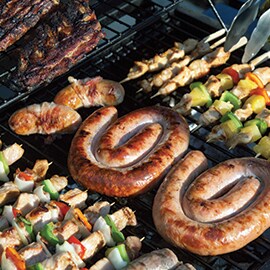 Braaivleis or Braai
Treat dads to some truly unique, up-and-coming African flavours.
 
Origin: South Africa, Botswana, Namibia, Lesotho, Swaziland, and Zambia
 
Meats: See if you can source boerewors, sosaties and kebabs, but chicken, pork and lamb chops, steaks, sausages, heavy with coriander and bay leaves will also do fine. Basically African grilling relies on the whole kitchen sink of meats. In coastal areas they even include seafood.
Method: Historically wood was used, but charcoal has become the standard.
 
Complements: Pap (porridge) is traditionally eaten with the meat. Make pap from corn/maize serve with tomato and onion sauce or a more spicy chakalaka sauce. Have you heard of monkey gland sauce? Don't let the name throw you off, it has nothing to do with monkeys. It's a traditional tabletop condiment in South Africa. The sweet and spicy flavour is perfect with grilled meats, and the name really gets guests' attention.
 
Father's Day Dish Idea: Grilled prawns peri-peri with grilled corn salad, basil, and feta.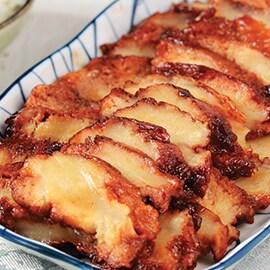 Char Siu
Dads will love pork prepared in this traditional Asian method. It's slightly sweet with an amazing spice blend.
 
Origin: China, Japan, Southeast Asia
 
Meat: Pork
Method: Long strips of pork are seasoned with a mixture of honey, five-spice powder, hóngfǔrǔ (fermented bean curd), dark soy sauce, and hoisin sauce.
 
Complements: Traditional starches such as rice, rice or buckwheat noodles, or Asian buns.
 
Father's Day Dish Idea: Consider a char siu "BLT" served on a steamed bun as an introductory fusion dish.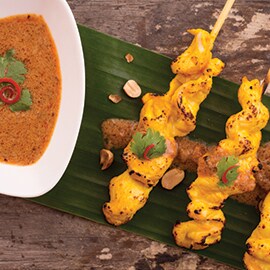 Satay
Sweet, spicy, nutty. What's not to love?
 
Origin: Indonesia, Malaysia, Singapore, Brunei, Thailand, Philippines
 
Meats: Diced or sliced chicken, goat, mutton, beef, pork fish or tofu
Method: Authentic methods use skewers from the midrib of the coconut palm frond, although bamboo is often used (and probably easier to find). The meat is grilled over a wood or charcoal fire, then served with various spicy seasonings. Various spices can be used in marinating the meat, but turmeric is always necessary and gives the meat its distinct bright yellow colour.
 
Complements: Satay is best served with a combination of soy and peanut sauce. They're traditionally served with savory rice cakes called ketupat.
 
Father's Day Dish Idea: Try peanut butter and soy glazed chicken kabobs or Thai skewered beef seasoned with ginger, garlic, and chilies.
Tandoori
Indian food is hot now. And if dad likes spicy dishes, this is a great choice. Be sure to accommodate less adventurous guests by letting them pick the spice level .
 
Origin: Punjab, India
 
Meat: Chicken
Method: Marinate chicken in yogurt with tandoori masala (a spice mixture of cayenne pepper, red chili powder and Kashmiri red chili powder). It is traditionally cooked at high temperatures on a skewer in a heated clay oven known as the Tandoor.
 
Complements: Tandoori chicken is mostly eaten as starter, but it can also be enjoyed as a main course.  Serve with naan or other flatbreads to dip in the sauce and rice.
 
Father's Day Dish Idea: For a mashup/fusion dish, try tandoori chicken tacos with red onions, corn and cilantro. This is very similar to how people eat in India. Onions and cilantro are served as condiments, and people go crazy for corn. They even put it on pizza.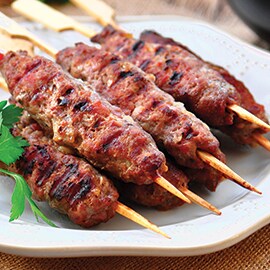 Kabab
Middle eastern flavours are all the rage, and kababs represent the region very well.
 
Origin: Iran, Iraq, Afghanistan, Turkey
 
Meat: Ground lamb and/or beef
Method: Mince the meat twice for a finer consistency, then mix with parsley or onion. Add salt, garlic powder, black pepper, celery powder, sumac, onion and one egg yolk. Mix all ingredients, cover and marinate in the fridge for at least 4 hours. Grill the slices on skewers over hot coal for an authentic, smoky flavour.
 
Complements: Try an Iranian rice pilaf with oil, salt and saffron, grilled tomatoes and onions and polow (middle eastern bread).
 
Father's Day Dish Idea:Serve up traditional lamb kebabs with Persian lime and sumac sauce.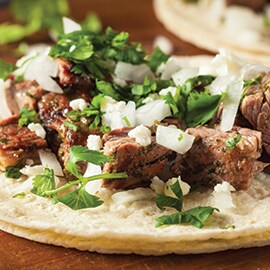 Horno
Consider using one of these adobe ovens for truly authentic dishes.
 
Origin: Mexico although now widely popular in North America
 
Meat: It varies based on the region of Mexico, but beef, chicken, goat, and pork are the most common.
Method: Grilled marinated cuts of meat (carne asada) on an open charcoal flame.

Complements: The standard tortillas, green peppers, onions and chili peppers are perfect when cooked in this most authentic method.
 
Father's Day Dish Ideas: Skewered beef or chicken with caldo and lime marinade.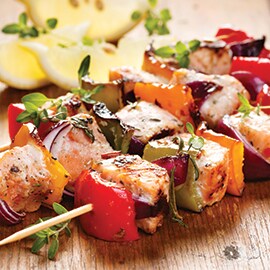 Ikan Bakar/Ayam Bakar
The translation for "ikan bakar" is essentially "burned fish," although poultry is also a popular protein with this grilling method.
 
Origin: Indonesia and Malaysia
 
Meat: Mainly grilled fish, stingray or chicken
Method: The meats are marinated with mixture of spices, pastes and sometimes a sweet soy sauce and then grilled. Garlic and shallots are quite prevalent in the sauces and spice mixes. Some dishes call for the meats to be wrapped in a banana leaf before grilling. This technique captures the steam and makes the meat even more tender.
 
Complements:The meats are usually served with sambal belacan (chili with shrimp paste) or sambai kecap (sliced chili and shallot in sweet soy sauce) as a dipping sauce.
 
Father's Day Dish Ideas: Shrimp, shallot, and pepper skewer with mushroom kecap, served over rice steamed in a banana leaf
1 http://greenshootmedia.com/images/FathersDay2015/FathersDayPreview.pdf