It's really just the basics. It's about time and temperature.
Anton Williams of Rodney Scott's BBQ  worked in the kitchen for two years before he became pitmaster. Williams shows Chef Einav an inside look at how  whole hogs and ribs are prepared.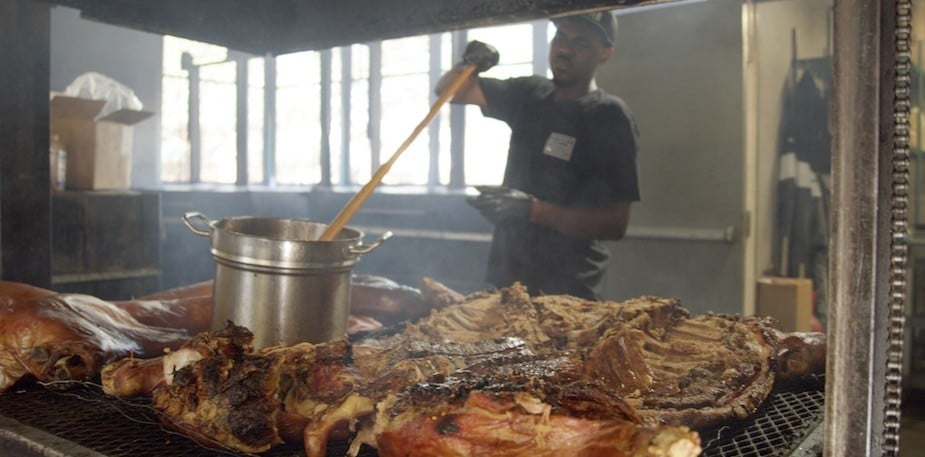 Chef and Pitmaster Rodney Scott
Rodney Scott's Whole Hog BBQ in Charleston, SC was born out of a friendship between Rodney Scott and Nick Pihakis, and their mutual respect for the time and technique required to make great barbecue. Understanding the history of the craft, the difference it makes in flavour to cook over live coal direct heat, and the dying art of whole hog barbecue is what drives them. Hardwood is burned down to glowing embers at the side of the bbq pits. Those embers are shoveled carefully under the meat and tended—paying special attention to temperature and heat placement—using those coals to regulate cooking through the entire process. The work is smoky, difficult and satisfying but turning the craft into a business is a way to ensure the survival of an important part of American history and a traditional cooking technique that imparts a unique flavour into meats. With Rodney Scott's BBQ restaurants in Charleston, SC, Birmingham, AL and a location to open soon in Atlanta, GA, there are pitmasters who are trained in the same way that Rodney Scott has been working the pits since he was a kid. In addition to serving outstanding food, Rodney Scott's Whole Hog BBQ is committed to passing on the enjoyment, education and tradition of whole hog bbq to new generations. Rodney Scott published his first cookbook, Rodney Scott's World of BBQ in 2021.
Source: Rodney Scott's Whole Hog BBQ