Stafford® French Onion Soup Base 1 x 3 kg
Stafford® French Onion Soup Base 1 x 3 kg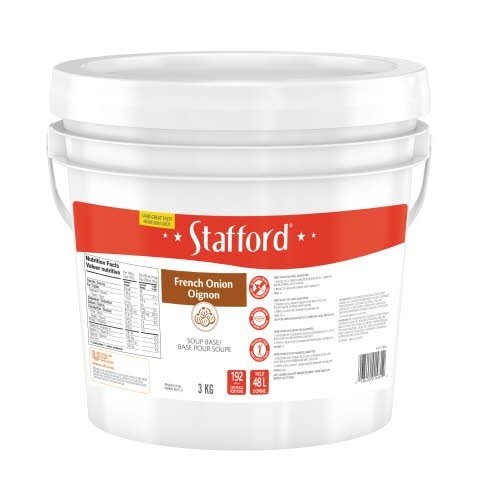 Stafford® French Onion Soup Base 1 x 3 kg
All product information
Nutrition Details & Allergens
No artificial colours and flavours
Ingredients
Dehydrated onions, corn syrup solids, salt, onion powder, beef fat, yeast extract, monosodium glutamate, colour, canola oil, corn starch, disodium guanylate, disodium inosinate, natural flavour, citric acidcontains: barley, sulphites
Additives
No artificial colours and flavours
No trans fat
Allergens
Contains sulphur dioxide and sulphites and their derivatives
Product Information
Description
A full bodied blend made from selected herbs, spices and real onion flavours.
Usage information
Preparation
Use 284 g or 10 oz french onion soup base to 4.55 l (160 fl oz) hot water. Bring to a boil and simmer for 10 minutes. Yield 48L
Yield
192 average servings per case
Benefits
Stafford soup & gravy bases provide a wide selection of tastes and pack sizes for the operator who wishes to reduce the time needed to prepare a soup, gravy or sauce that is required when using traditional scratch base preparation methods.
Tips
Use wherever a rich hearty stock is required.
UFS is proud to offer a range of products that are Vegetarian, Plant-Based, and/or Certified Vegan. Unilever definitions for each claim can be found here.