Read More
Crab Cake Benedict with Florentine Hollandaise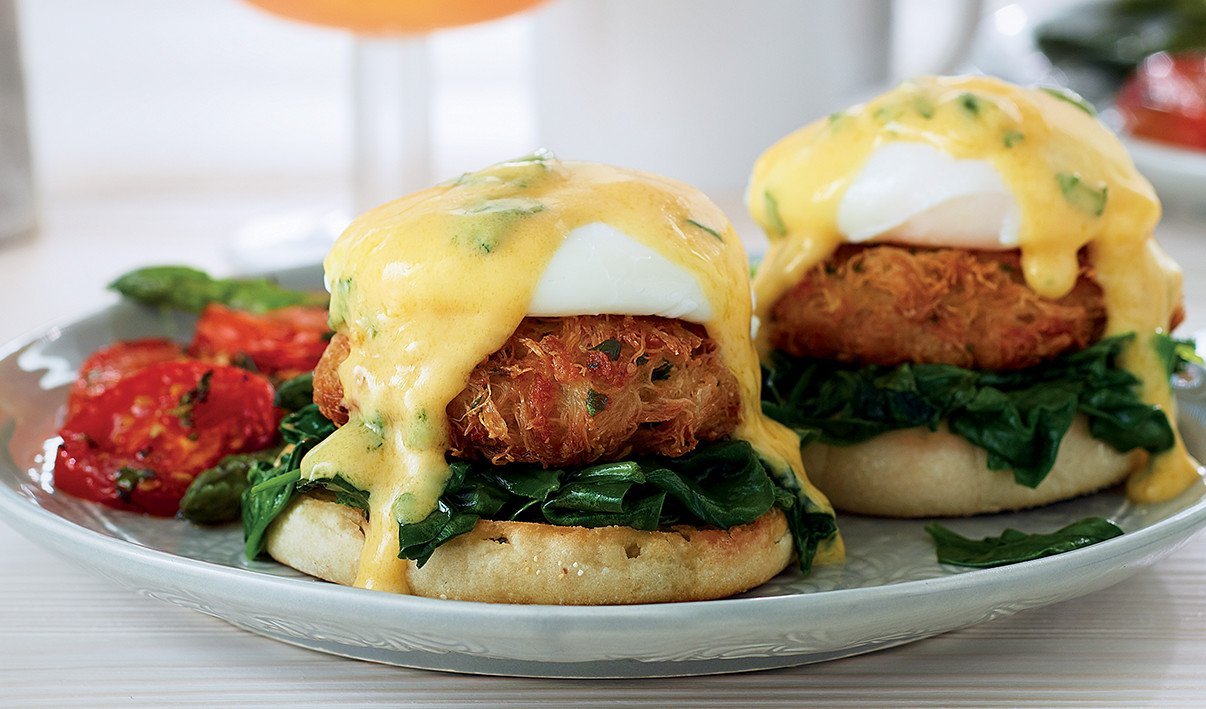 Offer something a little outside the box with this Crab Cake Benedict served with a sauce of wilted baby spinach and melted Boursin cheese, then paired with grilled tomato and asparagus. Perfect for Valentine's Day brunch.
...
Ingredients per serving
Prepare the Crab Cake
Celery, fine diced

115.0 g

Red pepper, fine diced

175.0 g

Red onion, fine diced

75.0 g

Salt and Pepper, to taste

Crackers, finely crushed or Panko breadcrumbs

90.0 g
Prepare the Spinach and Boursin Hollandaise
Baby spinach, roughly chopped

55.0 g
To Serve
English muffins, split, toasted

10.0 each

Spinach and Boursin Hollandaise, prepared

1.0 L

Chives, finely chopped, as needed
Preparation
Prepare the Crab Cake

Whisk together the mayonnaise and egg until fully combined. In a separate bowl, combine the next 9 ingredients and fold together until evenly mixed.
Fold the crab mixture into the mayonnaise mixture until fully combined. Refrigerate the crab cake mixture for at least 1 hour.
Form the crab mixture into 20 thick patties. Dust each patty with flour.
Add enough oil to a large sauté pan to thickly coat the bottom with about 2/3 cm of oil and heat over medium-high heat. Fry the patties for about 3 minutes per side, or until golden brown and heated through.

Prepare the Spinach and Boursin Hollandaise

Bring the prepared Knorr® Hollandaise Sauce Mix to a simmer in a pan over medium heat.
Add the cheese and spinach, and stir until the cheese has melted and the spinach has wilted.
Hold hot for service.

To Serve

Top half of toasted English muffin with sautéed spinach, one cooked crab cake, followed by poached egg and Spinach and Boursin Hollandaise sauce. Garnish with chopped chives and serve.
These crab cakes pair well with grilled tomato and asparagus.