The days of waiting 8 hours for frozen soup to thaw are over. With Knorr® Professional Soup du Jour, you are always just 20 minutes from delicious soups crafted from ingredients you can feel good about.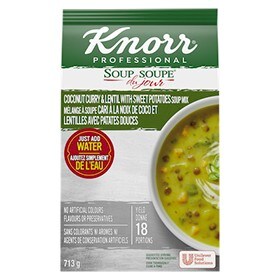 Explore our newest Soup du Jour flavours
With Soup du Jour, you can quickly and easily bring guests soups with scratch-like taste. Discover our varieties below.
Coconut Curry & Lentil with Sweet Potatoes - Creamy coconut milk-based soup with some heartiness due to the lentils and sweet potatoes and prominent curry and coconut flavours.
Butternut Squash - Discover this smooth and hearty soup with just the right balance of sweetness and spices
Thai Coconut with Vegetables - A rich and delicious soup loaded with the goodness of coconut milk, vegetables, mushrooms, and Thai flavours.
Tomato Bisque with Basil - A classic and flavourful soup that cooks in 10 minutes. This easy-to-prepare hearty soup will please anyone's palate.