While the whirlwind of changes and challenges we've faced over the last year have derailed plenty, the plant-based eating trend hasn't been phased a bit. We see the movement reaching new levels of attention among consumers and in culinary communities—the most recent Canadian food guide, for example, places a much higher priority on plant-based proteins.1 Take a look at the top three compelling reasons to offer plant-based soups on your menu.
1. Comfort & plant-based foods are in serious demand.
More people are seeking out conscious comforts when they eat out. In response to the pandemic 58% of consumers ate more comfort foods and ¾ of operators added more comforting options to their menus.2 The shift coincides with the macro plant-based trend: consumers rate plant-based foods as the #2 food trend in 2021.3 The popularity of veggie-heavy diets makes sense as more consumers focus on sustainability, health and immunity.3 How can we put these trends to use? The format arguably best suited to satisfy the desire for warm comfort and plant-based variety is—you guessed it—soup.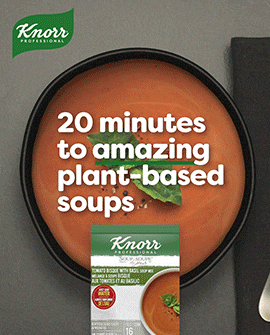 2. Plant-based soups and sides are on the rise.
The rise of flexitarianism has led to the rise of vegetarian sides. The latest numbers indicate 83% of consumers are trying to add more plant-based foods to their diet,4 the majority of whom still eat meat. Taking the cue from guests looking to reduce meat consumption without altogether eliminating it, 38% of operators are adding veggie-centric dishes and side dishes to complement and coexist with meat dishes.5 It's a simple change that allows consumers to work toward cutting down on meat without cutting out flavour. Food Business News calls out vegan soups specifically as a key area of consumer interest. Soups make for natural menu pairings with or without meat.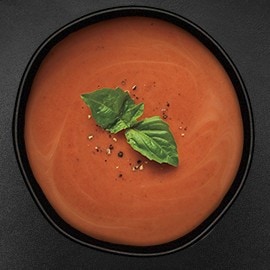 3. Soup is super easy.
Getting the flavour right on a vegan pizza can be a challenging and time-consuming venture. Soups on the other hand are a fairly low-stakes way for both you and guests to experiment with new and trending ingredients. Using high-quality vegan and vegetarian bases can give you a strong starting point to experiment with world flavours or domestic favourites. Given the razor-tight margins we're all operating under at this point, you might consider a low-labour soup mix that takes into account current flavour trends and the demand for simple ingredients. It could be the difference between a popular new soup and a popular and profitable new soup.
20 minutes to trending plant-based soups
Waiting 8 hours for soup to thaw makes no sense any more. With Knorr® Professional Soup du Jour, you can bring together comforting, on-trend plant-based soups in 20 minutes or less. Pour, mix, heat, brilliant!


Give veggie-centric soups another look—they're the easiest way to offer the warm, comforting flavours and plant-based benefits guests are after right now.