Mediterranean Bowls
What we love: Captured well, Mediterranean bowls can arrest the senses. Every detail should be coastal inspired and include components associated with the region. ​
Our chef says: The falafel in this bowl is perfectly cooked and has a crisp outer shell and hand-made rustic texture that's just asking to be eaten. Contrast this with the colorful pop of the red tomatoes and beautifully roasted orange carrot and the dish sings. The fresh herb garnish adds depth and flavor, and the creamy dressing and presentation of the ingredients showcases the skill of the chef.​
Consider: As this shot demonstrates, we recommend natural colors in the tableware to contrast the vibrancy of the dish, making it the star of the shot.​
Before you start: Experiment with ingredient composition and texture to elevate your dish.
 
Burrito Bowls
What we love: Flavor is the name of the game when it comes to a burrito bowl. While burritos are not traditionally beautiful, the colors and textures of the main components make them perfect for photographing and highlighting the bold flavors of the dish.​
Our chef says: Looking at this you can almost taste the char of the grilled chicken, imagine the flavor of the marinade and how that complements the freshness of the greens, vegetables and sweet, juicy corn. Avocado adds a creamy element. You want to dive straight into this dish.
Did you know? Avocado is one of the most photographed foods in social media. With over 13 million tagged posts, it's a sure-fire winner for your bowls! ​
Before you start: Overhead shots are perfect for bowls and allow you to capture the various sections of ingredients . No component of your dish is left unnoticed.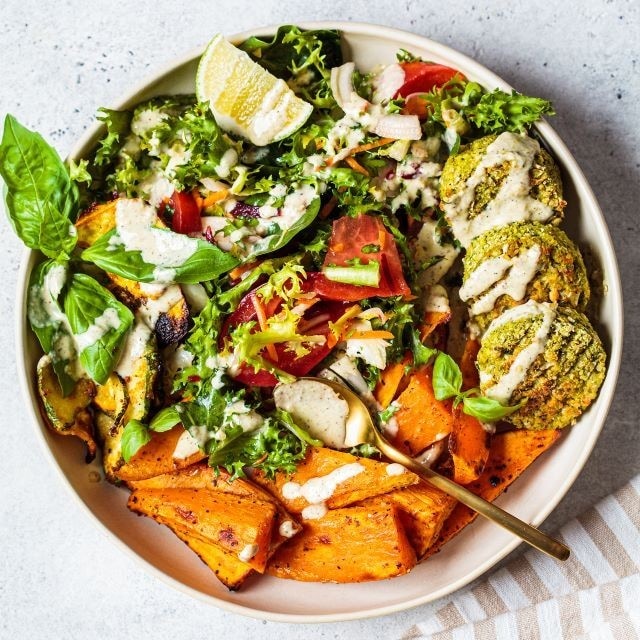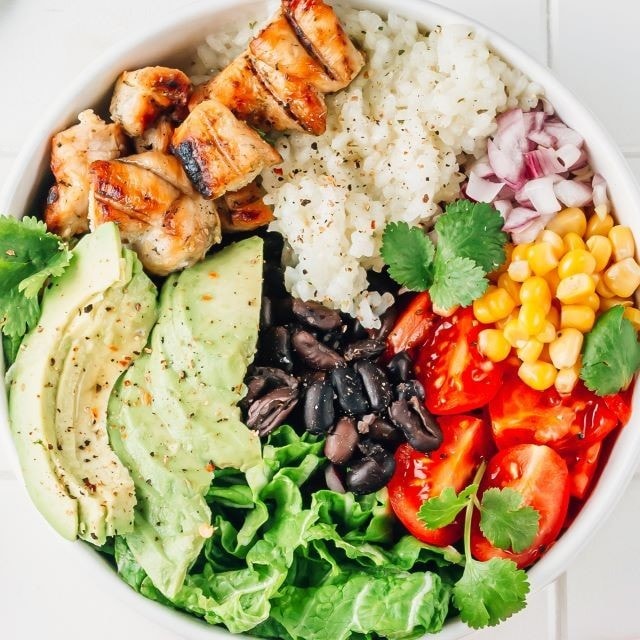 Buddha Bowls
What we love: If you're looking for beauty, nourishment and texture in a dish, you can't go wrong with a buddha bowl. These healthy, plant-based bowls are full of natural goodness and offer a wealth of options and component combinations.
So what is it?  A buddha bowl is comprised of primarily nutrient packed vegetarian ingredients. Some examples of what to include are carbs/grains (sweet potato), protein (marinated chickpeas), produce (tender broccoli and tomatoes), dressing (lemon herb) and toppings (fresh cilantro). This offers up a great high margin addition to your menu. 
Our chef says: What makes this shot Insta-worthy is the floral centerpiece with ripe green avocado, or alternatively, sexy scallions add stunning visual appeal. 
Good to know: While contrasts of color pop amongst a backdrop of fresh greens, the monochromatic look of green on green on green with bowls can be just as visually appealing. 
Poke Bowls
So what is it?  Even if raw fish isn't your area of expertise, there are still opportunities to take elements of this dish and incorporate it into your offerings. 
Did you know? Poke bowls are the most posted bowls on Instagram with over one million tags. 
Our chef says: If you are looking for a plant-based alternative with a fun twist, consider compressed watermelon or marinated beets in soy sauce. 
Before you start: Consider how you can show guests the options for customization, whether that be drizzled sauces or ingredient swaps.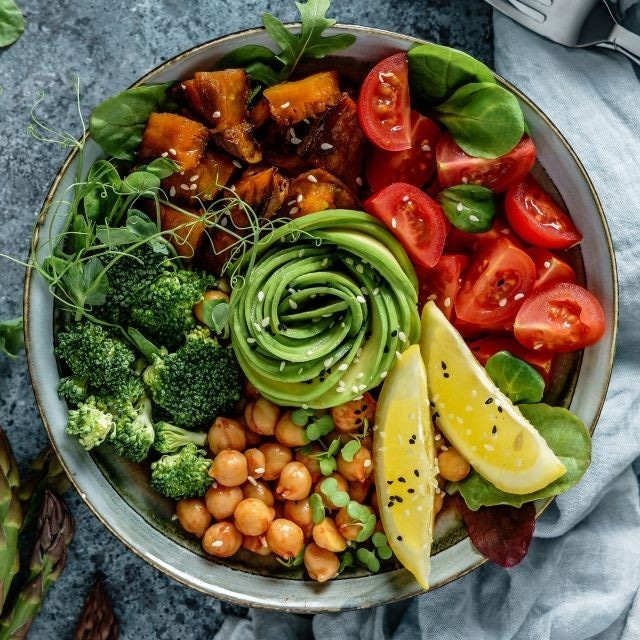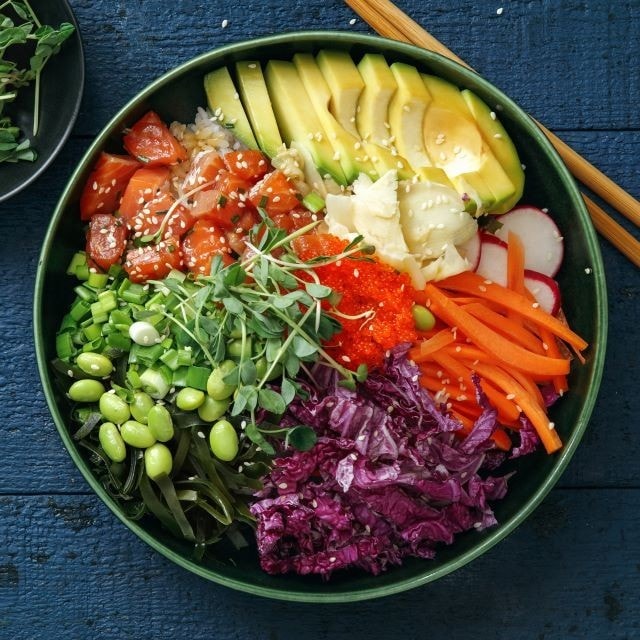 Green Goddess Bowls
What we love: Green Goddess bowls are a summer staple. This is a great offering for guests looking for a healthier option with nutrient dense greens, avocados for healthy fats, and protein rich edamame.
Our chef says: When it comes to a green bowl, taste is important. Take on a variation of this bowl by experimenting with different greens as well as cooked vegetables, and even some green tea soba noodles to add texture. The zucchini is beautifully presented – you can almost taste the freshness alongside the iron-rich spinach and sweet edamame.
Did you know? Green Goddess Salads became viral on TikTok and an Instagram sensation in 2021 but there are many variations on this dish with additions of protein and alternate grains. 
Before you start: #PlantBased is a permanently trending hashtag on Instagram and is often used as a search term for diners. With over 41 million posts associated with the hashtag it's an important one to add to your account.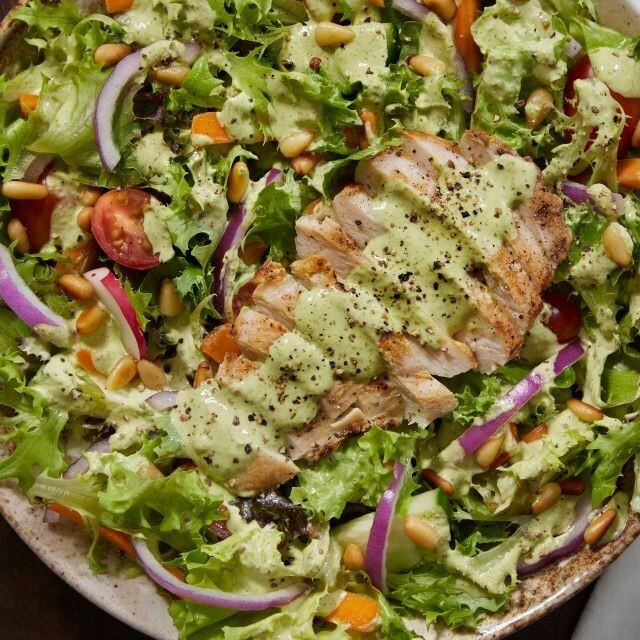 Breakfast Bowls
What we love: Having a few breakfast items available all day can fight the slump if your lunch sales are dragging. These items have the highest interest with Gen Z and Millennials according to Datassential. In fact, over 60% of these guests say they would purchase a breakfast bowl outside of the traditional daypart. 
Our chef says: A cauliflower hash breakfast bowl delivers an unexpected breakfast delight with a healthy halo. It's made with a sunny-side-up egg, avocado, black bean salsa, toasted pepitas, and topped with a roasted carrot chipotle hollandaise. 
Did you know? There are 51k tags of breakfast bowls on Instagram. High protein, non-traditional sauces and southern flavors are some of the most sought-after breakfast food trends.
Consider: Cauliflower rice and different bases like hash browns for your bowls along with variations on adding egg whether that be fried, poached, etc.  
Burger Bowls
What we love: Burger bowls were introduced as a naturally carb-free alternative to the standard burger in a bun, but you can have a lot of fun with burger bowls once you start. 
So what is it? You take what's working with your burgers and deconstruct it. 
Our chef says: Swapping out ground beef for steak is a great way to elevate your burger bowl. Layering your dish to include everything you'd expect in a burger means endless options. We love the addition of tangy pickles, crispy bacon and feta cheese in this example. You can even add a bun "crouton".
Consider: When serving your bowls, encourage guests to create their own version and customize.  It's great if you can do some suggestive selling in your photo, adding sides and beverage pairings.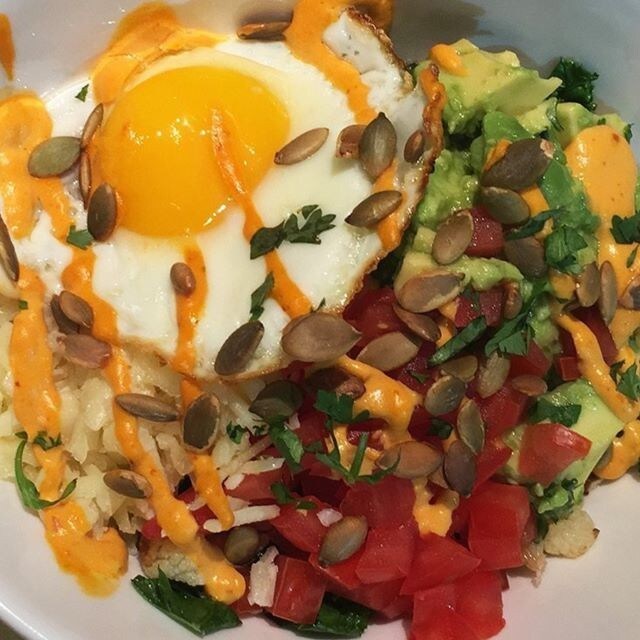 Chicken Bowls
What we love: You can't go wrong with a grilled chicken bowl. And variations on chicken bowls are popular with guests. Whether it be Southern fried, herb seasoned, buffalo style or regionally inspired, it must be the standout part of the dish.
Did you know? There are more fast-food chicken restaurants in the US than any other. Which just goes to show how much we love this humble ingredient. 
Our chef says: Every part of this dish makes you want to reach in and eat it. Bowls incorporating the trend of  Southern modernized comfort food are in growth mode on menus. Try incorporating regional BBQ ingredients or seasonal produce to further entice guests. 
Consider: Other ways to add Southern Cuisine would be indulgent toppings like braised beef, avocado cream, crispy breadcrumbs and mac and cheese.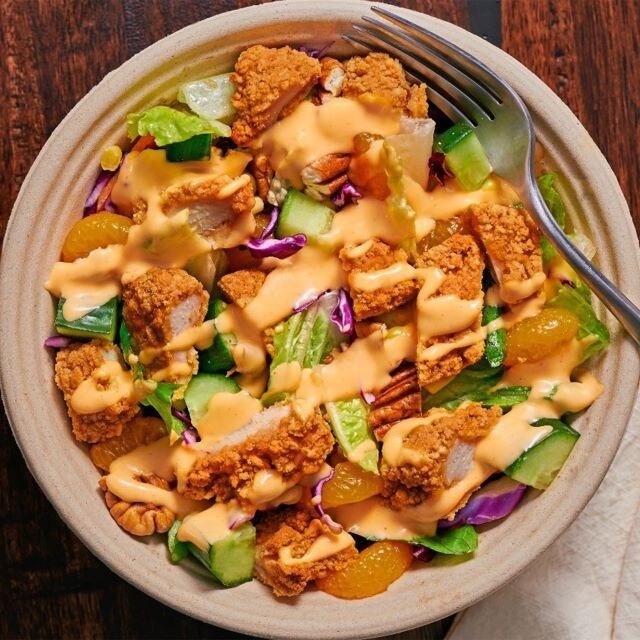 Ancient Grain Bowls
What we love: A good grain bowl is exactly the kind of dish that can elevate your menu. White and brown rice are the most common bowl bases, but ancient grains have seen a 158% four-year growth according to Datassential. 
Did you know? "Ancient grains" refer to grains that have remained widely unchanged for the last several hundred years and are purportedly more nutritious than standard grains such as wheat and corn, which are the product of selective breeding. Popular examples are quinoa, spelt, emmer and buckwheat, and can be used in a variety of creative ways in bowls. 
Our chef says:  Sometimes less is more, and with this dish the beauty is in the choice of produce – green asparagus, garden peas and fresh herbs alongside slices of pretty, pink radish - all combined beautifully with perfectly-prepared couscous. 
Consider: Adding fresh produce ingredients in your photography aligns the dish and provides a natural way of enhancing your creation.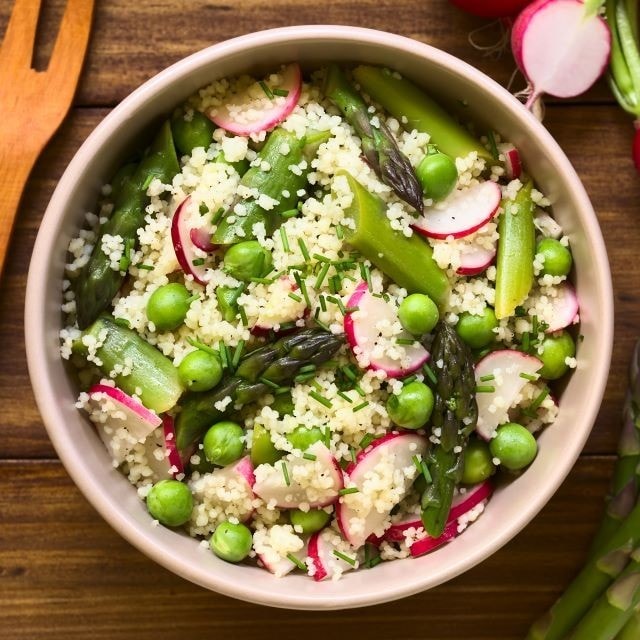 Premiumization with Bowls
What we love: The premium proteins are growing in menu appeal, and adding upscale ingredients is a great way to boost interest in bowl offerings. Consider lobster, crab, ahi tuna or other premium cuts of meat to elevate your bowls.
Consider: No longer just the domain of salads, elevated ingredients can complement your existing offerings of grains, veggies and sauces. 
Our chef says:  The possibilities are endless. Take guest favorites like lobster rolls, which 44% of guests like or love, and deconstruct it into a bowl format. Utilize marinated Ahi tuna steaks, rolled in sesame seeds and seared medium rare before being sliced for use. 
Did you know? Broaden guest appeal if there's any sustainability story or locality on the sourcing of your seafood. People are willing to pay more for a menu item touting Maine Lobster versus just calling out "lobster" for example.