Seasonal menus give you the chance to showcase your creativity, and they create opportunities for more traffic and higher check averages. Over 40% of all consumers agree that seasonal dishes guide their restaurant choices—and they're willing to pay more for those menu items.1 With summer nearly here, it's the ideal time to explore trends that can help you build an inspired—and profitable—warm-weather menu.

Seasonal Spans the Menu

Fresh, seasonal ingredients shouldn't be confined to only one part of the menu. Many restaurants such as Houlihan's have entire menus featuring seasonal beverages, appetizers, entrées and desserts.
Let's walk through the parts of the menu and look at ways to bring in summer flavours and ingredients.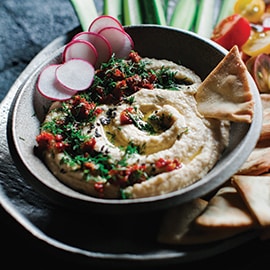 Appetizers and Small Plates
Apps/Small Plates have the strongest appeal with Gen Z and Millennials, who are more likely to seek out apps and small plates in general.2 Shareable fruit and veggie plates with a variety of dips are a good place to start. Working with a regional farmers' co-op can be a smart tactic to bring in fresh produce.

In Texas, Chef Isaac is seeing restaurants begin to serve offal meat salads. These are either green-based or grain-based salads highlighting offal meats—which are low food cost products for the operator.
 
Marketplace Example: Bonefish Grill serves the "Seafood on Seafood" small plate. The lobster-stuffed shrimp are a hit with guests.
Sandwiches and Burgers
Fresh ingredients are what separate good sandwiches from great sandwiches. And they're very appealing to younger consumer groups.2 Straight-from-the-farm ingredients help you stand apart from competitors. Give yourself the opportunities to call out your local suppliers. And consider beer pairings with your sandwiches to help grow profitable drink sales.

There's a burger joint in Dallas that's using lightly steamed kale as a bun versus the typical iceburg lettuce, romaine lettuce or steamed cabbage. Chef Isaac thinks this method is a sexy way to wrap a burger especially for the folks who cannot have a bun due to gluten.

Marketplace Example: Champps Kitchen + Bar serves the high-end truffle mushroom wagyu burger. It features premium, grass-fed Wagyu beef, truffle aioli, sautéed cremini mushrooms, caramelized onions, Swiss, arugula, and roasted tomatoes.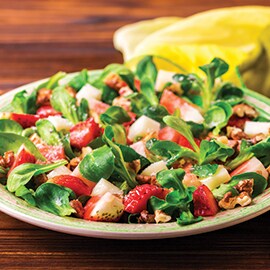 Salads
Talk about the perfect summer meal and one that helps out with swimsuit season. Take a walk through the local farmers market to incorporate what's best in your region. Think of light proteins such as fresh fish to make for a heartier offering. Seeds, grains, and beans are also showing up on trend reports as ways to boost protein without using meat or adding extra fat.

Chef Einav presses chefs to put more innovation into their dressings. Are there new techniques and ingredients you can bring in to go beyond the standards? Think about ingredients that can be pureed such as avocado or roasted red peppers.
There are lots of options when it comes to new pepper choices, but Chef Nydia says guajillo will be the pepper of the summer. And for salads, she sees crispiness as the go-to trait. Consider topping your salads with 2-3 crispy items such as onions, leeks, bacon, chicken skin, fried thin-cut plantains, or shoestring sweet potatoes (but only a few, just to add colour).
 
Marketplace Example: Panera's strawberry poppy seed salad is always a hit during the warmer months.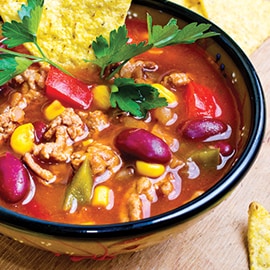 Soups
Sure, a steaming bowl of thick beef stew may not sound all that appealing in the middle of July, but soups shouldn't be totally forgotten with the temperature rises. Some customers want a hot soup, even if it's steamy outside. Think of lighter broth soups, especially those with ethnic flavours. Good candidates are tortilla soup and pho. And the idea of chilled soups is gaining traction with consumers. Plus they can be a refreshing amuse bouche. Chef Einav recommends experimenting with cold Korean noodle soup (naengmyeon).

Marketplace Example: Zoup! Fresh Soup Company serves a very popular cucumber gazpacho.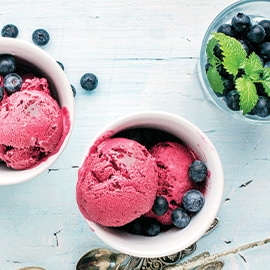 Dessert
Look for ways to bring the flavours of summer into your desserts. Consider sweets that use fresh-from-the-orchard fruits. Guests are getting more adventurous so also think about summery flavours that may be a bit more out there for dessert dishes such as lavender, rose petals, rosemary, smoke, and chilies.

Contradicting flavours are also growing in popularity. Sea salt and caramel has essentially become mainstream. Think of other opposites you can bring together such as mango and chili salt or watermelon and feta. 
Chocolate will always be popular, but to incorporate the popularity of summer grilling you can "summer-ize" chocolate, by try bringing some smokiness or floral accents to your chocolate dishes.
Marketplace Example: Spot Dessert Bar in New York serves a smoked cheesecake inspired by a special incense candle called "tien op" that's used to smoke coconut milk and other Thai desserts. The process is simple, requiring only the candle and a couple of bowls.3
Summer Is a Mindset

Seasonal foods have a direct association with traditional growing seasons, but consumers are looking for more than just in-season produce. A recent Mintel report shows consumers look for an emotional connection to the seasonal menu as well. Nostalgia and Indulgence are two common attributes of seasonal menu items.2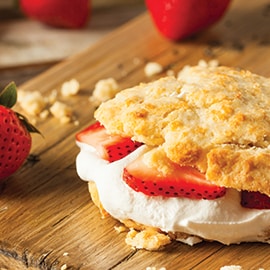 Nostalgia
From a guest perspective, summer conjures up fun memories that often involve delicious meals. Since we've also seen heritage and traditional meals grow in popularity, summer is a great time to refresh some of the classics.
Marketplace Example: Not Your Average Joe's serves the "Straw Short." The menu does an outstanding job describing it. "Then there's the must-have summer dessert, Strawberry Shortcake. Our made-from-scratch version is particularly noteworthy with its house-baked shortcake biscuit, marinated strawberries and vanilla bean ice cream."
Indulgence
The desire for comfort foods doesn't go away during the summer, there's simply a shift in how guests get their fix. They're more likely to gravitate toward those classic flavours or summer: fruit-forward and creamy dishes, barbecued meats, and bound salads.
Marketplace Example: Fast casual chain Mendocino Farms offers seasonal additions to their menu throughout the year. Its summer 2016 seasonal menu included an elevated BLT sandwich called the Billionaire's Heirloom BLT. The sandwich featured the traditional BLT ingredients, but was enhanced with the addition of avocado, a very on-trend ingredient.2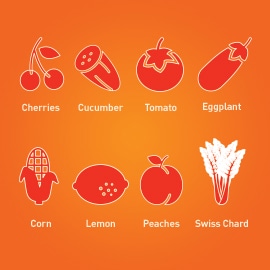 Summer Flavours on the Rise
When asked about what he's excited about in the marketplace, Chef Kyle says, "What I see growing on the west coast are acai bowls, poke bowls, ramen of course, and ethnic cuisines. Also, I've been seeing a lot of fast casual pizza joints like Mod Pizza, Pieology, etc.I know of a German-Turkish place that I think will grow. Its called Verts. I could see the doner kebab picking up speed on both coasts."

Chef Einav expects the rise of Filipino dishes to continue, especially some of their fruits. Calamansi (citrus), yuzu lemon and melon will likely make more menu appearances this summer. Like Chef Nydia, she also says to be on the lookout for dry guajillo. It can be a great part of salsa roja as well as harissa recipes.

Cherries
These have gained acceptance as superfoods.
Look for them in savoury applications.
They'll be featured on more beverage menus.
Corn
You'll see expanded menuing of corn as elotes or esquites as well as tacos, salads, and more.
Corn ices and sorbets make delicious palate cleansers.
Entrees, especially Mexican-inspired ones, featuring the corn fungus huitlacoche are going to be popular.
Cucumber
These make a delicious complement to smoked fish and fresh seafood.
It will show up more frequently as a choice at customizable bowl and salad chains.
Cucumbers are growing as an ingredient and garnish in adult beverages, especially when paired with citrus notes.
Lemon
There will be a growing presence of lemon in sauces such as aioli and remoulade, especially as premium burger toppings.
Preserved lemon is getting more popular, especially in ethnic entrees.
Lemon verbena is being featured in nonalcoholic beverages.

Tomatoes
You'll see increased callouts of heirloom tomato varieties and farm names.
Guests can expect greater operator innovation with bloody Mary add-ins and garnishes.
Their health benefits will also be highlighted more prominently, including promoting their antioxidant properties.
Peaches
They're getting used more in savoury dishes, especially on pizzas and salads.
You'll find expanded offerings of peaches as add-ins for seasonal drinks such as iced teas and lemonades.
They'll be paired more with cheeses, especially creamy varieties like Brie.
Eggplant
Restaurants will be using more eggplant in Mediterranean and Middle Eastern spreads and dips.
Grilled and roasted eggplant will be offered at build-your-own pizza and bowl concepts.
It also pairs well with sweet ingredients like honey, peaches, and cherries.
Swiss Chard
It will be used more as a sandwich topping in place of more traditional greens.
You'll find increased pairings with flavourful cheeses such as feta.
Other Emerging summer ingredients:
1 Mintel Innovation on the Menu, September 2016
2 Mintel Seasonal Dining Trends, January 2017
3 Today.com, "Smoky flavour is hot — how to add it to drinks, desserts and more"