Charred Carrot, Pickled Kumquat and Dukkah Salad with Carrot Top Goat Cheese Cream
Thinly sliced ribbons of charred rainbow carrots with spinach, pickled kumquats, Dukkah seasoning, and goat cheese pureed with carrot tops, tossed in Hellmann's Lemon Za'atar Dressing
Salads
Main Course
Gluten free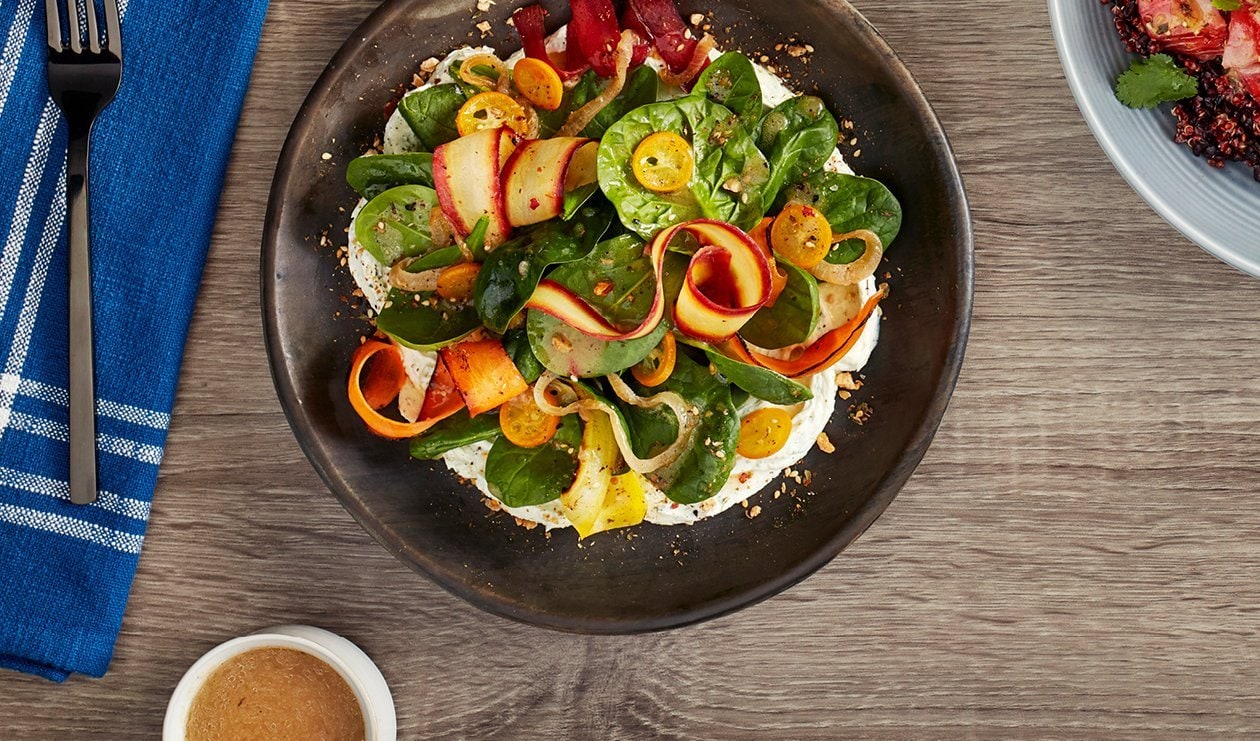 Ingredients per serving
Prepare the Pickled Kumquat
Champagne vinegar

250.0 ml
Prepare the Charred Carrots
Rainbow carrots, peeled, tops reserved

20.0 each
Prepare the Carmelized Onions
Spanish onion, large, peeled and sliced

5.0 each
Prepare Goat Cheese Cream
Goat cheese (300 g package), at room temperature

2.0 each
Prepare the Salad
Preparation
Prepare the Pickled Kumquat

Combine all the ingredients, except the kumquats, in a sauce pot and bring to boil. Add kumquats, reduce to simmer and cook about 8-10 minutes. Remove from heat, transfer to heat resistant container. Cover and refrigerate until cooled. Quarter the kumquats, and reserve in the pickling liquid.

Prepare the Charred Carrots

Toss carrots with oil and salt. Heat a cast iron skillet over high heat and sear carrots on all sides until charred. Remove and cool. Using a peeler or mandoline, make ribbons of carrots and set aside.

Prepare the Carmelized Onions

Melt butter and slowly cook onions over low heat until caramelized, about 30 minutes.

Prepare Goat Cheese Cream

Process goat cheese to soften. Add carrot tops and puree. Add cream and continue to process. Add the lemon zest and season with salt and pepper.

Prepare the Salad

For each portion, spread 60 g goat cheese cream on a plate. Combine 30 g spinach, 128 g charred carrot ribbons, and 50 g caramelized onions and toss with 45 ml Hellmann's Lemon Za'atar Dressing. Top with 23 g kumquat pieces. Sprinkle with the 3.5 g Dukkah seasoning and another 15 ml dressing.