Pressure Caramelized Carrots with Zaatar Mayonnaise
Pressure caramelizing the carrots gives them a silky, luxurious texture enhanced by lemony zaatar mayonnaise.  Crisp, bright gremolata and candied nuts give the dish a crunch.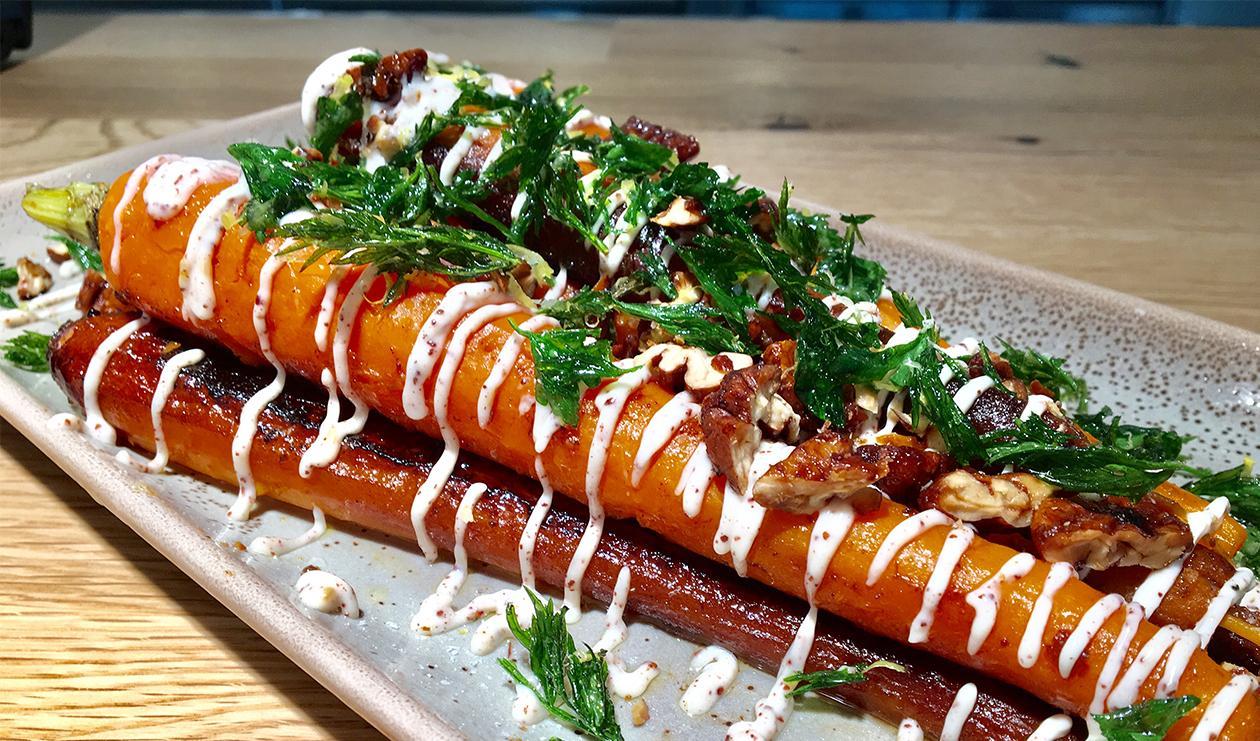 Ingredients
Prepare the Carrots
Carrots, with tops

1.7 kg
Prepare the Zaatar Mayonnaise
Lemon juice, fresh pressed

10 ml
Prepare the Candied Sunflower Seeds
Preparation
Prepare the Carrots

Trim the carrot tops so there is 1.5 cm of the greens. Reserve the leaves for the Gremolata. Peel the carrots.
Combine the carrots, butter and baking soda and cook in a pressure cooker on high pressure for 15 minutes. Some of the carrots will be darkly caramelized, while some are still bright orange.

Prepare the Zaatar Mayonnaise

Combine all ingredients for the zaatar mayonnaise and place in a squeeze bottle. Refrigerate until ready to use.

Prepare the Candied Sunflower Seeds

Heat the sunflower seeds in a small non-stick pan for about 3 minutes over medium-high heat.Stir in the brown sugar, stirring constantly until seeds are coated and brown sugar has melted.
Place on wax paper, sprinkle with salt and let cool.

Plate the Dish

Place the warm carrots on a plate and drizzle with zaatar mayonnaise. Top with candied seeds and gremolata. Serve.