Red Lentil Pasta Bowl with Lemony Roasted Brussels Sprouts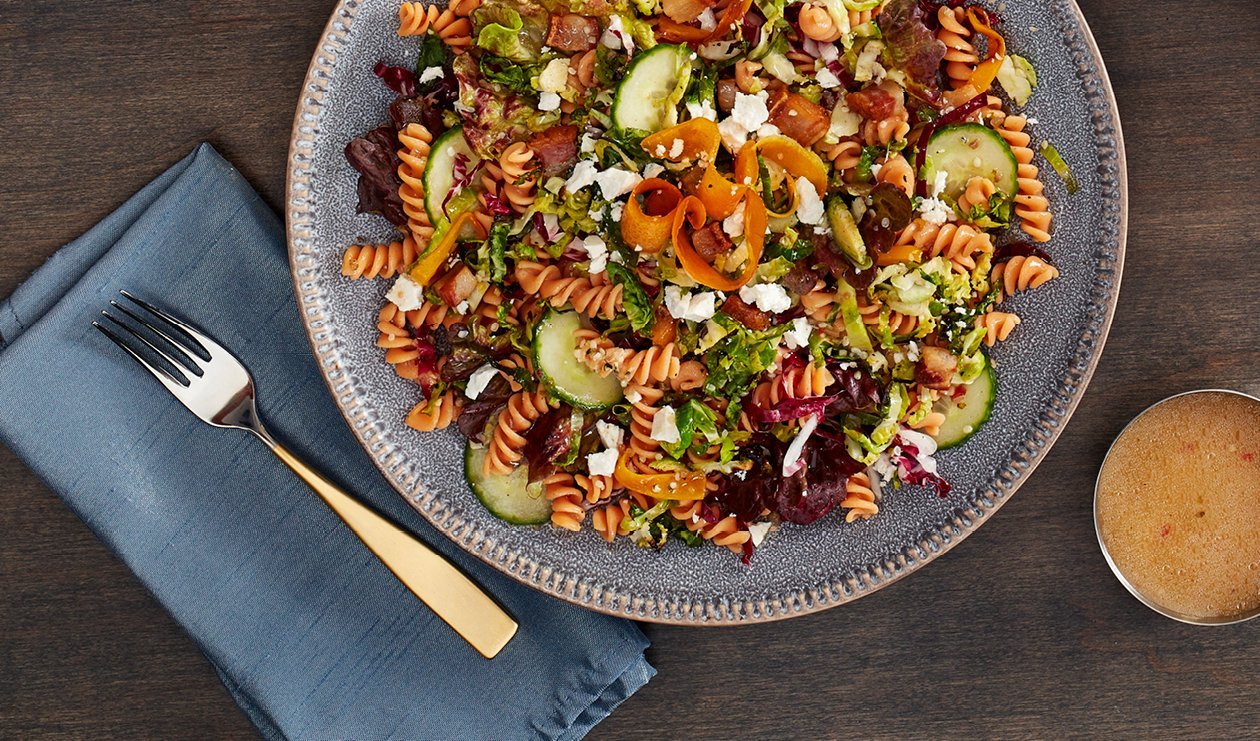 Shredded roasted Brussels sprouts, radicchio, butter lettuce, cucumber, roasted yellow peppers, farmers cheese, hemp seeds, pancetta and candied Meyer lemon peel.
...
Ingredients per serving
Prepare the Candied Lemon Peel
Cold water, divided

875.0 ml

Ginger, 2.5 cm piece, thinly sliced

1.0 each
Prepare the Brussel Sprouts
Brussel sprouts, shredded

1.13 kg

Extra virgin olive oil

125.0 ml

Salt and Pepper, to taste
Prepare the Salad
Cooked red lentil pasta

1.4 kg

Radicchio, shredded or torn

200.0 g

Red butter lettuce

375.0 g

English cucumber, sliced

300.0 g

Roasted yellow pepper, julienned

850.0 g

Lemon simple syrup

235.0 g

Prepared roasted shredded Brussels sprouts

1.3 kg

Farmers cheese, crumbled

515.0 g

Pancetta, diced and cooked

280.0 g
Preparation
Prepare the Candied Lemon Peel

Peel lemons into long strips.
Combine peels with salt and 375 ml water in a pot. Bring to a boil, reduce heat, simmer 10 minutes, drain. Set aside peels.
Add remaining 500 ml cold water and 400 g sugar to saucepan. Bring to a simmer. When sugar dissolves, add lemon peels and ginger. Simmer 45-60 minutes.
Remove peels and cool on a Silpat lined sheet pan. Cut into thin strips. Reserve lemon simple syrup.

Prepare the Brussel Sprouts

Toss shaved Brussels sprouts with oil and season with salt and pepper. Place on a parchment lined sheet pan and roast at 230 C until beginning to char, about 8-10 minutes. Set aside.

Prepare the Salad

For each portion toss 58 g cooked pasta, 20 g radicchio, 38 g butter lettuce, 30 g cucumber and 85 g roasted yellow peppers with 24 g lemon simple syrup and 60 ml Hellmann's Lemon Za'atar Dressing. Place in a bowl.
Top with 130 g roasted Brussels sprouts. Crumble 52 g farmers cheese over top and sprinkle with 11 g hemp seeds and 28 g pancetta . Finish with 3-4 thinly sliced pieces candied lemon peel. Drizzle with additional dressing if desired.