Sweet and Smoky Heirloom Tomato and Watermelon Salad with Pickled Red Onion and Ricotta Salata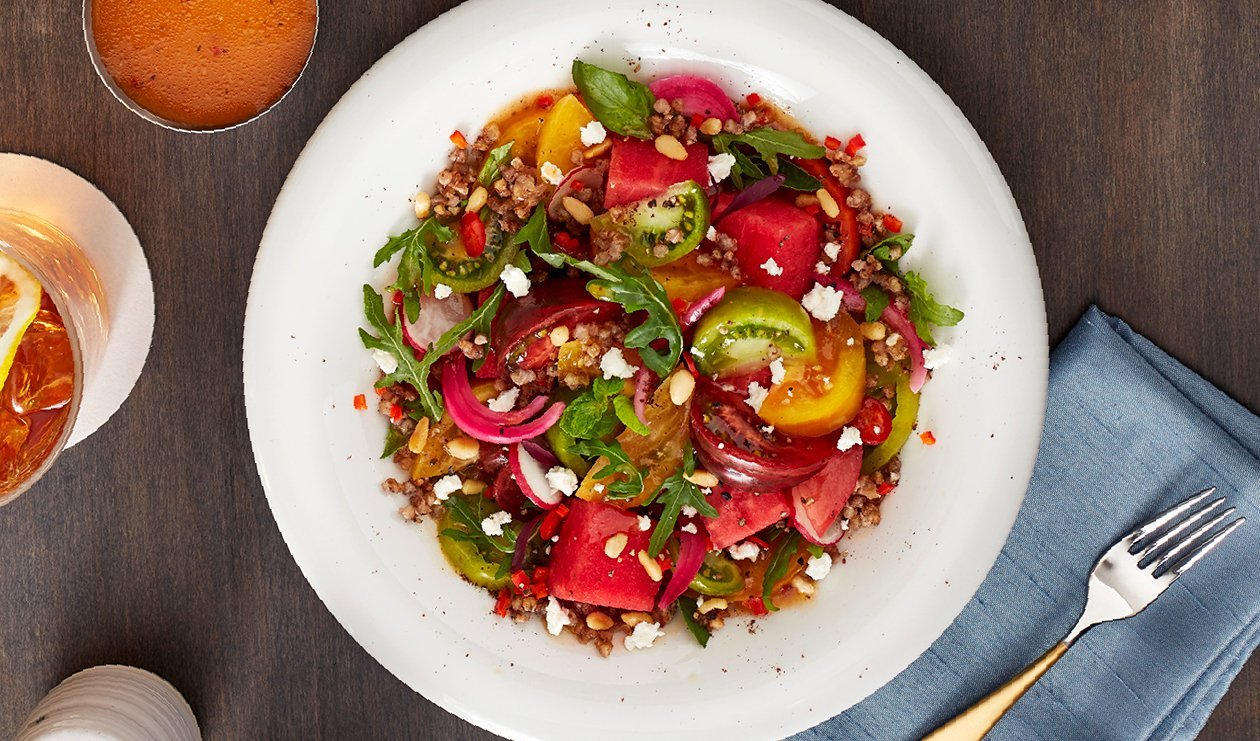 A summer salad of colorful heirloom tomatoes, juicy watermelon, pickled red onion, shaved ricotta salata, fresh herbs, roasted pine nuts, and lemony sumac, tossed in Hellmann's Smoked Peach Dressing.
...
Ingredients per serving
Prepare the Tomatoes and Watermelon
Heirloom tomatoes, roughly cut

1.8 kg

Watermelon, cut into 2.5 cm cubes

1.35 kg
Prepare the Pickled Red Onions
Red chili, finely chopped

2.5 g

Red onion, thin slice

450.0 g
Prepare the Buckwheat
Buckwheat, cooked

335.0 g

Salt and Pepper, to taste
Prepare the Salad
Radish, thin sliced

227.0 g

Pine nuts, toasted

135.0 g

Ricotta salata, shaved

492.0 g
Preparation
Prepare the Tomatoes and Watermelon

Toss the tomatoes and watermelon with Hellmann's smoked peach dressing.
Set aside, covered, and allow to marinate for up to 1 hour.

Prepare the Pickled Red Onions

Bring the rice vinegar, sugar and chili to a boil.
When the sugar has dissolved, add the red onions, bring to a boil for 1 minute and allow to cool down in the refrigerator. Once cooled, drain.

Prepare the Buckwheat

Heat a non-stick pan with enough oil to coat and fry the buckwheat until crisp. Drain on a paper towel lined sheet pan and season with salt and pepper

Prepare the Salad

Toss the baby arugula with the mint and basil.
Drain the tomato mixture, then toss with pickled red onions and radishes.
For each portion, toss the tomato salad with the baby arugula mixture. Add more dressing if needed to coat.
Place 335 g of the tomato salad on a plate. Top with 45 g crunchy buckwheat,15 g pine nuts and 50 g cup shaved ricotta salata.
Sprinkle with sumac.