How is your restaurant currently organized? Zoning is a popular choice, and for good reason! If you choose to create work zones (or work "stations") in your kitchen, you'll notice benefits like:
Fewer collisions:  When each staff member knows when to be where, thanks to their zones, they won't be bumping into one another and slowing each other down.
Less chaos: Work zones will minimize chaos and confusion in the kitchen. When there's a clear organization, there will be fewer mistakes and a lesser chance of cross-contamination.
Happier team: The employees will know exactly what to do, and that can lead to a happier team and a more successful business (and of course, impeccable restaurant hygiene)!
Perhaps you've tried zoning, but haven't found the right formula yet. You might try separating zones for cleaning, cutting and prep work, frying, cooking, baking, and then serving and plating. Each employee would have a designated zone and role(s), based on the head chef's plan.¹
Now food and utensils won't overlap, and employees won't get in one another's way. The chefs will know exactly where various foods have been and what other foods they have contacted. Such continuity is a fantastic start to improved restaurant food safety!
Let's discuss getting started with restaurant organization, and different methods you might want to adopt. We will cover various zones you could incorporate in the restaurant. Then we can talk about other food safety guidelines and kitchen safety rules to brush up with on the staff in their individual zones.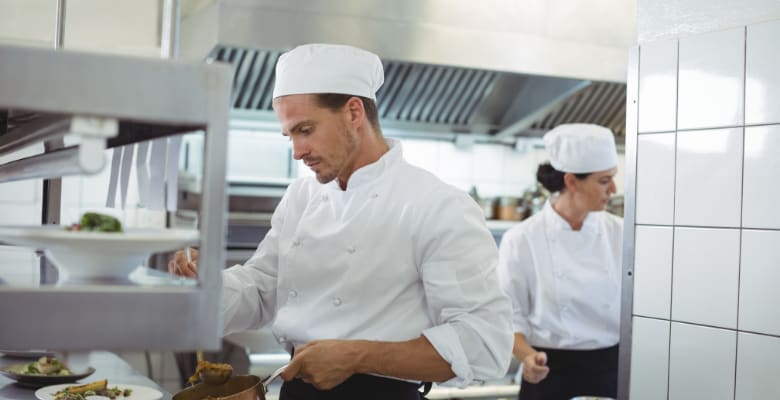 How to Start Organizing for Top-Notch Restaurant Food Safety
If you are considering zoning, you might want to get a better picture of what your restaurant kitchen might look like. Here are a few different ways you might choose to organize your restaurant, depending on what makes the most sense for you.
| | |
| --- | --- |
| Kitchen Name² | How It Works |
| The Assembly Line | This restaurant layout is best for establishments that emphasize a few menu items, but make them in large quantities. The goal is to minimize the travel distance for both food and staff members, to prevent employees from getting in each other's way. In this assembly line style, the food moves in a neat, straight line down in the kitchen. Each step of the process has a dedicated workstation.   |
| Island and Perimeter | In this type of zoning, two components reign: a perimeter and a center island. The center island can be the cooking station, with the ovens, grills, etc. The perimeter can serve as an assembly line for food prep and everything else! |
| Comfort Kitchen | Comfort kitchens, or ergonomic kitchens, can be expensive, but are tailored to the employees. The idea is to set the kitchen up in whatever way will minimize the stress on the chefs' bodies. How do your team members move? If they're rushing from one countertop across the room and bumping into one another, give the comfort kitchen method a try. You can combine the comfort kitchen method with zoning for happier employees and reduced danger. |
When considering how you might zone your kitchen, you can keep the following questions in mind.
Is the kitchen efficient and comfortable for the staff? Does the layout serve to save employees' energy? It's always better to store prep equipment right next to applicable workstations.
How does the kitchen setup prevent cross-contamination?
How does the layout streamline cooking to prevent collisions and confusion?
Once you have a rough outline in mind of how you might like to organize your kitchen, you can think about which zones you should utilize. Next, let's talk next more about zoning and why it's such a great choice for restaurant hygiene.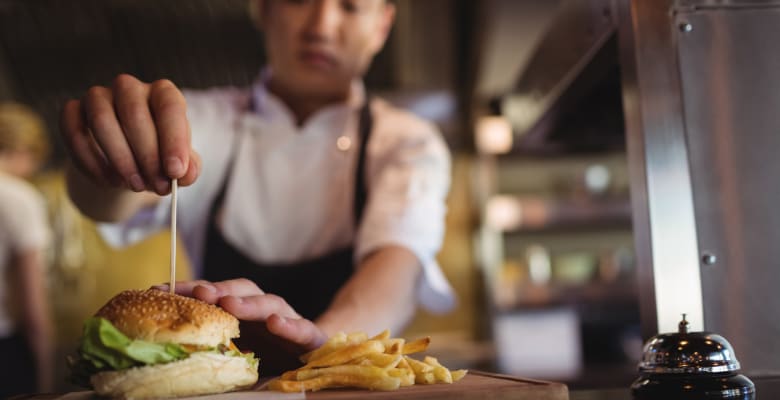 Which Zones Should I Establish for Restaurant Food Safety?
The zoned kitchen is such a classic commercial kitchen arrangement for a reason! Once you know what's most functional for your restaurant, you can zone the kitchen properly. Here are some ideas you can apply in any way that works for you:
One or two prep work zones: These zones will include measuring ingredients, washing and cutting. You may need more of these zones or more specific zones, depending on your menu.
One cooking zone, or hot zone: This is where all of your cooking equipment will be, like ovens, stovetops and grills. It is prudent to keep hot stations separate from cold or sanitation stations, because the grease from cooking zones can wear out dishwashers, fridges and other equipment.
One cold zone: Here are your fridges and freezers, preferably far away from the hot zone.
One sanitation zone: Here's the place for washing and sanitizing dishes and equipment.³ This spot should have multiple sinks, dishwashers and shelving units for scrubbing supplies.
One baking zone: You might combine this with your food prep station. This is where you can mix, cut, roll, and knead. Of course, you will need work tables and storage, bowls, spices and dry ingredients. Open shelving units can be helpful here.⁴
One plating zone: A plating area can increase restaurant hygiene and help your whole operation run more smoothly.
One sauté zone: This is where chefs can prepare their most challenging dishes without being overwhelmed by the rest of the kitchen. The saucier can also work here. This station would be equipped with a multiple-burner gas range. You might also designate a sauté prep area.
Smaller, more specific stations: You might like to include a salad zone, dessert zone, grill zone, fry zone, pizza zone, or garde manger zone.
The Pass: You may put garnish, plates, a spindle, and heating lamps in this zone
Once the zones have been established, you can assign employees to each station. Then they can stay there and focus on their tasks so they don't get in one another's way.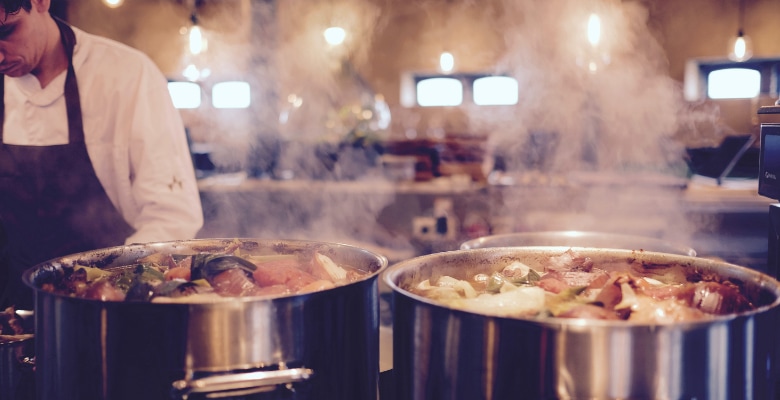 Zoning to Prevent Cross-Contamination
Zoning promotes restaurant hygiene and HACCP guidelines, on top of uncomplicating the cooking process.
We all know that food illness comes from cross-contamination. It takes effort and zoning to ensure that bacteria from raw meat or poultry does not transfer to ready-to-serve foods. Zoning can help prevent cross-contamination, and so can labeling, organizing and training.
Colour-coded systems zones can help prevent cross-contact and cross-contamination. It will make it easier to keep boards, utensils and meat thermometers separate in their own safe zones.[5]
Preventing cross-contact is not only good for restaurant food safety, but also helpful for preventing food allergy issues. If you cook with milk, wheat, eggs, fish, soy, or nuts (that's all of us), you understand the challenge of catering to allergies and intolerance. Zoning can prevent cross-contact of allergenic substances.
Organizing and Training the Zones
Once you're taking advantage of zoning to prevent cross-contamination, accidents and chaos, it's time to train up the zones on other restaurant food safety concerns.
Handwashing Guide
Of course, the most important factor in restaurant food safety is handwashing! Handwashing will prevent cross-contamination, just like zoning will. You could make up a standardized handwashing guide for your employees. Consider placing the handwashing guide visibly in each zone.
Here's a sample handwashing guide to work with:
Wet hands completely under warm water
Squirt soap into palm
Scrub soap into a later
Rub the palm of one hand over the back of the others, and repeat with both
Place palms together, interlock fingers and rub between fingers
Rub around the thumbs and rub fingertips
Rinse the soap off with clean water
Dry on a disposable towel, and use the towel to turn the tap off ⁶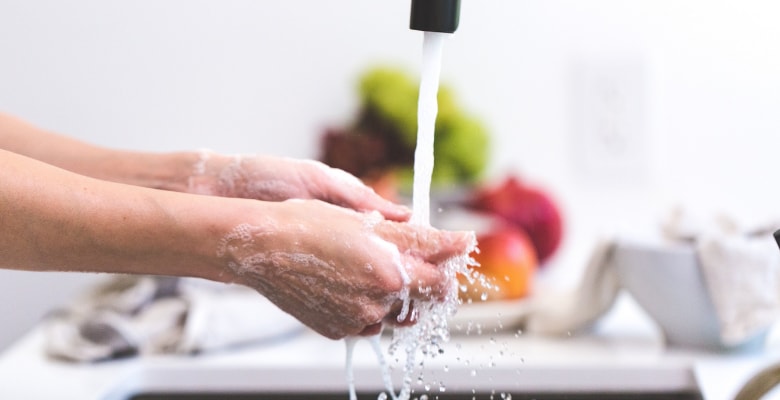 Wash Food Properly
Another important part of the HACCP Guidelines is food washing. Train your staff to prevent cross-contamination with thorough food washing. Colanders can be used for fruits and vegetables. Run all food under cold running water or an FDA-approved fruit and vegetable rinse. Remind your staff to take special care with tomatoes.
Review Temps and Other HACCP Guidelines
It's always good to go over HACCP guidelines with your team to maximize restaurant food safety and restaurant hygiene. You can customize their training to their zone – for example, the safe cooking and storing temperatures will vary based on zone.
Station Sanitization
In addition to cleaning their hands, cleaning zone surfaces is critical. You could remind your team how and when to wash up their zones. Hot soapy water or small portions of commercial cleaners should be used on cutting boards, dishes, countertops and other surfaces daily.