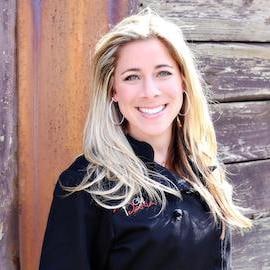 Most restaurants experience feast or famine in the summer months. If you're located in a vacation destination, summer is the critical season. But for restaurants in cities where families flee the moment the final school bell rings, summer months can be a struggle. Finding the right balance of operating hours, employee scheduling and proper ordering techniques are not always clear-cut.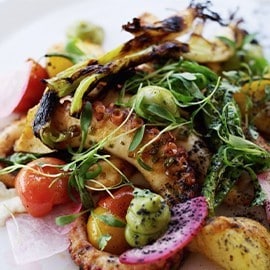 In order to save on costs (whether busy or not), try featuring local produce on your menu.  Customers are willing to pay more for it, and they appreciate knowing where their food comes from. By partnering with local farms, you can gain access to the freshest produce, and most will work with you when it comes to ordering--meaning no minimums or standard delivery days.
When produce is in season and abundant locally, it generally costs less than the winter months due to limited availability, storage and shipping costs. Plus, produce picked at its peak means fresher, tastier and more flavourful fruits and vegetables. There is so much being harvested into late summer and early fall, so try incorporating this produce in your menu or as an LTO.  When the heat is rising, diners generally gravitate towards lighter, fresher dishes, so don't go overboard and make things complicated. You're better off letting the real taste of the produce shine.
I interviewed Chef Tania Ganassini from Ontario, Canada to get her take on summer produce up North.
According to her website, Tanya's personal mission is to heal people through her nutrient-dense cooking and good vibes. Working with producers in her home region is one of the driving forces behind Staff Meal. They use farmers' seconds, and re-purpose stems and leaves from their favorite fruits and vegetables, because they're too special to be wasted.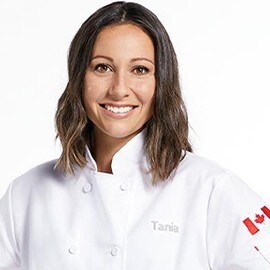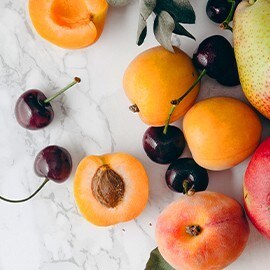 D: What late summer produce (end of August into Sept) is available in your region?

T: In the Niagara region, we are seeing loads of stone fruit emerging in August and September. Peaches, apricots, nectarines, plums and cherries are at their peak. We are also starting to see melons, blueberries, raspberries, corn, grapes, tomatoes, cucumbers, peppers, summer squash, broccoli, lettuce and green leafy vegetables. This is the best, most abundant time of year for produce in my opinion.

D: What menu items are you using them for?

T: Cherries are one of my favourites because they're versatile enough to use in both savoury and sweet applications. I like them fresh--just pit and and halve them in an arugula salad with toasted walnuts, pickled shallots, and some goat (or dairy free cashew) cheese. I also love them cooked down into jams, pie fillings, compotes and chutneys. The compotes and chutneys are particularly versatile and can be served on cheese and charcuterie boards, used as a topping for cheesecake, yogurt parfaits, etc. Pickled cherries are also fantastic and are a great pairing with game and fowl. 

D: Do you have any tips for sourcing local produce if restaurants can't grow on site or if they generally order from 1 major supplier?

T: In Ontario, there is a supplier called 100km Foods. They bridge the gap between growers and restaurants who want to purchase locally. They deliver a few times a week, and offer everything from produce to pulses to maple syrup to dairy and meats. Another suggestion is to call around to some of your local growers to ask if they have 'seconds'. They are always willing to sell them at a heavily discounted price, and they only have minor blemishes. This is a win-win for all
parties, and one of my favourite ways to reduce food waste and lower my food cost. If you aren't close to any growers, you can have a chat with any farmers/growers that attend your nearest farmer's market, and see if they can set product aside for you to pick up.
D: Do you see an emerging produce trend?

T:  I see a huge emphasis on heirloom varieties and organic produce. Also, a lean toward using food waste/scraps is very on trend, and hopefully is here to stay.

D: Favourite dish using late summer produce?

T:  This isn't a dish per se, but I make a cherry pie chia pudding parfait with whipped coconut cream and hemp hearts. I like desserts that are healthy enough to eat for breakfast. It is low-glycemic, and I sweeten the cherry pie filling with only maple syrup or honey. I could eat it every day. I also never ever get sick of heirloom tomato salads with a variety of beautifully misshapen and multicoloured ripe tomatoes. All you need is some good flaky maldon salt, quality olive oil and vinegar, and a scattering of fresh herbs and arugula. A little burrata or buffalo (or cashew) mozzarella never hurt, and I love to mop it all up with fresh focaccia.