Elote Salad with Radish, Avocado, Lime and Cotija
The traditional Latin street food is transformed into a salad with fresh corn off the cob, a light avocado sauce, crumbled cotija cheese, and playfully garnished with salted popcorn.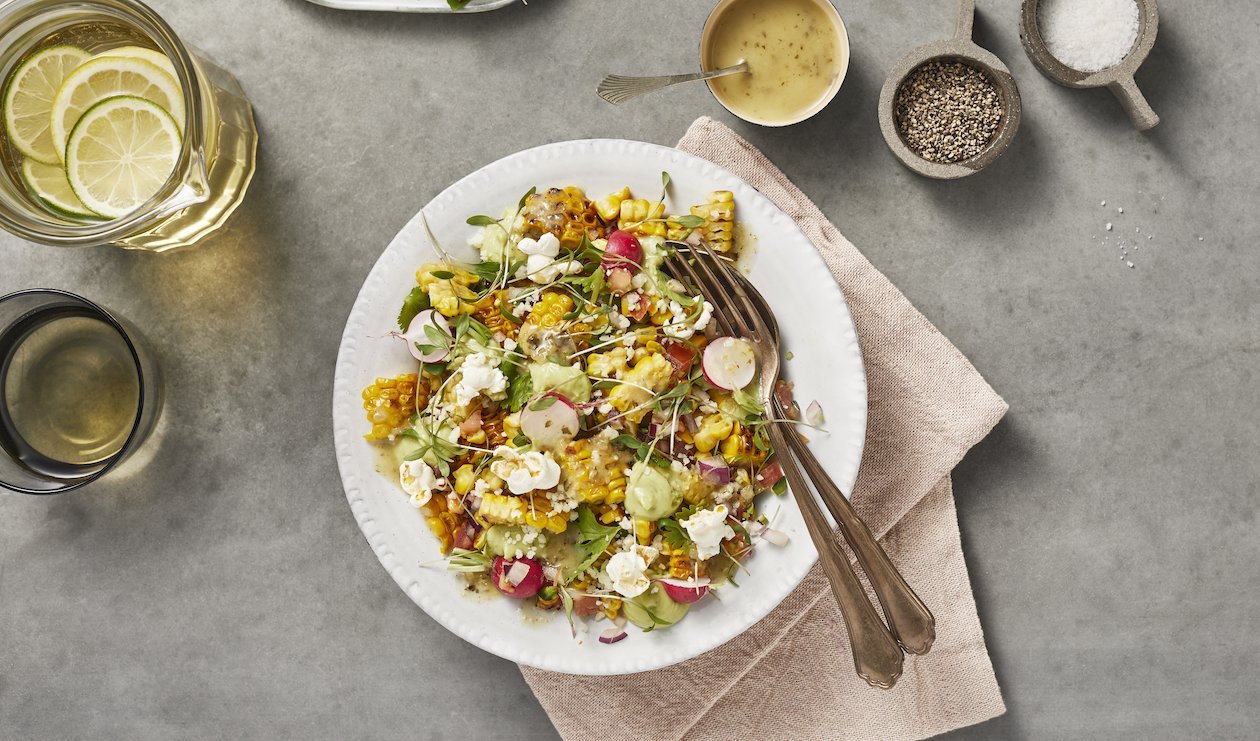 Ingredients
Prepare the Corn
Ears of corn, cleaned and boiled

12 each

Jalapeno, seeded, chopped

2 each

Tomato, deseeded and cut in cubes

450 g

Red onion, small, finely chopped

160 g
Prepare the Avocado Sauce
Lime, zested and juiced

4 each

Greek yogurt, plain

200 g
Prepare the Salad
Cotija cheese, crumbled

122 g

Radishes, julienned

450 g
Preparation
Prepare the Corn

Preheat a grill on high heat, grill the corn, turning occasionally until slightly charred on each side.
Remove from the grill and allow to cool. Remove the kernels from the cob.
Place the kernels in a large bowl and add the jalapeño, tomato, red onion, cilantro, and Hellmann's Spicy Hatch Chile dressing. Season with salt and pepper. Toss well to combine.

Prepare the Avocado Sauce

Puree the avocado with lime zest and juice, yogurt and season to taste. Transfer to a squeeze bottle and refrigerate until needed.

Prepare the Salad

Serve slightly warm or at room temperature.
Dress a plate with the corn salad. Squeeze dots of the avocado sauce throughout the salad. Sprinkle the cheese on top together with the radished, cilantro cress and popcorn.