Autumn often calls for comfort foods and dishes focused on root vegetables. But to go beyond the expected, we asked our chefs to weigh in on what they're excited to see on menus as we enter the fall season. Along with fall flavour predictions from Technomic such as chervil, molasses, Belgian endives, and  molasses, our chefs are all about authentic regional flavours, interesting cuts of meat, cured eggs, charcoal and a whole lot more.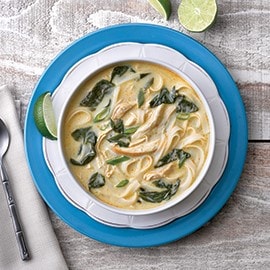 Coconut Curries
Heat up the fall by pairing coconut and spice with meats like lamb and dark meat chicken.
Heirloom and Whole Grains Move to Breakfast
Replace oatmeal with breakfast polenta, a.m. barley, and morning farro. Pair with seasonal flavours like maple, apples, pears, and squash.

Reducing Food Waste
As we move into harvest season, more emphasis will be placed on reducing food waste and preserving the harvest. Look for interesting pickles and kimchis, as well as shrubs for cocktails. Also, chefs will dehydrate and pulverize the harvest, making for jewel-tone powders like beet and pumpkin.
See tips on how to reduce your restaurant's food waste and save money.

Back in Black
Deeper into fall, as we enter winter, Instagram feeds will be filled with foods using the always-photogenic charcoal. Think black smoothies, goat cheese rolled in activated charcoal, and root vegetables dusted in ash.

Flavours from Japan
Asian menus will feature regional Japanese noodle dishes like shiitake udon.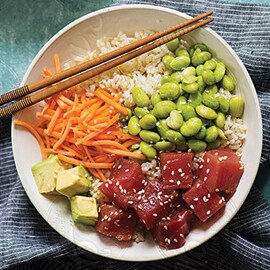 Fermentation
We're not just talking about kombucha and kimchi anymore. Besides being a foodie trend, fermented foods have become a health trend as well due to their digestive and detoxifying benefits. Look for house-made sauerkrauts and unique pickled items like radishes and fruit rinds.  These are low-cost food items that offer a new wow factor to classic menu items—think burgers, ribs and soups.
Poke/Tartare
With the rise in fast casual poke chains, consumers are experimenting more with raw proteins like fish in the familiar delivery of a "bowl" menu item. Pair this with the rise of meats like bison and venison and you'll see menu items such as "Bison tartare with pickled mustard seeds and cured egg yolk."
Smoked Foods
Smoking is no longer just for BBQ or classic cuts of meat like ribs or brisket. We're going to be seeing more quick, cold smoked items like cocktails, salt and butter. Start experimenting with dishes like smoked carrot risotto or a smoked pineapple jalapeño margarita.

Cooking with Craft Beer
With microbreweries popping up everywhere and gaining momentum, look for menu items cooked with seasonal local beers. Beer adds complex layers of flavour to dishes and is taking the place of traditional dishes cooked with wine. Consider items such as pulled pork sliders with oatmeal stout braised onions with horseradish mayo. Or hearty autumn dishes like ale-braised lamb shank with root vegetables.
See our regional beer pairings tables.
More Instagram-Worthy Food
Ethnic street food, gorgeous squash tarts, mouthwatering burgers, dripping egg yolks, as well as indulgent and over-the-top desserts all add up to posts worthy of the hashtag "#foodporn." Amateurs and pros alike will continue to connect over adventurous food on social media.
Get tips for a simple DIY photoshoot.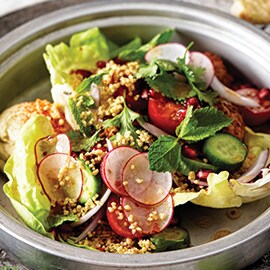 Vegetables Are Still the Hero (Or Rather Less Red Meat)
Fennel, turnip, and radishes have a great texture and are extremely versatile (roasted, gratiné, pickled, etc.). They can certainly take the center place on a plate for fall dishes.
Seeds, Not Just Grains
With grains already well penetrated, we're seeing the rise of seeds. They're rich in healthy oils and add great texture and flavour. Consider sunflower seed risotto, pumpkin seed crusts, and tahini (sesame butter)—to name a few.
Middle Eastern Foods and Spices
It's time to start incorporating flavours and recipes from this unique region. Begin with baharat spice mix, tajins and flat breads like m'smen. Also labane spread and silan (date syrup) are going to gain more traction.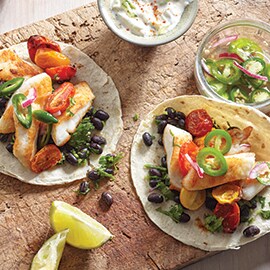 Heirloom Grains
Dishes like toasted quinoa and roasted vegetable salads and Mexican corn (especially if you use local varieties) are a great way to highlight quality, heirloom grains.
Check out ideas highlighting ancient grains.
Authentic Regional Flavours
To show off the best of my region, I love serving:
Andouille-stuffed chicken served with garlic-jalapeño cauliflower rice
Caldo de pollo (fall is getting "cold" for texans! :)
Chorizo y papas with cilantro

Comfort Food (Always a Fall Favorite!)
Fall is about comfort, and one of the favorite things is braised beef tips in a rich brown sauce with whatever can be harvested in the garden—radishes, onions, carrots, turnips, and winter squashes.
Snacking and Shareables
There are many reasons to get together when the temperature starts to fall. Be sure your menus have items that are easy for large groups to enjoy—or that can be scaled down for smaller snacks, too. Taquitos are always a hit. It is important to think utilization. What byproducts do I have from other foods? Example: salmon belly. It can be poached, smoked, or sous vide which offers a great appetizer item for the menu. The idea here is to be able to capture more of the profit without incurring more expense.
Newer and Less-used Protein Sources
As diners get more adventurous in their protein choices, be sure you're serving dishes that meet their needs. Consider braised lamb shank with chiffonade of pan seared brussels sprouts or braised kielbasa with kale and onions.
Learn more about the emerging meats trend.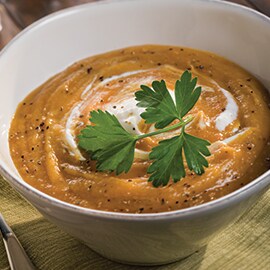 Salted Eggs
Cured eggs may sound odd, but a salt-cured egg yolk is a great ingredient packed with umami flavour. Try it with dishes like:Carbonara with salted egg
Carbonara with salted egg
Aioli with smoked egg yolk
Pizza with egg yolk confit
Learn more about curing eggs and their many uses.
Veggies Are Still On the Rise
They're not going anywhere. If you haven't already brought veggies to the forefront, fall is a great time to start with dishes like grilled root veggies with bagna cauda.
Interesting Soups & Stews
Warm up guests with with bold soups such as:
Roasted pear and butternut squash
Bone broths
Curry stews
Seaweed, kelp, spirulina
Mushrooms
People are realizing how versatile and fun mushrooms can be. They're full of umami and are a nice meat substitute. Sonic is even adding mushrooms to some of  their burger patties so consumers have the option to consume less beef. Mushroom udon bowls, mushroom soy, baked whole with bechamel.

Football Season!
Some of my tailgate favorites are chile con carne, chicken wings, and of course pizza and beer.

Ancient Grains
Grains such as kamut, millet, and farro are going to become more commonly known—and expected.
Culinary Cocktails
Innovative drinks are on the rise. Kombucha, matcha, and turmeric bring the flavours of fall into a wide variety of drinks.
Global Inspired Street Food Appetizers
Nothing is weird anymore. What was once only in stalls in big cities will be found on tons of menus. Get ready to serve dishes like ceviche, arepas, empanada, duck rice, scallion pancakes, and  lechon kawali wraps.

Fermenting
Known for its health benefits, fermenting vegetables, chutneys, condiments, dairy, and fish will become more widely accepted.
Sustainable Seafood
As we move away from traditional meat protein, more emphasis will be placed on cooking with sustainable/replenishable sources.

Veggies Center of Plate
Driven by health and sustainability, vegetables will increasingly become the stars of dining.

Fire Cooking
Using techniques from around the globe; a la  Argentina and South Africa

"Ugly" Produce
Demand for more fruits and vegetables will encourage expanded means of purchasing less expensively—even if the produce isn't "beautiful."