Present day Middle Eastern cuisine goes well beyond the kebab with an amazing array of plant-based staples that appeal to both vegetarians and omnivores alike. Grains, beans, vegetables and herbs are brought to life with bright, snappy flavours as commonly seen in dishes such as tabbouleh, baba ganoush, hummus, and falafel. Get inspired by other up-and-coming Middle Eastern flavours and ingredients to help your menu stand out.
Za'atar
Up 44% on menus over the past 4 years,1 you can use this Middle Eastern blend of seasonings to add brightness and complexity to all kinds of items including bread, poultry, seafood, and yogurt. It's a pretty quick way to create exotic sauces or dips with only a few ingredients. The mixture usually includes dried oregano, sesame seeds, ground sumac, and dried thyme.
Roasted Carrots with Za'atar Mayonnaise
Chef Dana Cohen created this amazing dish that can be an amazing appetizer or side, but can be scaled up to serve as an entree. It features candied sunflower seeds and fried herb gremolata.

Labneh
This soft, cream cheese made from strained yogurt is showing up on menus all over the place. It's great as a dip with warm bread as an appetizer, but it can also serve as a canvas to deliver so many other delicious flavours.
Harissa 
This common Middle Eastern chili paste keeps growing in menu appearances and popularity. Datassential reports Harissa has grown an astounding 146% on menus in the last 4 years.2  You're going to be seeing Harissa all over the place in the next few years—if you haven't noticed it already.The unique, distinctive spiciness has made it a favourite with chefs. It can be used across the menu as a way to enhance soups, sauces and dips or to marinate meats.
Simple dishes such as roasted fingerling potatoes with harissa and feta give guests an opportunity to take a small step into new flavours. Another good entry point for Harissa is as a sauce or aioli for fries.
Chickpeas 
Think of it as hummus 2.0. According to Datassential, 48% of consumers are likely to order hummus in a restaurant. It's time to get creative with the spices and toppings. Consider hummus fusions such as avocado hummus with coriander and lemon or a cilantro jalapeno option. Rotisserie Ema in Chicago features a hummus bar with six flavours, from black olive to sweet pea and mint.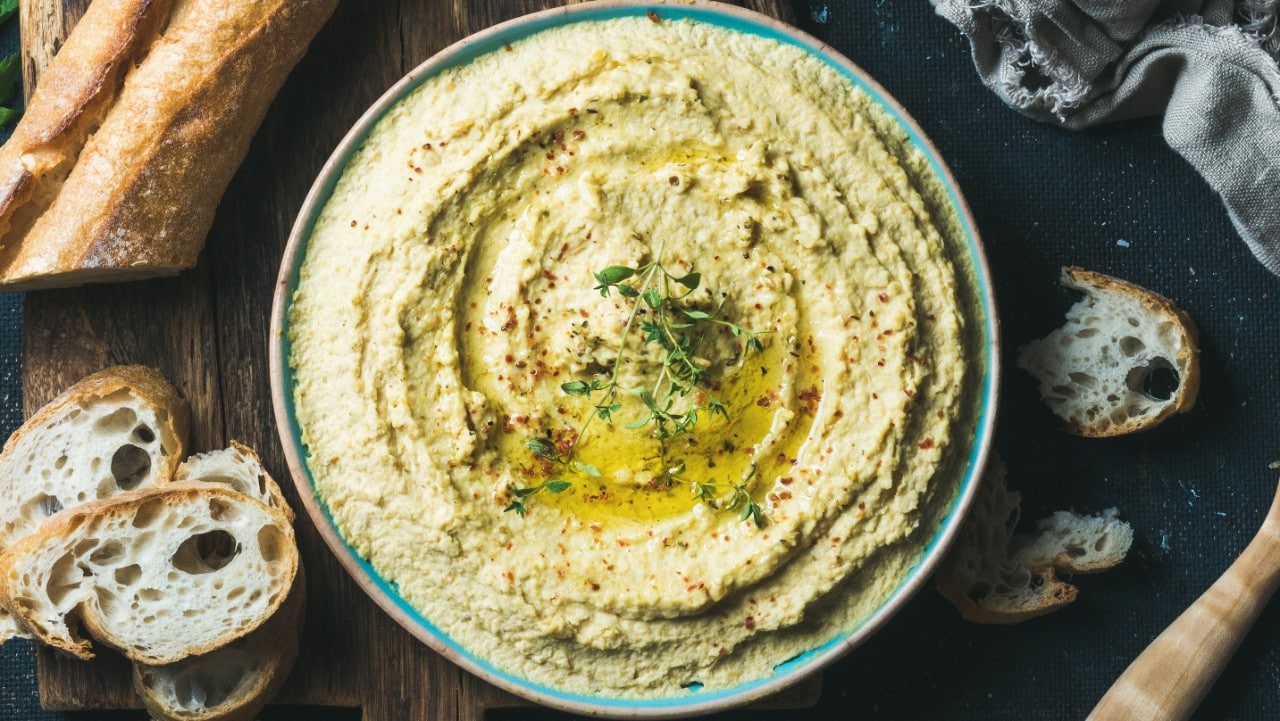 Cauliflower and Eggplant 
Both staples of Middle Eastern dining, these vegetables are doubly popular right now as people begin to move away from meat-based proteins. Mezza in Westwood, New Jersey, serves crispy cauliflower raisins with toasted pine nuts, scallions and herb infused tahini. They also have a smoked eggplant dish made with fire roasted eggplant, pine nuts, chickpeas, tomato relish, radishes, lime labne and herb oil.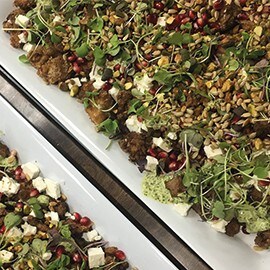 Sumac Cauliflower with Green Goddess Tahini Sauce
Chef Kyla recently developed this delicious vegetarian dish. It features lightly battered cauliflower pieces topped with sunflower seeds, feta cheese, pickled red onion, and the herb-rich green goddess sauce made with Hellmann's® Real Mayonnaise.

1 Datassential, MenuTrends 2021
2 Datassential, MenuTrends 2021