Buffalo Mahi Mahi Ranch Salad
Crispy mahi mahi fillets are tossed in buffalo wing sauce for bold, zippy flavour. Served over a bed of baby kale with pickled carrots and red onions, tossed in creamy ranch Dressing.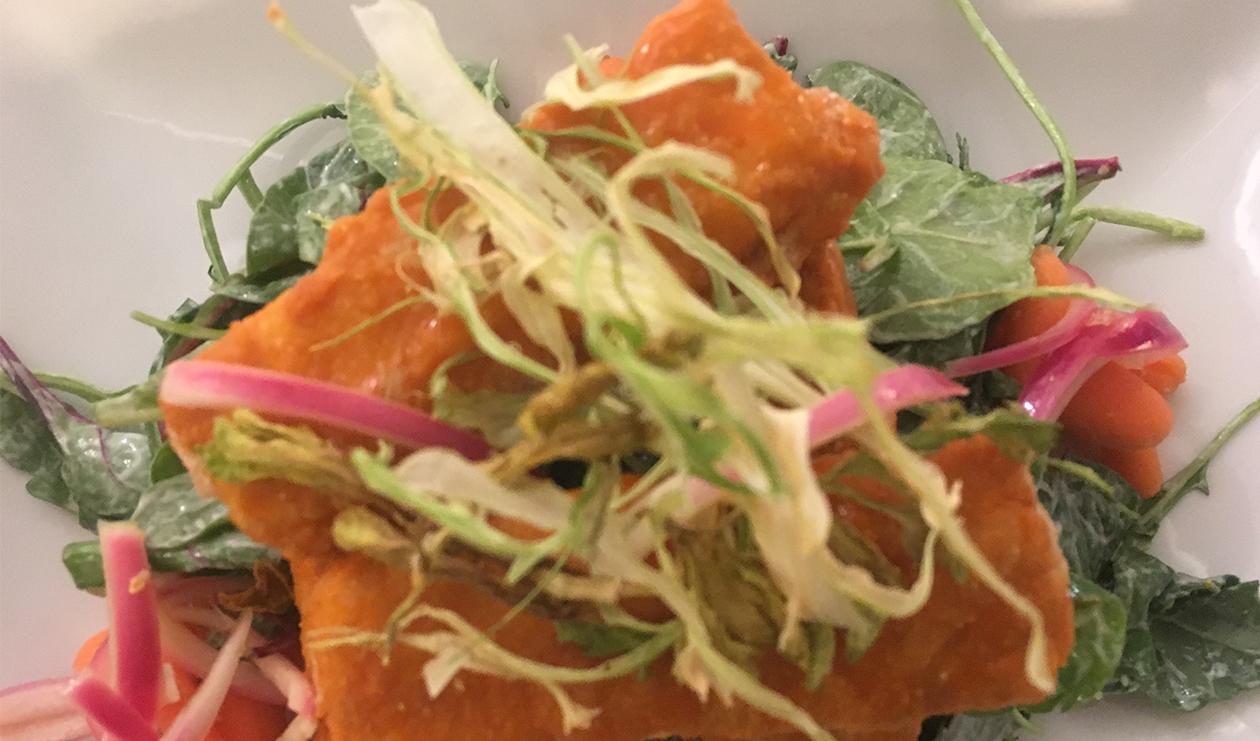 Ingredients
Prepare the Pickled Vegetables
Apple cider vinegar

215 ml

Water, filtered, room temperature

120 ml

Red Onion, julienne

1 cup
Prepare the Mahi Mahi
Mahi mahi, fillet, fresh

1.8 kg

Brown Rice Flour

5.75 cups

Buffalo Wing Sauce

360 ml
Assemble the Salad
Baby Kale and Spinach Greens

13.5 cups

Celery Chips, dehydrated

0.5 cup
Preparation
Prepare the Pickled Vegetables

Combine vinegar, water, honey, kosher salt and Buffalo wing sauce in a small pot and bring to a boil. Set aside.
Place carrots and onions in a plastic quart container and pour in the brining solution.
Refrigerate for 2 hours prior to use.

Prepare the Mahi Mahi

Cut mahi mahi fillets into strips, about 40/45 gram each.
Combine flour with salt and garlic powder, mix well.
Perform standard breading procedure on fish and fry at 375° F/ 190° C until golden brown. Coat with Buffalo sauce.

Assemble the Salad

Toss the greens with Hellmann's® Creamy Ranch Dressing.
Portion salad onto plates and top with mahi mahi fingers, pickled vegetables and celery chips.