Roasted Beet Hummus, Mixed Radish and Citrus Salad with Pistachios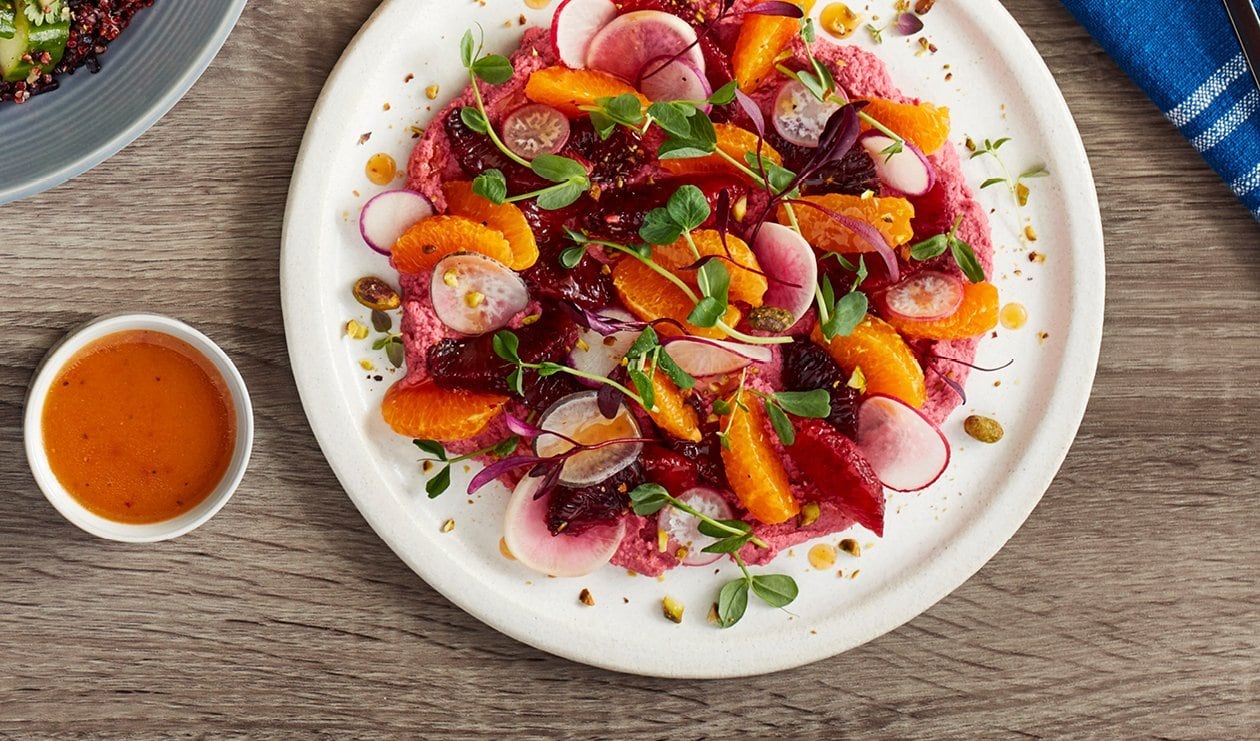 A kaleidoscope of colors with house-made roasted beet hummus, blood oranges, mandarins, and a variety of watermelon, black and purple radishes tossed with Hellmann's Smoked Peach Dressing.  Topped with micro greens and roasted pistachios.
...
Ingredients per serving
Prepare the Beets
Beets, small, peeled and quartered

3.0 each

Salt and Pepper, to taste
Prepare the Roasted Beet Hummus
Prepared Roasted Beets

230.0 g

Chick peas, canned, drained

2.0 cans (470 g)

Lemon juice, fresh pressed

2.0 each
Prepare the Salad
Prepared Roasted Beet Hummus

615.0 g

Mixed radishes (black, watermelon, purple), very thinly sliced

900.0 g

Blood orange segments

415.0 g

Satsuma mandarin segments

490.0 g

Pistachio, toasted

85.0 g
Preparation
Prepare the Beets

Combine beets with garlic and olive oil, and season with salt and pepper. Roast, covered, at 190°C for 40 minutes or until soft. Cool.

Prepare the Roasted Beet Hummus

Combine 230 g prepared roasted beets, including garlic in a food processor with drained chick peas, tahini, lemon zest and juice, citric acid and sriracha. Puree until smooth. Add a little water if needed to thin. Season to taste.

Prepare the Salad

For each portion, spread 62 g beet hummus on a plate. Toss 90 g sliced radishes and 43 g of each of the citrus segments with 45 ml Hellmann's Smoked Peach Dressing. Arrange on the plate.
Garnish with 10 g micro greens and 9 g pistachios.