In his 20+ years in the industry, Rob Hurrie has almost always been involved in catering. As a boy, he would ride along with his dad who was a printing broker serving area restaurants. Since his dad frequently dealt in trade, Rob enjoyed delicious meals others often don't experience until they're adults. Once he realized the depths of how amazing food truly can be, he dedicated his life to his restaurants and creating unique, authentic dining experiences for his guests.

After many years growing his reputation as one of the go-to caterers in Sheboygan, Wisconsin, Chef Rob recently opened an absolutely gorgeous event space above his restaurant, Black Pig. The location is called The Berkshire and offers dramatic two-story ceilings with an industrial, urban feel that's still warm and inviting with huge windows that bring in natural light throughout the day.

Since off-premise catering is different from traditional takeout and needs to be treated as a separate revenue stream, we found it fitting to catch up with Chef Rob to get his advice on running a successful catering business—both on- and off-premise. There's quite the opportunity out there for restaurants: off-premise catering has seen a 24% growth from 2012-20161 and 64% of off-premise catering dollars are spent at restaurants.2 You'll also find a quick, simple list of catering do's and don'ts.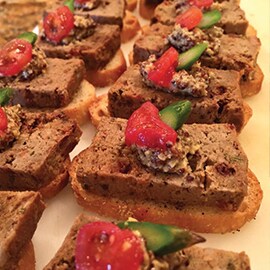 Managing Expectations
When you're catering a special event, more often than not it's a joyous occasion. Whoever is organizing the event probably has a grand vision of how the day will play out. But with every vision, there's a budget. While it would be amazing if every client came to you and said, "Do what you want. Price is no object," that's not going to happen very often—if ever. It's up to you to listen and do your best to find a way to make it work.

It's all about creative compromise. A big part of being a good chef is being a good problem solver, and nowhere is this skill put to the test more than trying to satisfy someone with filet mignon visions on a hamburger budget. 
Chef Rob says, "You have to be brutally honest with them. What I'll do is say, 'Okay you've given me some ideas, here's what I've heard from you.' Then you're upfront with them and say, 'Okay instead of using chicken breast, we're using chicken thighs. Instead of braising short ribs, we're braising a chuck roast.' You're trying to sell your business but without losing the integrity and quality of your food."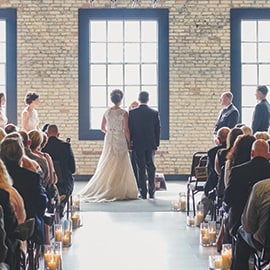 Getting the Word Out
Starting out and even now, Chef Rob is not afraid to get on the phone and make calls to local businesses and contacts. Sure, the contacts may not have immediate needs, but it's a long-term strategy. When they're in need of catering services, they'll remember the time Chef Rob reached out personally. To promote the opening of The Berkshire, Chef Rob gave dozens of tours to interested parties even before the space was open.

Social media is also crucial in making people aware of your catering and event capabilities. Special occasions, weddings, and food are all very well expressed through photography mediums such as Instagram, while your general information is best housed on your website or Facebook page. Review sites like Yelp can be tricky to deal with.

Once your catering chops have been proven to the community, business can find you. For example, because Chef Rob has built such a quality reputation for wedding excellence, his weekends are booked well into next year. His focus has been on securing jobs during off-peak times. Consider reaching out to businesses having sales meetings or other gatherings in the middle of the day or on non-weekend evenings.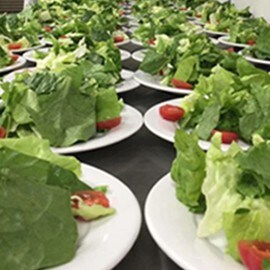 Trying to Control the Uncontrollable
A key element of cooking is control, and it's tough to let that go. As a chef, you're used to knowing the exact state of a dish as it leaves your kitchen, but when you're catering an event—especially a wedding reception—there are so many factors that can throw off your timing. Speeches can run long, photos can take more time than expected, and temperatures can fluctuate.

The best advice is to try to prepare as best you can and communicate any specific instructions to the organizers. Working with those in charge to create and adhere to a timeline or schedule can prevent a lot of dishes from underperforming. Chef Rob explains, "When you're cooking for groups, you have to take into consideration what might happen to that food, because when you start the process of cooking, there's really no pulling it back. We're not necessarily into sous vide-ing for 300 people yet, and maybe we'll get there, but a braising of a short rib can withstand sitting in the hot box better than a tenderloin, for example."  
When it comes to staffing, you can either offer delivery where clients will heat food according to directions and set up platters themselves or hire your own help. Chef Rob is comfortable leaving prep work to the attendees when dishes are simple or cold, but he'd much rather hire his own staff when things get more complicated. Even when things appear to be straightforward, he still leaves detailed instructions.
Knowing how complex billing can be, he builds in staffing and delivery charges into his pricing when appropriate. It makes things easier for the organizers and they appreciate the simplicity.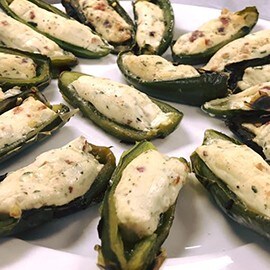 Custom vs. Set Menu
Here it's a little of both. Yes, things will be much more predictable when clients have defined options, but where's the fun in that? To set yourself apart and create a more enjoyable experience, it's wise to have some wiggle room that allows for customization to fit a theme or align with the organizer's vision. 

Chef Rob says, "I always customize, but my wife was on my case constantly saying, 'People want packages. They want to see ideas.' So I finally buckled down and put it together." He also finds joy in the challenge. "That's my creative outlet. Instead of just shoving a menu at someone and saying, 'Here, pick from A, B or C. Period. The end.' Here's a way I can manipulate a quality product into a dish that's worthy of being served in my establishment and will taste good."
"I love change and creating new dishes for clients as they become my inspiration—god that sounds corny—but I get bored with doing the same stuff, so I always like to try and change things."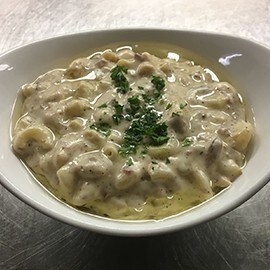 Above Everything, Be Organized
Chef Rob is pretty direct on the matter, "I preach this to anybody who works with me on catering. The only way you're going to be successful in catering is if you're organized." Organization is critical to an event's success, but especially when you're off premise. You have to make a list of everything you think you could need and make sure it's with you. If you're catering an event in a rural area, where are you going to find truffle oil if you forget it? Make lists and check them frequently.

Operator Do's and Don'ts for Catering
This quick guide can help you think about your own catering operation or help you set the path for expanding your offerings.

Do
Don't
Start small.

Stick with what you're good at.
Don't overextend yourself. If you're not used to serving 100 people all at once, build up to it.

If you're known for dinners and lunches, don't jump into breakfast or brunch.
Create set menus for when you are getting started.
Don't be afraid to offer variety.
Nearly 30% of consumers say they would order more often restaurants offered a wider variety of catering packages.*
Have tiered pricing and packages. Doing so gives the customer an initial ballpark idea of what the cost will be without the sticker shock of a totally customized menu. Once the customer sets their budget, that's the time to work with them on personalizing the menu.
Don't be afraid to go out and ask for business. It's smart to determine which segment to focus on that best aligns with your menu and brand.
A few segments to consider:
Healthcare sales reps
Construction
Non-profit
Government
Schools

Communicate your catering/event services via social media to your existing customer base whether it's Facebook, Instagram, Snapchat, Twitter or all four.
Don't forget about drinks to serve along with your food, mixology can be an important and profitable addition.
Think beyond lunch, offer catering options for a wider range of occasions. Consider snacking or small plate packages to align with the snacking trend.
Don't forget to account for labor for traveling, setting up, serving, and tearing down.
Offer special discounts for early bookings or repeat bookings.
Almost 40% of consumers say they would order catered meals more often if restaurants offered specials or other discounts.*
Don't forget to inquire about special dietary needs when booking an event. The more you can prepare for in advance, the better.
Consider family-style dining packages to appeal to families, especially around the holidays
Don't be afraid to use delivery services or hire extra staff to make catering/events a success (could link to food delivery service options).
Think of ways to add additional value to your services such as a photo booth, DJ service or dishes/silverware rentals.
Don't overlook the importance of packaging and set-up for your catering/event food; it is an extension of your restaurant brand.
*Technomic 2016 Takeout and Off-Premise Consumer Trend Report.