Read More
Five Spice Duck with Chile Mango and Asian Greens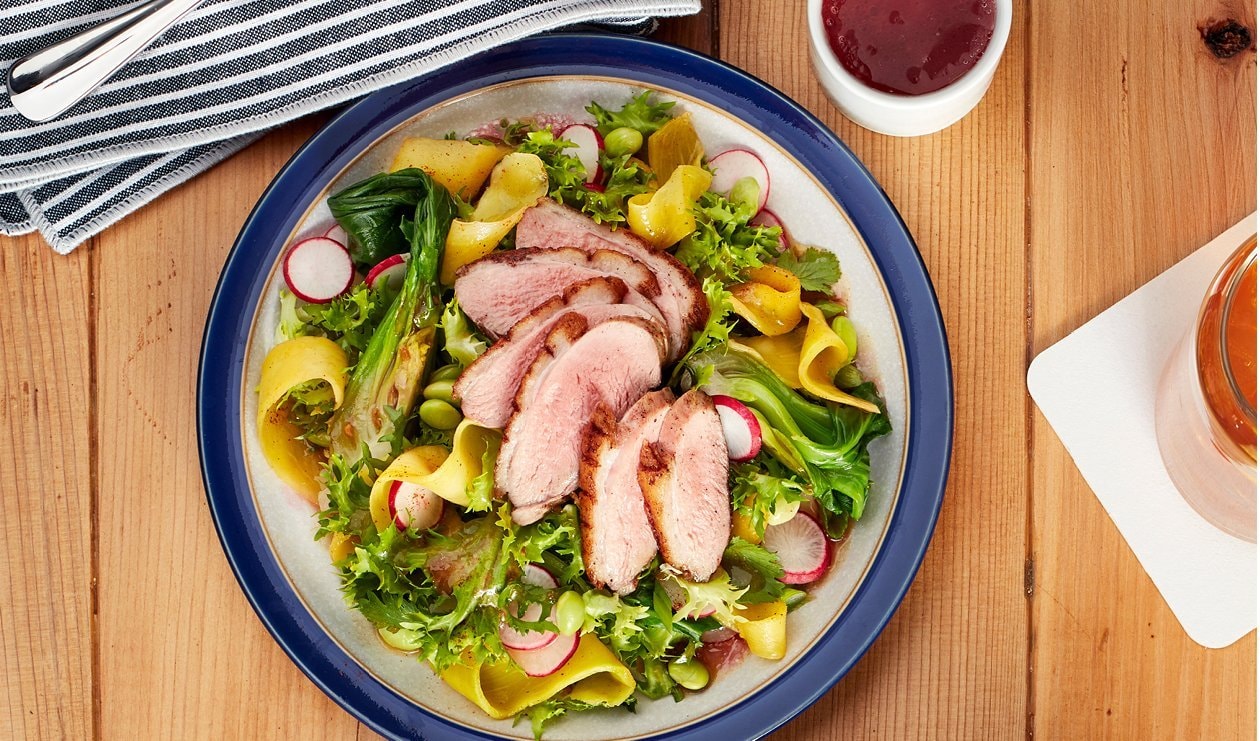 Crispy pan seared duck over Asian greens, tender bok choy, ancho seasoned mango ribbons, radish, edamame and scallions in a Hellmann's Raspberry Vinaigrette.
...
Ingredients per serving
Prepare the Mango
Mango, peeled, julienned

2.0 each
Prepare the Duck
Chinese 5-spice powder

10.0 g
Prepare the Salad
Radish, thin sliced

230.0 g

Edamame, beans, cooked

310.0 g

Mizuna greens or mixed Asian greens

1.1 kg

Hellmann's® Classics Raspberry Vinaigrette 2 x 3.78 L

600.0 ml

Salt and Pepper, to taste

Seasoned mango ribbons, as prepared
Preparation
Prepare the Mango

Combine the mango in a bowl with salt, ancho and garlic powder. Let stand 1 hour minimum.

Prepare the Duck

Score the skin of the duck breast. Season with 5-spice powder. Sear duck and cook over low heat, skin side down, until the skin is crispy. Flip and cook on the bottom side until the duck is medium rare. Set aside to rest and thinly slice.

Prepare the Salad

Blanch the bok choy and slice into eighths.
Combine sliced bok choy with seasoned mango ribbons, sliced radish, edamame, cilantro, scallions, mint and Asian greens with 60 ml. Hellmann's Raspberry Vinaigrette per portion. Season to taste with salt and pepper.
Arrange on plate or bowl. Top each portion with ½ of a duck breast.
Garnish with additional dressing, mango ribbons, and herbs as desired.