Read More
Roasted Vegetable Fideua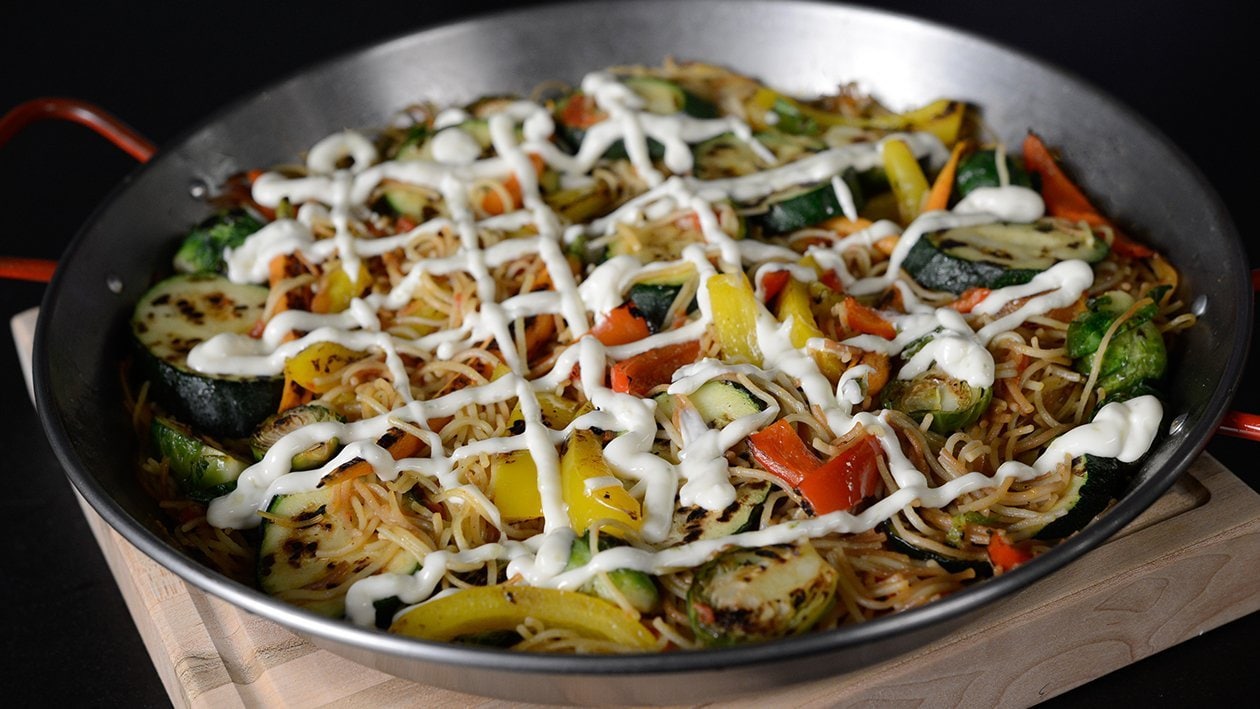 A take on a traditional noodle dish from northeastern Spain made with short dry pasta called fideus. This vegetarian version is prepared similar to the method of paella.
...
Ingredients per serving
Prepare the Vegetables
Brussel sprouts, boiled, halved

2.0 dozen

Tomatoes, whole, peeled, canned, drained and chopped

160.0 g

Carrots, small, peeled, halved lengthwise

5.0 each

Red pepper, cut into ¼ inch strips

1.0 each

Yellow pepper, cut into ¼ inch strips

1.0 each

Zucchini, medium, diagonally cut into ¼" slices

2.0 each
Prepare the Garlic Lime Aioli
Garlic cloves, large, into paste

2.0 each
Prepare the Dish
Fideos or angel hair pasta, broken into 3" lengths

340.0 g

Shallots, thinly sliced

15.0 g

Garlic cloves, peeled and chopped

6.5 g

Black pepper, ground, as needed

Turmeric roots, small, halved lengthwise

2.0 each

Vegetable and tomato base, prepared

Roasted vegetables, prepared
To Serve
Garlic Lime Aioli, prepared

300.0 ml
Preparation
Prepare the Vegetables

Toss the vegetables, except the tomatoes, with oil and season with salt. Roast at 200°C until lightly golden.
Combine prepared Knorr® Professional Liquid Concentrated Vegetable Base and tomatoes in a bowl. Set aside

Prepare the Garlic Lime Aioli

Combine Hellmann's® Real Mayonnaise, garlic paste and lime juice and zest. Please into a squeeze bottles.

Prepare the Dish

In a 16" paella pan or a nonstick pan, heat the butter and olive oil together until bubbling subsides.
Add the fideos pasta and cook over moderately high heat, stirring constantly, about 1 minute.
Stir in shallots and garlic and sauté, stirring, until noodles are golden brown.
Stir in half of the prepared vegetable/ tomato base and turmeric, cover and cook for 3 minutes.
Add the remaining base, cover and cook until almost absorbed, about 3-5 minutes, and the fideos are al dente.
Remove turmeric. Season with salt and pepper.
Mix in roasted vegetables and cook for one more minute (bottom should be crispy and all liquids evaporated).

To Serve

Drizzle with prepared Garlic Lime Aioli and serve.

Note: This dish is based on seasonal vegetables. Use in-season vegetables for a variable dish all year long.