A recent survey found 38% of consumers are trying to add more plant-based proteins into their diets, and over 50% of consumers would like to see more plant-based meat and dairy alternatives when dining out.1 Other plant-based protein categories such as nuts, seeds, and sprouted grains have experienced significant growth.2
These categories demonstrate how you can appeal to guests who seek a plant-based protein boost and feature Chef Kyla Tuori's recommendations for incorporating into your menus.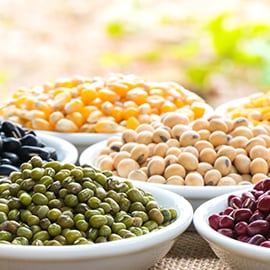 Beans & Legumes
Go beyond typical fare to take advantage of everything beans have to offer.
When considering the use of beans on the menu, Middle Eastern and Mediterranean cuisine soared in menu incidence, up 28% and 56% respectively. Hummus, made with chickpeas, has increased menu incidence by 11% over the course of two years.3 Go beyond typical fare to take advantage of everything beans have to offer.
Aquafaba
This translates from Italian to "bean water." Whip the water used to cook chickpeas into a protein-rich vegan soufflé with roasted carrot, porcini mushroom and sage.
Black-Eyed Peas
Go past New Year's Day, and serve black-eyed pea dip with coriander and cinnamon, avocado garnish, and fried plantain chips.
Lentils
Consider Thai basil coconut lentils with Thai eggplants and grilled pineapple.
Ancient Grains
Known for being full of fiber, these ancient grains are also a source of protein.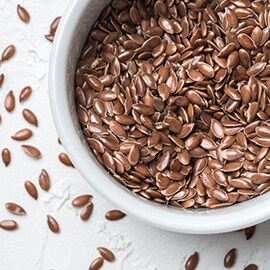 Seeds and Nuts
Boost protein with these trending seeds and nuts.
From 2015 to 2018, menu incidence of quinoa rose by 36%.4 Many consumers already add seeds and nuts to home-cooked meals to increase protein consumption. And a little goes a long way. You can boost protein content with as little as 2 tablespoons of seeds or 1/4 cup of nuts per portion.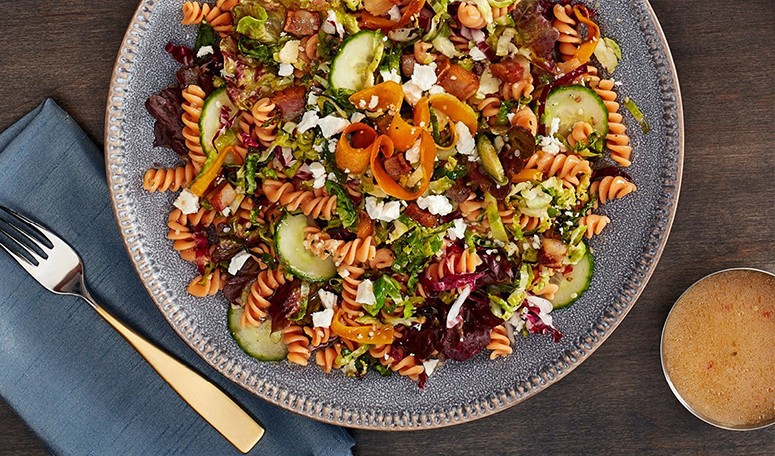 Chia Seeds
Create a delicious dessert guests have likely never had before by adding Earl Grey, rosewater and chia seeds to Greek yogurt.
Flax Seeds
Already on consumers' radar for a couple of years, showcase new toppings for flax seed crackers by pairing them with pumpkin-maple-mascarpone dip.
Pumpkin Seeds
Also known as pepitas, pumpkin seeds are full of nutrients and can be roasted for a crunchy topping or ground into a pesto or spread.
Almonds
Instead of buying almond butter, make your own version of this pantry staple and add Knorr® Intense Flavors Deep Smoke. It can be served as a savoury starter with seed-crusted baguettes and flaked sea salt, or turn it into a savoury dressing for a grain bowl.



1 Mintel, Healthy Dining Trends, 2019
2 Mintel, Plant Based Proteins, Q4 2017
3  Mintel Menu Insights, Q2 2017
4 Q1 2015 to Q1 2018, Mintel Menu Mentions