While ingredients such as winter squash, sweet potatoes and pumpkin are mainstays on cold-season menus, guests continually seek innovative new dishes throughout the year. Technomic has conducted extensive research* to determine seasonal flavours and ingredients that will grow in popularity on restaurant menus during the upcoming winter season. Here are two you should definitely consider as you plan your winter menus.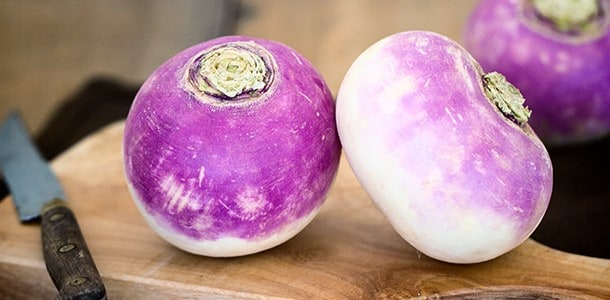 This root vegetable is definitely gaining popularity on restaurant menus. Small young turnips have a slightly sweet, delicate flavour that grows stronger as they age. They're extremely versatile and can be paired with other root vegetables or used as gratin with squash. UFS Chef Russell says, "When I utilize turnip, it is usually roasted and added to other roasted root vegetables."
Turnips are often seen as an alternative to potatoes, and they make a great addition to soups and sides. "I used to mash turnips and parsnips just to have something different than potatoes. I've also done pickled and candied turnips as well," says UFS Chef Alvaro. These tasty tubers have so many wonderful applications such as pizzas, tacos, specialty cocktails and pasta (within the dish or as a spiralized vegetable noodle).
Consider these inspirational menu ideas:
Roasted maple glazed pork belly on turnip puree
Spicy turnip fries tossed in Parmesan cheese
Moroccan lamb tagine with turnip
Roast pork stuffed with brioche and turnip stuffing
Roasted lamb sandwich with pickled turnip, hummus, parsley, onions and mint aioli
Turnip nigiri sushi with shiso Shiloh leaves

A Delicious Favourite: Fennel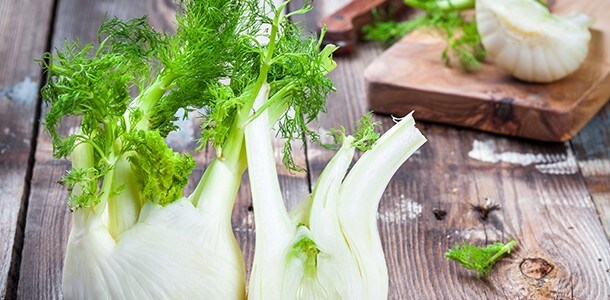 Fennel is getting more recognition thanks to rising interest in the "root to stem" trend (cooking using every part of the vegetable) as well as the growing popularity of Mediterranean and Middle Eastern dishes. It's also a guest favourite because of its light flavour which can enhance both sweet and savoury foods. In winter 2016, you can expect to see fennel used as a roasted side for various entrées, combined with salt to rim specialty cocktails and as a topping on salads.

UFS Chef Einav thinks fennel is great as a confit — slowly roasted on medium to low with olive oil, salt and fresh thyme. She suggests using a mandolin or sharp knife to prepare it to create a fun twist on traditional coleslaw or a nice refreshing salad.
Think about using these pairings from UFS Chef Kayla for your menu:
Caramelized fennel and roasted apple flatbread with honey crème fraiche
Mussels in a fennel white wine broth
Fennel and prosciutto arancini
Salmon with fennel and basil hollandaise
Fennel frond and walnut pesto for pasta, chicken, fish or pork
As the weather turns colder, experiment with these hot new ingredients to appeal to guests looking for bold, on-trend flavours.
*Technomic "Winter 2016 Season's Eatings," 2016