Christmas Morning Strata
When all of your festive energy has gone into making the perfect Christmas Eve dinner and wrapping gifts for loved ones, this is a dish that will let you relax on Christmas morning.  Strata is a layered breakfast casserole that can be made ahead of time with delicious gooey ingredients.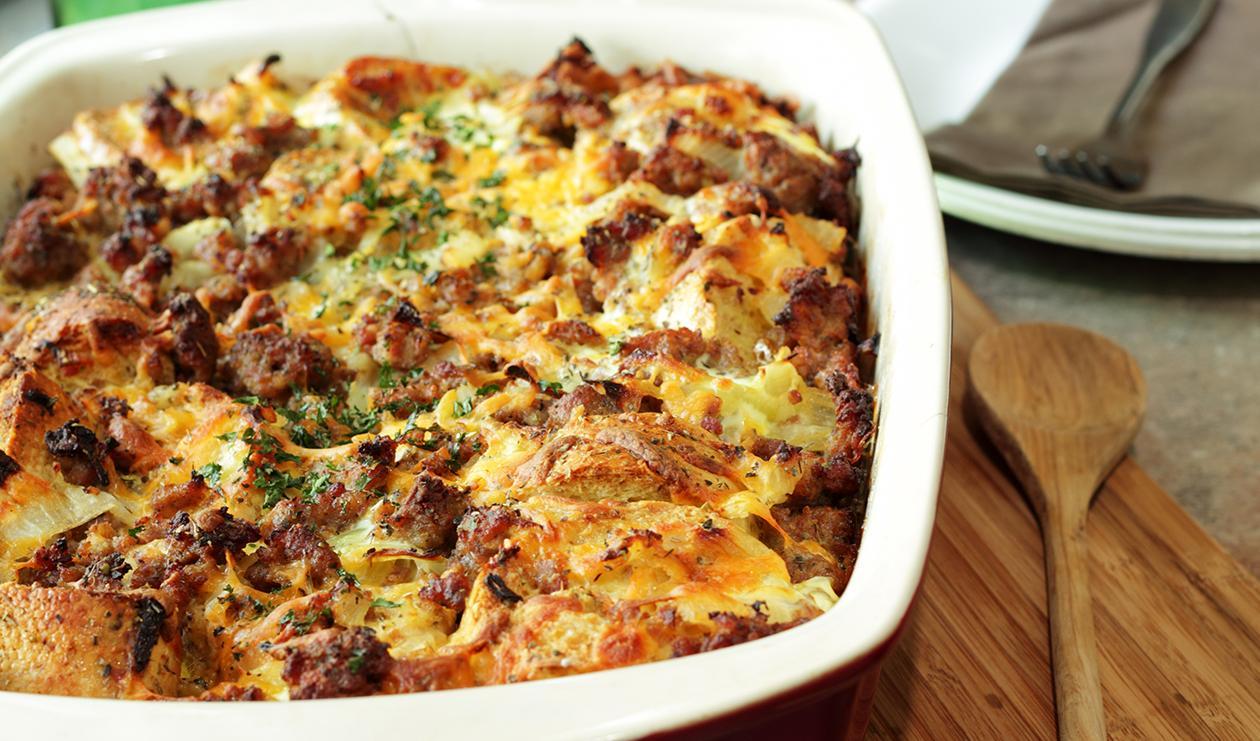 Ingredients
Step 3:
Sausage, Pork, casing removed

700 g
Step 4:
Butter, unsalted, cold

30 ml

Fresh thyme, chopped

10 g
Step 5:
Step 6:
Cheese, Emmental, shredded

115 g
Preparation
Step 1:

Heat oven to 175⁰C.

Step 2:

Grease a 8.9 Inch X 13.2 Inch baking dish.

Step 3:

In a sauté pan, over medium heat, cook sausage meat while breaking up with a spoon. Once meat is cooked through, removed from pan and reserve.

Step 4:

Add butter to sauté pan, with pork renderings and melt over medium-low heat. Add mushrooms and thyme and sauté until mushrooms are softened. Remove from heat and set aside.

Step 5:

In a large bowl prepare custard mixture, whisk together eggs, cream, nutmeg, mustard powder, and season with salt and pepper.

Step 6:

Lay 6 pieces of bread on the bottom of the casserole dish and top with sausage, mushroom, and cheese. Repeat process until casserole dish is full ending with bread on top. Pour custard mixture over contents of dish and top with cheese.

Step 7:

Bake, covered, for 30 minutes, remove cover and continue baking for 30 minutes.