Cranberry Chutney
The sweet and tart flavors make this a perfect complement for turkey, but it's also delicious with chicken or roasted pork.
Vegan
Gluten free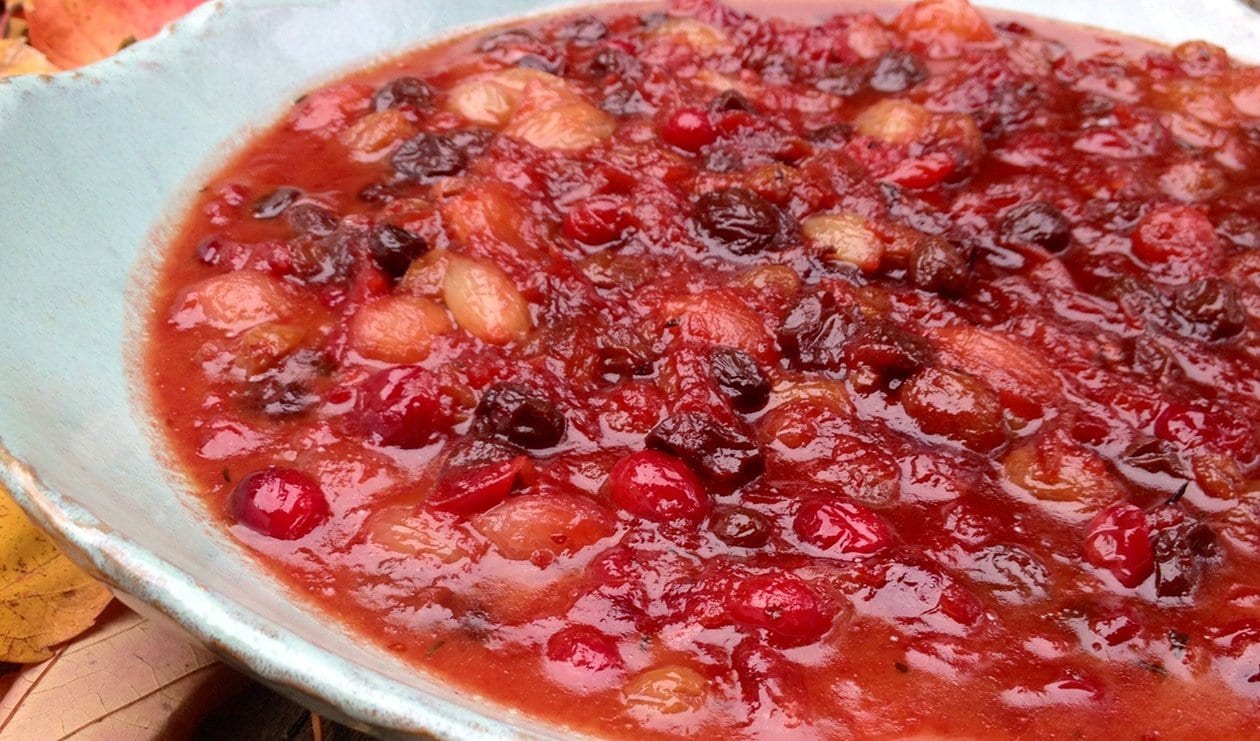 Ingredients per serving
Prepare Raisins and Caramelize Onions
Frozen peeled white pearl onions, defrosted

1.0 bag (400 g)

Apple cider vinegar

125.0 ml

Orange juice, fresh

80.0 ml

Cinnamon, sticks

1.0 each

Fresh thyme, chopped

0.5 g

Garlic, minced

3.0 cloves
Finish the Chutney
Cranberries, whole, fresh

200.0 g
Preparation
Prepare Raisins and Caramelize Onions

Soak the raisins in the warm water.
In a large saucepan, combine onions and butter and cook on medium heat until butter is melted.
Add sugar, 15 mlvinegar and cook on medium heat, stirring occasionally, until the mixture turns a golden caramel color, about 10-15 minutes.
Add remaining vinegar, wine and orange juice and boil for 2 minutes.
Add raisins with soaking water, cinnamon stick, thyme, garlic and salt. Bring to a boil, then reduce to a simmer and cook, covered, for 1 hour.

Finish the Chutney

Add cranberries and simmer, uncovered, for another 30-45 minutes until thick. Remove and discard the cinnamon stick. Serve warm.
Adjust the seasoning or consistency if necessary. If you have a tart batch of cranberries, you may need to add a little more sugar. Add water to make it thinner (it will thicken as it cools) or cook longer to make it thicker.