Cranberry Chutney
Adapted from my Aunt Sandee's recipe, this compote is a staple at our Thanksgiving feast.  As it simmers, it will fill your kitchen with a warm, inviting aroma.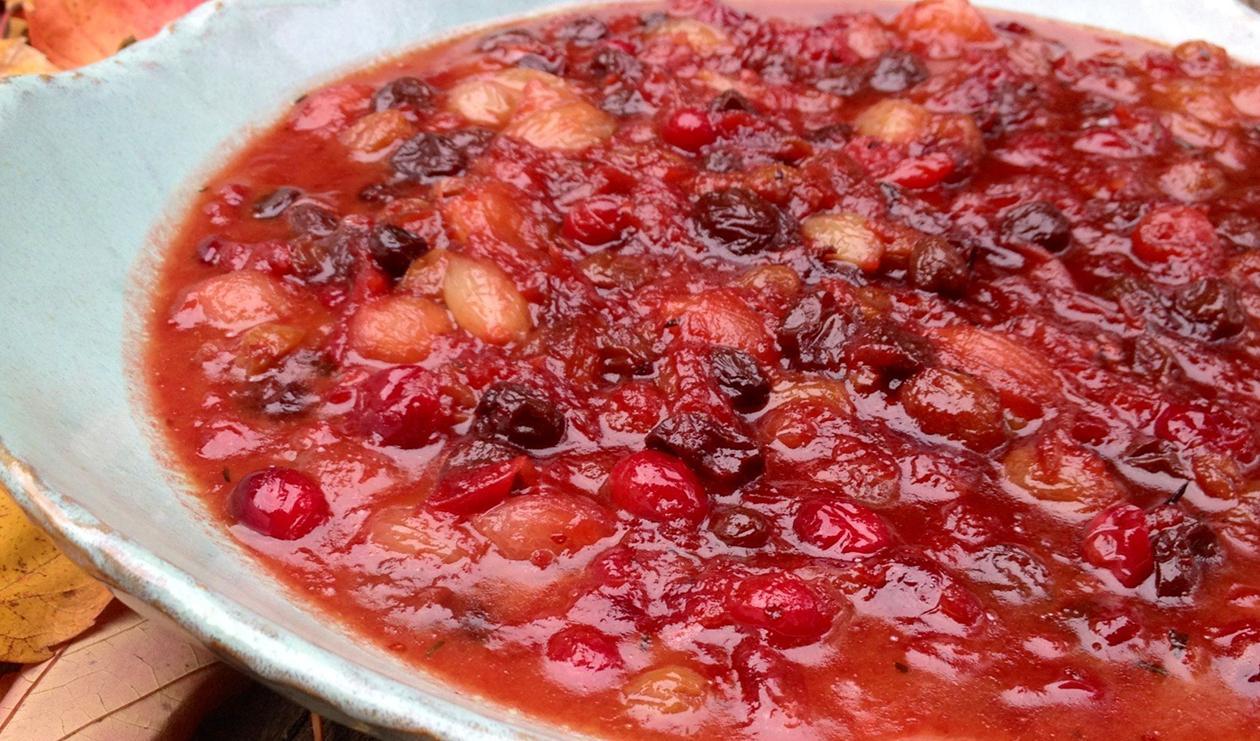 Ingredients
Step 1:
Frozen peeled white pearl onions, defrosted

1 bag (14 oz.)
Step 2:
Apple cider vinegar

0.06 cup
Step 3:
Apple cider vinegar

0.44 cup

Orange juice, fresh

0.33 cup
Step 4:
Fresh thyme, chopped

0.5 t
Step 5:
Cranberries, whole, fresh

2 cups
Preparation
Step 1:

Soak the raisins in the warm water. In a large saucepan, combine onions and butter and cook on medium high heat until butter is melted.

Step 2:

Add sugar, vinegar and cook on high heat, stirring occasionally, until the mixture turns a golden caramel color, about 10-15 minutes.

Step 3:

Add remaining vinegar, wine and orange juice and boil for 2 minutes.

Step 4:

Add raisins with soaking water, cinnamon stick, thyme, garlic and salt. Bring to a boil, then reduce to a simmer and cook, covered, for 1 hour.

Step 5:

Add cranberries and simmer, uncovered, for another 30-45 minutes until thick. Remove and discard the cinnamon stick. Serve warm.

Chef Dana's Tips:

Adjust the seasoning or consistency if necessary. If you have a tart batch of cranberries, you may need to add a little more sugar.Add water to make it thinner (it will thicken as it cools) or cook longer to make it thicker.
This recipe can be made a day in advance.Reheat in a saucepan on low until warm.
The sweet and tart flavors make this a perfect complement for turkey, but it's also delicious with chicken or roasted pork.